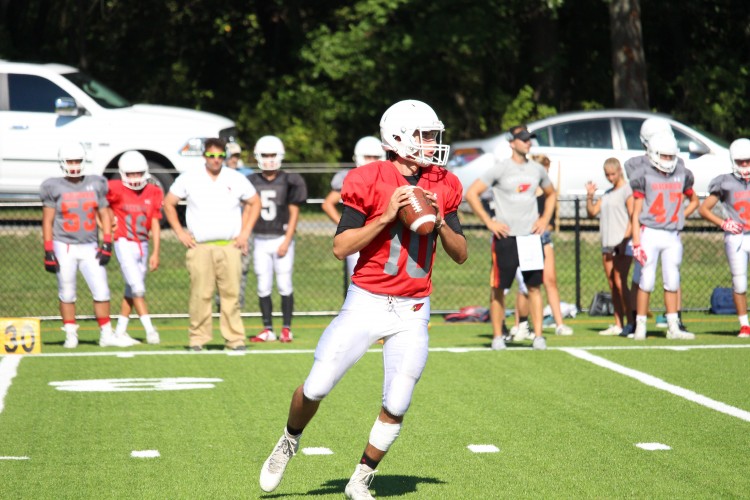 By Evan Triantafilidis
Sentinel Reporter
There's no denying it.
After posting a 4-5 record last year, the Greenwich High Football team is hungry for more.
Now in his second year as head coach of the Cardinals, John Marinelli has had his first full offseason with his team and hopes to translate the preseason work ethic to results on the field.
"We've had a good preseason where a lot of guys are fighting for spots," said Marinelli. "Now we're on to the competition of sport. For us, it's about getting guys ready to go for Westhill and how we can put ourselves in a position to be successful."
A busy offseason included the annual spring Red and White game, the 7–on–7 Grip It and Rip It Tournament held at Marinelli's former stomping grounds in New Canaan, a controlled scrimmage against in-town rival Brunswick, and more.
Even the turf at Cardinal Stadium got an offseason facelift.
The Cardinals last action on the gridiron came on Thanksgiving of last year, when Greenwich came back from a 21-0 deficit to almost knock off rival Staples High in the season finale, a 28-26 loss. It was a tale of two halves; now Marinelli is trying to find the spark that showed up in the latter half to bring the program back to its winning ways.
But that doesn't come without turnover at some key positions.
Gone are the likes of graduated players such as Scooter Harrington, Luke Bienstock, Ian Bannon and Kevin Woodring—all captains of last year's team and all members of last year's FCIAC first-team offense. The 6-6 tight end Harrington remains a Cardinal, but at the collegiate level at Stanford University. Bienstock led the rushing attack for the high-motor offense, accounting for 10 rushing scores, while the bruisers Bannon and Woodring helped maintain reliability and strength in the trenches.
Also gone from this year's roster are defensive back Joseph Lanni, Joey Longo, and linebacker Jake Herman, who is currently on the Milford Academy roster.
C

aptains
Enter the era of senior captains Tyler Farris, Paul Williams, Mike Ceci and Ben Kraninger.
Farris, a speedy All-FCIAC track and field selection last year, will lead a deep group of wide receivers into this season, following the departure of the two leading targets in Harrington and Longo.
"Those two guys are very hard to replace," said Farris. "With our fast offense, we'll try to replace them in that way. We've been working hard trying to eliminate the mistakes and to go fast."
Williams, a staple on the GHS baseball team as well as football, will anchor the linebacker group and will also assume long-snapping duties on special teams this year. The 5-11 senior gave a verbal commit to Fordham University for his long–snap talent.
"As a defensive unit, a lot of us are returning and our mentality has changed," Williams said. "We went 4-5 last year and as a unit, and we realize that is unacceptable. We also respect our competition a lot more this year. Last year, we had the mentality when Coach Marinelli came in that we would just win. But now, our defense has been working harder and we should be a lot more competitive."
For senior captain Mike Ceci, who also captured second place in FCIAC's for his weight division for the GHS wrestling team last year, it will be a core group of seniors who will lead by example this year for the Cardinals. Ceci has the ability to play nearly anywhere on defense as he'll help out with the defensive backs and linebackers this season.
"It's a step up, and there's a lot of improvement from last year," said Ceci. "Being around each other all year, especially the kids and all the coaches, we feel a lot more confident heading into this season. We're more sure of our responsibilities and we feel more secure on things. Everything has been competitive this offseason and we're trying to all buy into what Coach Marinelli is saying. I've been playing with most of these kids since third grade, and I was with them every day this summer."
Kraninger (6-4, 262) will play on the defensive line this year, as Marinelli hopes to use him to bring pressure to opposing offenses. He came up with a big interception in last year's 33-28 victory over Norwalk High. 
"Last year wasn't exactly the defense we wanted to run," said Marinelli. "We were put in some situations where some guys maybe weren't ready. We had to do some things because of injury. This year, with another offseason, I think our defense is a lot better off. We got to become a better tackling team."
Offense
On offense for the Cardinals, it has been senior Connor Langan who has received a majority of the snaps at quarterback with the first team offense this offseason. Langan ended last season as the starting quarterback after a spring position battle between Frankie Alfano (now at Trinity Catholic) and Nic Smoller (graduated). Gavin Muir, a freshman, has also been competing to see reps in Marinelli's offense.
"Between Langan and Muir, we haven't really made a decision yet either way," said Marinelli. "Connor and Gavin are still fighting it out. Connor is kind of our tall gunslinger. Gavin is young and very athletic, but not necessarily a runner."
At running back, there's no question who the primary back is this year. Senior Kevin Iobbi will be the featured back in Marinelli's spread offense. Iobbi, the backup to Bienstock last year, will now take the lead role and look to get a healthy workload in what should be a fast-paced offense.
"He's incredible and has great vision," said Marinelli. "We have some very capable guys that are backing him up. It will go by committee, but Kevin is definitely going to get a majority of the load. He's primed and ready for a big year."
Last year, Bienstock and Iobbi served as a reliable 1-2 punch, combining for 17 rushing touchdowns. Bienstock should see enough carries to match and top his season total of seven rushing scores.
"Watching a kid like Luke go about his business only made Kevin a better player," said Marinelli. "You don't replace a Luke Bienstock either, but Kevin brings a whole different skill set to the table. He's a great running back in our offense. We just have to keep him healthy and ride him all year long if we can."
Marinelli's offense carries a lot of weapons in receiver as well, as depth shouldn't be a problem for the Cardinals, despite losing a pair of leading targets in Harrington and Longo.
Farris, Anthony Ferraro and Matt Morganti will all serve as receivers for the Cardinals' offense, with James Day, Isaac Floyd and Jael Negron looking to get opportunities as well.
"They're just dynamic," Marinelli said of his receivers. "We can put guys in a lot of situations. Tyler is going to be our go-to guy, we'll move him all over the place. Anthony Ferraro is back as well and Matt Morganti had a great offseason. Those are just three of maybe eight or nine guys that you'll see on the field for us at receiver. All of them bring a little something different. We like to play a lot of people because we run so many plays."
Despite losing junior Henry Saleeby to injury this preseason, Marinelli says he's impressed with the offseason of Negron, another junior receiver.
Protecting the offense this year will be a mixed group of returning starters and young talent rising up to the varsity level for the offensive line. The Cardinals will need to replace Bannon, Woodring and Glenn Saperstein up front, but Marinelli remains confident in his front five going forward. Senior Christian Novakowski will help with the blocking schemes along with sophomore Frank Intrieri adding depth to the group. Marinelli gave high praise to the returning starter Piro and his offseason.
"Our offensive line had a great offseason," said Marinelli. "We've got a couple young guys who are stepping up. Chase Piro returns as a starter. We have Blake Guerrieri back along with Kyle Woodring, Kevin's brother. We have some experience up front and a year later, we're definitely a lot stronger. I'm not really worried about those guys. They're a very close knit group."
Defense
On defense, the Cardinals have a range of talent with Kraninger's move to the D-line, Williams' presence in the middle of the field and Ceci's all-around playmaking abilities.
Joining Kraninger on the defensive front will be Sam Colandro, a transfer from Stamford High. A 6-2 defensive end, Colandro will bring edge pressure all season long as part of the starting defensive unit.
"He's real blue-collar and likes to go to work," said Marinelli of Colandro. "He's really coachable and one of many pieces we have up front. He brings that grind you need on a day-to-day basis. He'll be great for us."
Ian Pearson is set to make his return on the opposite side of the line, where Harrington played defensive end last year. 
"On the other side, you have Ian Pearson returning," said Marinelli. "He backed up for us last year and played in some big spots. We also have Daniel Ezquivel. We have some depth on the defensive line and we can do a lot of things—speed rush, power rush, stopping the run—we have a whole list of guys that can do it."
Williams, Cole Hartley and Jack Feda will man the linebacker positions for the Cardinals.
"Paul Williams is anchoring that linebacker group," said Marinelli. "He's got to be big for us."
Zhaire House will serve in the defensive backfield along with help from Ceci and Bailey Ballone.
As a unit, the defense gave up just over 27 points a game to opposing offenses last year.
S

pecial Teams
The Cardinals will also be replacing second-team FCIAC kicker Soh Nakayama, who starred on the GHS rugby team.
Zach Moore will be the primary kicker after a busy summer of training for the spot. In Greenwich's recent preseason scrimmage against Iona Prep, Moore nailed a field goal from about 40 yards out.
"Zach is our guy at kicker," said Marinelli. "As a former soccer player, he has great range. He's worked hard all offseason and went to a bunch of camps. He's ready to go and I feel comfortable with him anywhere from the 35 yard line and in."
Williams, the team's long-snapper, gave high praise to his kicker's offseason.
"I'm able to help the younger snappers," said Williams. "I think it's a good way to get into college. I've been working a lot with Zach in camps with coaches around the area. He's come a long way and I think he'll be a star for us this year."
"A big part of our offseason chemistry this year is attendance at both lifting and 7–on–7's," added Williams. "As a senior class, we've always been close and that should have an impact on our whole team. Our seniors are very accepting of the younger kids."
The Cardinals have options for returning kicks this year, as Iobbi, Farris and Ferraro all will likely get chances at making a big play on special teams.
Greenwich starts the season on Saturday at 3 p.m. against Westhill High before hosting Trinity Catholic the week after. The Cardinals then visit Darien High on Sept. 24 and will also take on New Canaan High in the "Marinelli Bowl" on Oct. 21 as the visiting team.
Without an FCIAC championship game this season, the Cardinals may find themselves fighting for state playoff contention with their final two games of the season against Ridgefield High and the season finale against Staples High.