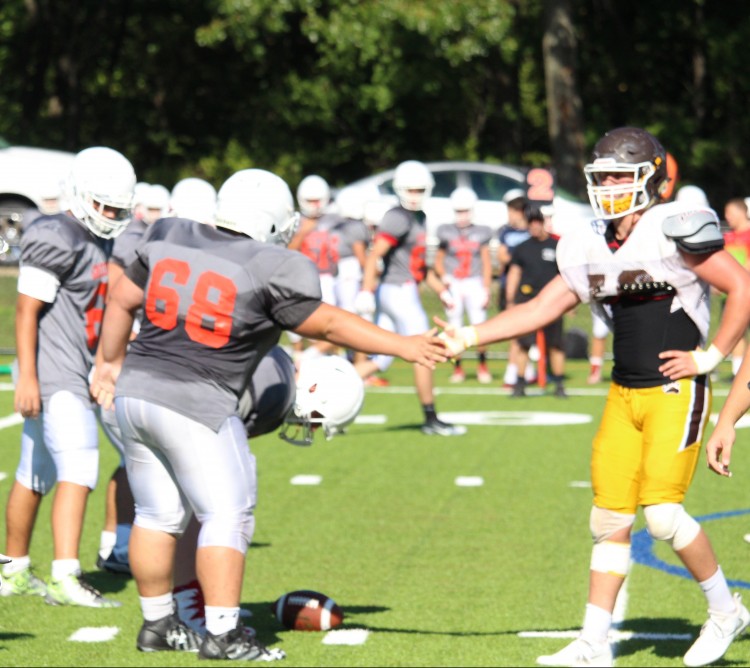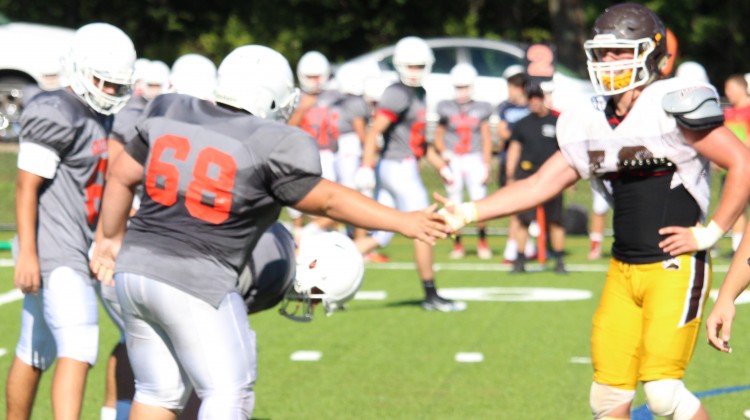 Paul Silverfarb contributed to this article
With under two weeks left until both Greenwich High School and Brunswick School make their season debut on the gridiron, the two local teams renewed their offseason rivalry with a controlled scrimmage on Monday.
Cosby Field played host to the preseason scrimmage, as both teams took turns with their primary offense, defense, special teams and a two-minute drill.
"We faced a good team," said Brunswick coach Jarrett Shine. "It's a crosstown rival, but we obviously respect each other. We just wanted to get some good work in and I think we accomplished that today."
The Bruins, who play in the New England Preparatory School Athletic Council (NEPSAC), took to their home field to take on the Cardinals of the Fairfield County Interscholastic Athletic Conference (FCIAC). While the two teams cannot compete against each other in the regular season or playoffs, it didn't stop the pair of Greenwich programs from collaboratively working together.
"I think we got out to a slow start, in my opinion, but at the end of the day, our offense got together and we actually got to blocking pretty well which opened up the run game," said Shine. "Nicky [Henkel] started to really see his windows as he's trying to hit his receivers."
Henkel is entering his junior season for the Bruins as the returning All-Conference quarterback. After a shaky first drive, it didn't take too long for Henkel to find his groove and connect with wide receiver and captain Sean Morris for a short touchdown reception.
"It feels great to get back out here today with all the guys and play against someone other than ourselves," said Henkel. "It's been a long time coming. The offseason felt like it lasted forever. This is really exciting. It's obviously a scrimmage today and there's no real score, but in our minds we have a score and we always like to win. Playing Greenwich High is great because they are really good and it's a cross-town rivalry."
Anchored in the defensive and offensive line for Brunswick is lineman Peter Wise, who said there was an added intensity to Monday's game due to the rivalry.
"I think both sides brought intensity," said Wise. "They don't like us and we don't like them. That was great to have that rivalry and fire. It was better than a normal practice would be. Both teams left everything they had out there."
"It was great to play Greenwich High," added the 6-foot-5 Columbia University commit. "It's definitely an in-town rival for us and we love to schedule them. It was a great opportunity to get better as a team and get to practice against someone else besides our team. I think we got better as we went along. It's going to be a bright season for us."
Entering his second year at the helm, John Marinelli had lead his Greenwich Cardinals through his first full offseason with high hopes of returning to FCIAC glory.
The Cardinals and the Bruins met earlier this summer at the Grip It and Rip It 7 on 7 Tournament in New Canaan, but both coaches were able to get a closer look at their team on Monday with in-game scenarios set up for their offense and defense.
"This is great and we're going to do it every year," said GHS coach John Marinelli. "It really is a rivalry. It's about two really good football teams getting together in the same town who don't have to travel an hour and a half of travel to get good competition and work. For us, it's great. The kids know each other and I guess for them the rivalry is who played where in the GYFL."
Connor Langan got the starting reps at quarterback for the Cardinals and looked to get familiar with all his offensive weapons in the controlled game. Running back Kevin Iobbi performed well in the two-minute drill while senior captain Paul Williams played a key part in the linebacker corp.
"We've all played with these kids in the GYFL and it's really cool to see them again," said Williams. "Today they did a good job of giving us a good look. We're really excited to play Westhill and we're ready for that."
Greenwich starts its season on Saturday, September 10 at Westhill High while Brunswick opens play at home on the same day against Iona Prep.
"We're not going to face them this season and they aren't facing us so it's a good working environment," said Marinelli. "Coach Shine and I get along great. When you have two schools in the same town, some people may think it would clash, but our relationship couldn't be any better."
"It's a great opportunity for me," said Shine following the game. "I have a lot of respect for John and the Marinelli family. I can bounce ideas off of him and he can learn from us. I think it's a great mix."