September 9, 2016
Brunswick Football Eyeing Another NEPSAC Bowl Run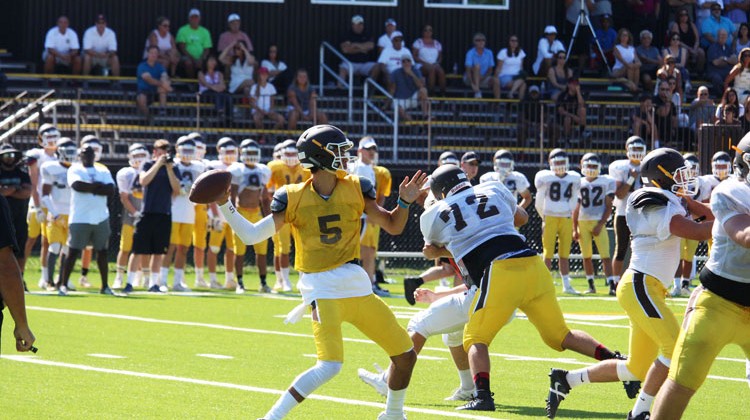 By Paul Silverfarb
Sentinel Editor
With a strong quarterback, a talented backfield and standout receivers, head coach Jarrett Shine and the Brunswick School football team will be looking to defend its New England Prep School Athletic Conference bowl victory.
"I am really excited for this season," Shine said. "The way the kid worked out in the spring and summer was great. I feel more energy. I feel more enthusiasm about the program this year than I have in the past. We have a lot of talent back from last year. We have a great quarterback and probably the best group of receivers that we've had here in a long time."
Last year was another memorable season for Shine and the rest of the Bruins. After steamrolling the competition and finishing with an 8-2 record, Brunswick advanced to play Milton Academy in the Sean Brennan Bowl and came away with the 19-15 victory. The win was the team's second bowl victory in three bowl straight bowl appearances.
"It feels great to come into this season with another bowl victory under our belts," Shine said. "The kids believe what we are trying to tell them about the program and about being a team. That's been our advantage in the past couple of years."
Leading the team this year will be senior captains John Fox, Sean Morris, Peter Wise and Jaydin Knight.
"It's great to be a part of this team," Wise said. "We have a tight bond here. We are not one of those teams that have six or seven post grad kids here. Everybody here is like a family and we are all like brothers. We will do anything for each other."
"It means a lot to be looked up to," added Morris. "It's a big opportunity and the four captains are doing a great job so far. Preseason is coming to an end and now that it's game week, we have to step it up and get ready for the big show."
The trio of Fox, Morris and Wise were named captains at the end of last season, while Knight was named the captain after the last preseason scrimmage.
Fox is committed to play lacrosse next year at University of Virginia, while Morris will be playing lacrosse at the University of North Carolina. Wise has committed to play football next year at Columbia University.
"Pete is vocal and leads by example and John also leads by example," Shine said. "Sean is a little more on the quiet side, but still leads the team by example. Jaydin is a fireball. He's the type of kid that will lead by example, but also get in your face and make sure you're getting the job done as well. It's a great mix of guys and they will all do a great job making sure we are all prepared each week."
Offensively this will be Nick Henkel's team. Last year the quarterback was dominant for Brunswick School, finishing with 2,262 yards and threw for 29 touchdowns and only seven interceptions. He completed 167 of his 266 pass attempts and was averaging 252 yards per game.
In the bowl game against Milton Academy, Henkel finished 22-for-34 for 285 yards and threw for three touchdowns.
"I think we are going to be really good on both offense and defense," Henkel said. "One thing I really like is our running game this year. I think it's going to be a lot better than it's been recently, just with our blocking schemes and our vertical passing game. We have such great receivers that we can give them the ball, set them up and hopefully get some plays over the top."
For Shine, hearing that Henkel, a junior, had such a great spring and summer at camps was music to his ears.
"There are a lot of schools that are recruiting him heavily and that gives him a lot of confidence," Shine said. "He's going into the game thinking he's one of the best quarterbacks in the area. He knows he has a good group of receiver that he can rely on and that also helps his confidence."
The running game this year will be led by Knight.
Last year he was the team's No. 2 running back, with Jason Kennedy leading the way with 496 yards and three touchdowns. However, Knight still had a solid season, amassing 212 yards on 70 carries and had one touchdown.
"He's looking fantastic out there," Shine said. "He's working out to the point where we think he's going to stay healthy. He runs really hard, really fast and can take a lot of hits. That kid can move."
In addition to Henkel, the Bruins will rely heavily on its receiving core and leading the way is Morris.
Last year Morris led Brunswick with 622 yards on 43 receptions and found the end zone a team-leading nine times.
"I'm looking for Henkel to throw me the ball once or twice a game and hopefully we will win out and play Choate at the end of the year. I was on the team since freshman year, so I kind of knew what it took to play and be great on this football team. I've had that mindset since my freshman year. To be a part of the program is great."
Also returning will be junior Sean Amill, who last year was second on the team with 427 yards on 35 receptions and two touchdowns.
Not to be outdone is senior Spencer Decker. Grabbing only 21 receptions last year, Decker was still third on the team with 407 yards and added four touchdowns. He also led the Bruins with nearly 20 yards per reception.
Joining the trio will be tight end senior Kieran Dowley, who finished last year with 301 yards on 29 receptions and was second on the team with six touchdowns. Also at tight end will be fellow returner Harrison Caponiti, a junior, who took home nearly 200 yards and scored two touchdowns last year.
"Nick can think of first, second and third options when he wants to throw the ball," Shine said. "He's going to find someone that is probably going to get open and make a play."
While Morris, Decker and Amill will be keyed on quite a bit this season, sophomore Corey Johnson will be looked upon to step up his game. Last year Johnson took home 159 yards on nine receptions.
"Corey has really impressed me so far this season," Shine said. "That kid can definitely stretch the field."
When people look at what Brunswick has offensively, it's easy to think that the Bruins will be throwing the ball all the time. However, that might not be the case all the time.
"If you looked at us last year, we were actually pretty even in the times we ran the ball and threw the ball," Shine said. "This year I think we are going to try and concentrate on our running game, to obviously open things up for the passing game. I honestly think we are going to be pretty balanced this year."
Helping keep the Bruins moving the ball down the field will be its offensive line. Anchoring the line will be captain Wise and returning starter Lachlan Rosato, a junior.
"In the last couple of years we ended up in bowl games and I think that's the standard," Wise said. "We want to win out in our league and play Choate at the end of the year and beat them. We have a lot of great offensive weapons, a ton of great receivers, an amazing quarterback and I think we are going to put up a lot of points this year."
In addition, senior Antonio Rogliano, coming from Eastchester, will join Brunswick this year and play the left tackle spot. Juniors Jimmy McMachan and Nick Mosher will also be rotated into the mix.
On the defensive side of the ball, it will be hard to put some points on the board for Brunswick's opposition.
Returning in the corner positions from last year's team are seniors Cassius Johnson and Cam Kelly. Last season Kelly netted a team-high three interceptions and added 10 tackles.
"Those two are lock down cornerbacks," Shine said. "Hopefully they will play man defense throughout the year."
Brunswick will have some double trouble at safety this year, as the Beninati twins, seniors Matt and Michael, will join Decker and log some key minutes. The Beninati twins will be replacing Jourdon Delerme-Brown and Rob Walsh, who graduated last year.
When Brunswick runs its nickel defense, sophomore Kevonne Wilder will help attack the opposition. The Bruins will also get some help back when Fox returns from injury. Last year Fox had surgery on his shoulder immediately after the lacrosse season and should be ready to go when the football team battles Taft later this season.
"I would like to play a little more man defense this year," Shine said. "However that depends on how well our safeties play. Because our corners have been there last year, I know they are good and can do it. Having Fox come back at linebacker at some point will also help our man.
While it's obvious that the strength of the team is its passing game, with a solid quarterback and talented receivers, there's still work to be done with the Bruins if they want to try and defend its championship.
"We need to make sure we can stop the run," Shine said. "That's something that we have always hung our hat on. We have the personnel to do that."
One of the proudest things for Shine this season is that the seniors on the squad don't know what it's like not to play in a bowl game. The Bruins have been to a postseason game the past three seasons, winning two of the three games.
While another trip to a bowl game and a championship would certainly be a highlight, Shine said that the team's goals are about family.
"Obviously we want to win a championship, but we also want to stick together and play as a team," Shine said. "That's very important. Each player on the team has a responsibility and they need to do their job and be dependable. If that happens, everything else will fall into place."
Tags:
Brunswick
,
Brunswick football
,
Brunswick School
,
cthsfb
,
greenwich
,
NEPSAC