September 9, 2016
GHS Filmmakers Highlight Water Crisis, and a Solution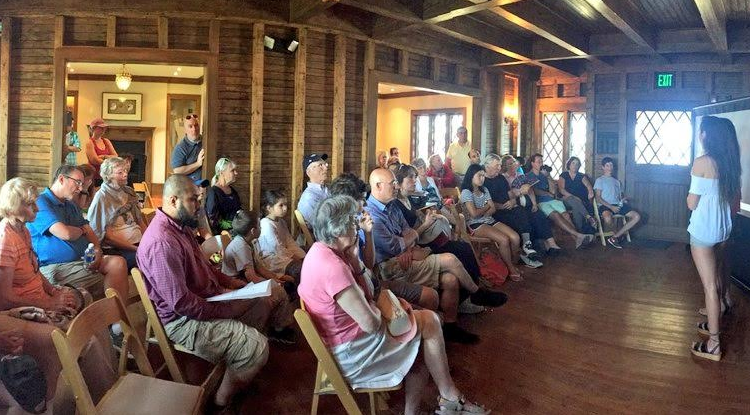 By Chéye Roberson
Sentinel Correspondent
Two Greenwich High School students have shed light on a new approach to water desalination with their documentary, "Nanoporous Graphene: A Filter for the Future," which debuted at the Bruce Museum Seaside Center at Greenwich Point Park on Sunday, Sept. 4.
The 15-minute documentary created by 16-year-old 11th graders Kathryn Papas and Sofia Dodaro explores the life and work of Dr. David Cohen-Tanugi, an MIT research scientist who developed a way to use graphene to purify water at the molecular level.
In the film, Cohen-Tanugi emphasizes that desalination will be a mainstream solution to issues dealing with water quality in the 21st century.
"Desalination is an important topic to both of us, because a lot of the time people around here and almost everywhere in the United States take clean water for granted," said Dodaro. "Many people do not know how hard some people have it, there are millions who do not even have enough clean water for drinking, much less showering, water plants, etc. Through our research, it was clear that something must be done to end this crisis, and desalination has been a huge idea for a long time, but now people are finally doing something to make it happen."
In a way, Papas' concern for the issue grew out of personal experience. Having a mother from California and visiting family there has allowed her to see the effects of the  drought on Western lands.
"California's land provides most of the United States' agriculture, and so it is really important that we try to conserve it. From the drought, I became interested in finding a solution to the water problem," said Papas.
According to Dodaro, through researching and learning more about desalination techniques, a lot of things popped up about MIT and the groundbreaking work they were doing.
"We quickly found the names of the people in charge of everything that was going on at MIT. Upon finding Dr. Cohen-Tanugi's email, we were reluctant to email him at first, but then we asked ourselves what could be the worst thing that happened?"
Dodaro said that she and Papas decided to email Cohen-Tanugi, because they were much less likely to get an answer if they never tried to reach out to him.
The documentary itself took two to three weeks to make, while the script took four to five months to complete because there were a lot of Ph.D.-level terms and concepts that Papas and Dodaro had to tackle.
Papas and Dodaro were very happy with the final result, and by the turnout and the support shown at the Seaside Center during the Q & A session that followed the film.
"I thought that the turnout on Sunday was great," said Dodaro. "We even needed to set up more chairs. All of the people who came were genuinely interested in the subject, and we could tell that they were there to learn more. They were so supportive and they seemed to really enjoy watching the work that we did."
Papas discovered the topic drew more interest than she imagined it would.
"People from all over the community came, and they were very curious," she said. "After the screening, a Navy Veteran came over to talk with me about the importance of desalination. I wasn't counting on people being interested or even understanding nanoporous graphene."
The project began as part of a school assignment that Papas and Dodaro started toward the end of their sophomore year in a STEM class, through a program called Innovation Lab. In class Papas and Dodaro were graded on their research, interviews, and script of the film; creating the documentary over their summer vacation and showing it at the Seaside Center was something they decided to do on their own, so that more people would be informed.
"We hoped that people would see what was going on in the world and how much of an issue water was, but more importantly we wanted to show them a piece of technology that could one day save many nations from not having water," said Dodaro. "We wanted to show our audience what people were currently working on to eventually put an end to the water shortage crisis. Of course, we all know that there is an issue regarding water, but not many people know how we one day hope to end the crisis."
Tags:
Bruce Museum
,
desalination
,
Greenwich High School
,
MIT
,
Seaside Center
,
STEM class