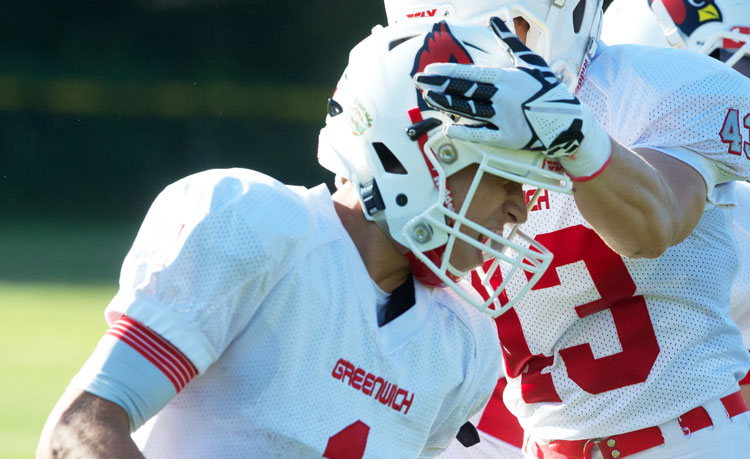 In what turned into an absolute thriller at Staples High School, the Greenwich High School football team came back from a 21-0 deficit, but fell just short against the Wreckers on Thanksgiving, 28-26.
"It was a good second half," Greenwich High School head coach John Marinelli said. "The first half was terrible and that's been the story all year. We come out and see how they are playing and we will turn it on in the second half. It was just a little too late and I decided to go for two, which was the deal-breaker. This one is on me, but the kids played great in the first half and you couldn't ask for a better effort there."
Trailing 21-14 heading into the fourth quarter, Big Red made quick work of its first drive of the quarter. Starting at the its own 25-yard line, the Cardinals got a five yard run by Luke Bienstock and a 21-yard scamper when GHS quarterback Connor Langan called his own number and ran for 21.
On the third play, Langan found Joey Longo on the flat and he ran down the GHS sideline for 49 yards and a touchdown with 9:45 to play. Instead of going for the PAT, Greenwich went for the lead and two point, however the conversion failed and Staples still had the 21-20 lead.
With 2:21 to play, it appeared as if the Wreckers took the lead for good, capping off a 13-play drive with a 12-yard run up the middle by Elliott Poulley. However Big Red still had a little magic in them.
Starting on its 20-yard line and facing a third down and 15, Longo caught the pass form Langan for 13 yards. On fourth down, it was another Longo completion for nine yards that kept the play alive.
Scooter Harrington got into the act next, catching a 13-yard and 11-yard completions on back-to-back plays.
"I am so proud of this team," Harrington said. "It has turned into such a family and I am so proud of every one. I think we are in really good condition and get better late in the game. That's been a theme for us. We were down 21-0 and were right there at the end."
With under a minute to play and the ball on the Staples' 37, Langan again made the key pass, finding Longo for the 18-yard completion. On the next play, Langan called his own number and darted to the 8-yard line and on the next play he threw once again to Longo for the 8-yard touchdown reception with 12 seconds to play.
However, Big Red's comeback would fall just short. On the conversion attempt, Langan stepped back and unloaded a bullet to Joey Lanni in the end zone, however, Staples High's Julian Ross was there to bat the ball down on the turf and end the play with Greenwich trailing 28-26.
"I thought we played really well," GHS senior Ian Bannon said. "We came out a little soft in the first quarter, but once we got our feet wet and got under ourselves we started to believe that Connor Langan could do it. We drove 90 yards on the final drive and missed the 2-point conversion, but that's football. You can't win them all. It was 21-0 and it was scary. We were like it could be a 50-point game or we could turn it around like we did. We just played hard."
Staples recovered the onside kick and secured the victory in what was certainly another epic battle between the two schools.
"It was a tale of two cities," Staples head coach Marco Petroccio said. "We jumped on them early, but they made some adjustments. It was a great football game and it's what Thanksgiving Day football is all about. You have to give all the credit in the world to Greenwich High School. They never gave up and kept on fighting. We made some mistakes but in the end we did what we had to do to win the game. For it to come down to a two-point play was tremendous."
Staples started the contest leading 21-0 midway through the second quarter, but Greenwich netted a touchdown to cut the deficit to 21-7 at the break.
On that drive, Big Red had a plethora of standout plays. Harrington had a 14-yard completion and Henry Saleeby picked up 23 yards, while Bienstock had a 10-yard run, Langan sprinted for nine, and Tyler Ferris ran six yards to the left corner of the end zone for the touchdown with just under five minutes to play in the half.
The Cardinals cut the deficit to a touchdown late in the third quarter. After Harrington grabbed a 13-yard completion, Saleeby picked up 28 yards, Langan hit the quick sweep pass to Bienstock, who took the ball, dodged three Staples' defenders and netted the 13-yard touchdown with less than 20 seconds left in the third.
"We knew how they were going to line up, but a sluggish start, bad balls and a couple of drops and three-and-outs in the first half, you can't do that against a team that's going to ball control you to death," Marinelli said. "When you're down 21-0, to come back and did what we did was pretty cool, but you shoot yourself in the foot just like we did against Darien, just like we did against New Canaan, just like we did against Trumbull and just like we did against Ridgefield. You can't come back from it."
To read more about the game and to hear Marinelli and players talk about the 2015 season, check out the Dec. 4 edition of the Greenwich Sentinel.