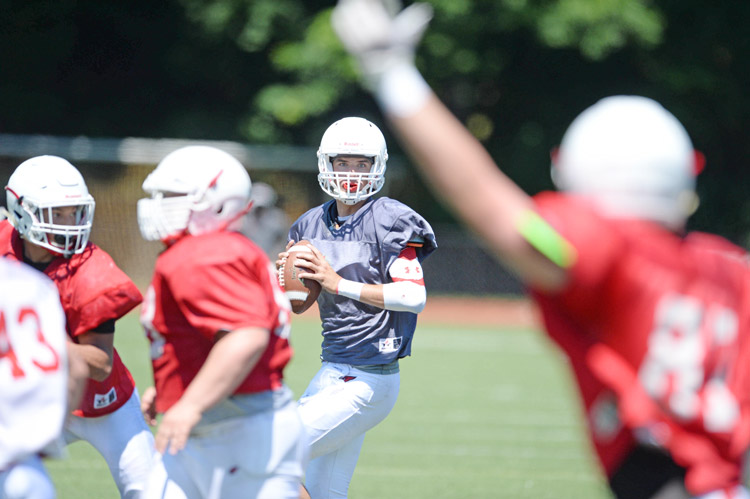 When the largest high school football program in New England took the field for its annual spring intrasquad scrimmage this past weekend, the Cardinals of Greenwich High were eager to prove their readiness to their second-year head coach John Marinelli.
Saturday's Red and White game at Cardinal Stadium gave Marinelli a sense of growth, as he told his team that they looked far ahead of where they were this time last year.
"It really felt like fall practice," Marinelli said. "These kids understand what is expected from them. They came out and our seniors took ownership. That's a combination of the captains and seniors making sure that the younger kids are engaged and involved."
In his first year at the helm, Marinielli's Cardinals finished with a 4-5 record. The former assistant head coach for New Canaan, under his father Lou, accepted the position following the departure of Rich Albonizio in 2014.
With the program making strides under Marinelli in his first offseason with the team, the spring game proved to be just to the coach's liking after a competitive, but also collaborative game between the split squads.
"The expectations are set and the leaders are trying to raise the bar each and every week," Marinelli said. "That's kind of how good programs should run. We're just taking the blueprint of some programs around us."
Teams were split into primary offense (Red) and primary defense (White) for the first and fourth quarters. Big Red switched things up in the second and third quarters, but ultimately had their most competitive playing time in the final minutes of the game.
Taking snaps was soon-to-be senior Connor Langan, Gavin Muir and Matt Circelli. Langan entered the spring with the edge in the position battle, but Marinelli says he sees talent in each of his options.
"All three of them are fighting for the job," Marinelli said. "Langan has a little bit more experience as a senior. It's going to be a battle and it will be fun. I think Gavin is pushing Connor, so that's going to be a fun battle and competition. It's not necessarily the best quarterback, but the one that best fits the team."
Muir, who will be a sophomore in the fall, opened the game with a touchdown pass to Matt Morganti to give the White team an early 7-0 lead. Muir would find an open James Day for an impressive 50-yard touchdown on their next drive.
A Kevin Iobbi 35-yard run in the second quarter set up a 20-yard touchdown pass from Muir, on a play action call to an open Jael Negron.
"Gavin is going to be a very good quarterback," said Marinelli about Muir's first few drives. "Whether it's his time now or not, we'll find out."
Iobbi, the projected starting running back, says the seniors are hungry to bounce back from last year's sub-.500 season.
"We're definitely looking to improve off that disappointing season last year," Iobbi, who had his reps limited during Saturday's game, said. "Now that [Coach] Marinelli has a year under his belt, he knows what he's doing and he's really cracking down on certain things at practice. We want to start off strong and build up some momentum for the big FCIAC opponents."
The receiving corp looked ready for the task at hand, even without their leading returning receiver in Tyler Farris.
Anthony Ferraro caught a pair of touchdown passes in the second half, while Negron stepped up with two of his own.
Charlie Ducret opened up the scoring in the second half for the Red team, setting up a comeback scenario for the primary offense.
Circelli, repping the white team in the third quarter, led a drive with two completions of over 20 yards to each Negron and Henry Foster, who would be the eventual touchdown recipient.
"The nice part of having Morganti, Saleeby and our captain Tyler Farris is that we have five kids and subs for us who can all catch the ball," Marinelli said of his wide receivers. "It's a matter of who's day it is and who's hot. Ferraro had a silent first half but he came alive in the second half. As a coach, they are great problems to have."
Ferraro would score twice in the second half, including scoring on a two-point conversion.
Connor Weigold would come up with an interception off the hands of Muir on the defensive side.
Langan would then connect with Ferraro on a jump ball for a 70-yard touchdown, which was followed by a two-point conversion for wide receiver Henry Saleeby.
"This game prepares us and brings us together as a family," said Langan. "Now the coaches will be talking about this all summer and kids will earn their spot come fall. I've been playing with Anthony since freshman year so we've had that chemistry for years. It was nice for him to catch those deep balls."
The quarterbacks were given time to work by their offensive line made of Christian Novakowski, Kyle Woodring, Blake Guerrieri, Frank Intrieri and Jake Cohen.
The scoreboard read 28-23 in favor of the white team when the clock hit zero, as the red team offense couldn't find the endzone on their final drive of the game.
"We have a lot of depth and play a lot of people," Marinelli said. "We want to play a lot of people because it's part of the mantra of our offense that we run. When you get this thing going the way you're supposed to, that depth is going to help you, especially when you get into the season with injuries happening. We want to play next man up and play as is."
"We're the biggest program in New England, and as it should be for one of the biggest schools. This town community loves this game of football, it's the number one sport here.
The Cardinals have eight weeks until they return to the gridiron for fall practices, but the atmosphere felt like any other late August practice as Marinelli sent his team off with inspiring words.
"We're going to treat every week as it was the same," Marinelli said. "Westhill is our first game and we're not looking beyond that. This offseason is about participation and our preparation in 7-on-7's, the weight room and early morning conditioning. Summer is hard because they are not in school. Our senior class is up for the challenge and I think they're ready for it."