September 12, 2020
Cobber North: Great Food on the Greens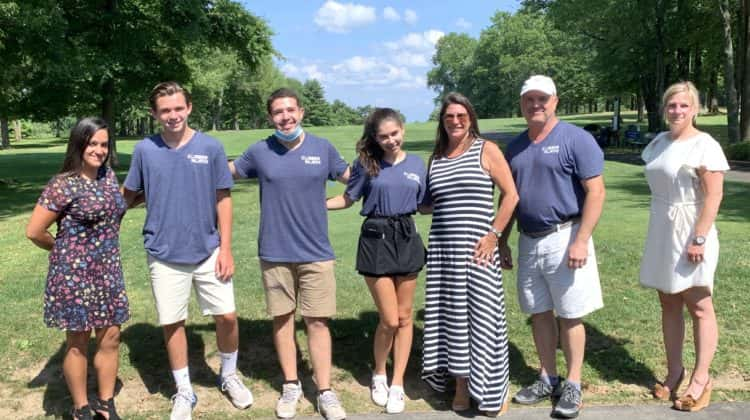 By: Richard Kaufman
Since 2011, the Greenwich community has gone to Caren's Cos Cobber at 31 E. Putnam Ave. for great food and even greater company. Now, residents can find the same delicious eats and familiar friends on the grounds of the picturesque Griffith E. Harris golf course, at the Cos Cobber North location on 1323 King St.
Restaurant owner, Caren St. Phillip, opened the original location in Cos Cob nine years ago after leaving her job as a school teacher.
New to the business, St. Phillip had to learn everything from how to conduct ordering to how the payroll worked. The restaurant quickly turned into a Greenwich staple for scores of residents.
"My goal for the Cos Cobber was to make it a neighborhood place. You walk in, you feel at home, everyone knows you and knows each other, and I wanted you to feel like you were in my own dining room. That was my vision for it," St. Phillip.
In May, that vision was brought over to The Griff when the Backcountry Bar & Grill closed. Cos Cobber North has both indoor and outdoor dining spaces, open to all, in accordance with the current COVID-19 guidelines.
"We've been very well-received. Everyone has been happy. We've been busy, and I take that as a good sign," St. Phillip.
The restaurant is open for breakfast (window only), lunch and dinner every day, with brunch available on Saturday and Sunday. The menu features classics and favorites from the Cos Cob location, as well as nightly specials. On occasion, live bands provide music outside.
Not only has St. Phillip provided good food and a place to gather for the community, she has also given back through charity over the years, notably through fundraisers for various Greenwich High School athletic teams and Greenwich Emergency Medical Services (GEMS).
So when it came time to open up an account when she started her restaurant business, she chose the First Bank of Greenwich (FBOG), which also prides itself on putting the community first.
"I've been with them forever," said St. Phillip. "We have a good relationship. I feel like I could email or text anyone who works there and they get right back to me."
When the COVID-19 pandemic hit and small businesses scrambled to stay afloat, St. Phillip took part in the Payroll Protection Program (PPP), which was facilitated by the FBOG. It helped the Cos Cobber keep its roughly 13 employees.
"I have to say, they did a great job. They were on it. They were first to get the ball rolling very quickly," St. Phillip added.
Opening up a new restaurant during a pandemic could be a scary proposition, but the opportunity came so quickly that St. Phillip said she couldn't think about the challenges. Emily Newcamp, Vice President and Retail Banking Manager for the FBOG, had no doubt that St. Phillip would be successful.
"Everybody in town knows Caren. As soon as I heard she was opening this location, I knew she'd do well because she has a following. This is a prime location, especially during a pandemic. People are getting out and going golfing," Newcamp said. "She's been a great customer and a great advocate for the bank."
Whether you head to the Cos Cobber or Cos Cobber North, you'll surely be greeted by St. Phillip. For her, the customers are what it's all about.
"I love the people interaction, and all of the friendships I've built through these years," she said. "I consider my customers like family."