September 14, 2020
Gov. Lamont: These Next Few Months Are Crucial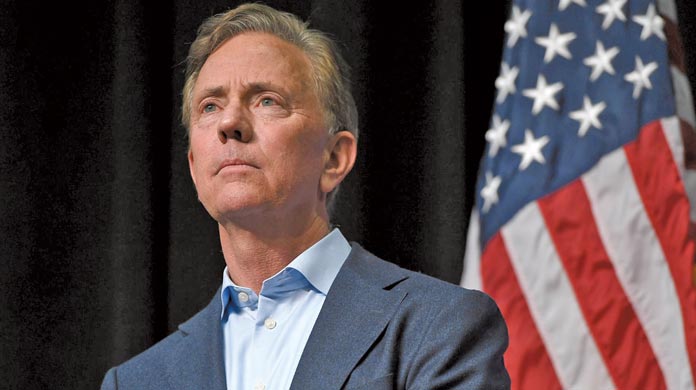 By Richard Kaufman
Sentinel Reporter
Gov. Ned Lamont gave an update on COVID-19 in Connecticut on Monday, and said he believes the state could be entering into  the "fourth quarter" of the pandemic over the next several months.
Since last Friday, 48,964 COVID-19 tests have been conducted, with 569 people testing positive, good for about a 1.2% positivity rate. Since the pandemic began, there have been 54,895 total cases.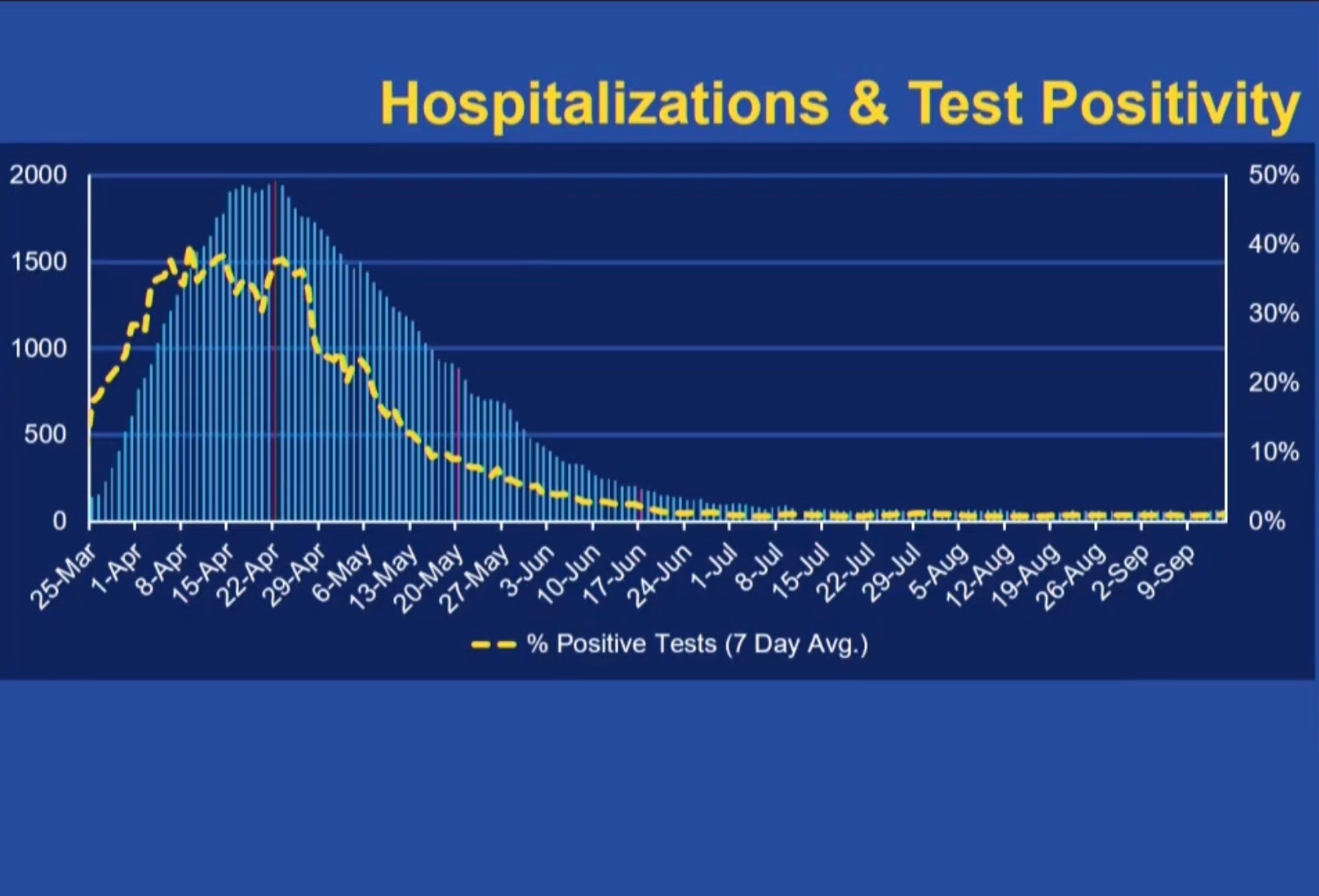 There have also been five additional deaths, and 13 additional hospitalizations. As of Monday evening, there are 64 people hospitalized with the virus throughout the state; Lamont noted Connecticut has averaged around 50-70 hospitalizations over the summer.
"I think these numbers are still trending in the right direction," he said.
Infection Rate Low in College, K-12 Students
With school underway across the state at both the college level and K-12, Lamont said the infection rates are much lower than what's being seen in the general public. 
"I think it's worth remembering that out of all the schools that have been open, some full time and some part time, we've had two infections," Lamont said about students in K-12. "That's 32 out of 600,000-700,000 students, teachers and administrators. It's a much lower positivity rate than we're used to seeing in the general population right now. I feel pretty good about where we've gone in the last 2-3 plus weeks of K-12 education."
Lamont said going back to school, managing the flu season, keeping testing up, and developing vaccines will be crucial over the next few months.
"I know the numbers are really good, and people are saying 'enough.' I do think this is like the fourth quarter of the game, and if we get it right, we can bring this to a successful end over the course of the next number of months. By that, I mean we've been able to hold this down through the protocols we have, what we can do in terms of vaccinations, what we can do in terms of testing, what we can do in terms of five minute tests. These are all things that may be breaking in the right direction," Lamont said. "We ought to have a pretty good idea by early next year. I'm not starry eyed on this, but this is why I do urge people to maintain discipline as we go into the flu season. We'll have a lot better information by the end of this year."
Department of Public Health Recommends Spring High School Football
There has been a lot of outcry recently over the cancellation of full-contact high school football for the fall, as the sport has been deemed "high-risk" by state health officials. Deidre Gifford, Commissioner of the Connecticut Department of Health, recently sent a letter to the Connecticut Interscholastic Athletic Conference (CIAC), strongly recommending football be played in the spring. However, the final decision will be up to the CIAC, with local input from coaches, parents and superintendents, Lamont said.
"I think it's reasonable to assume we're in a much better position to prevent, stem and hold down COVID in February than we are in September," Lamont said, noting that the state would be through the bulk of the flu season by the spring, and perhaps a five minute rapid COVID test will be available. 
"Football is not just football. It's being part of a team, it's having a mentor; I understand that. I also think, at this point, I'm trying to do everything I can to eliminate unnecessary risks," continued Lamont. "If you have a good alternative, it does seem to me that spring football like in New York, like Massachusetts, like Rhode Island and a lot of other states — if they can make it work, we can make it work and keep faith with the kids."
Connecticut to Enhance COVID Protocol Enforcement
Following suggestions from local municipalities, the state is enhancing its COVID-19 protocol to help keep residents safe.
New fines include $100 for violating a mask order, $500 for organizing an event that exceeds size limits, and $250 for attending an event that exceeds size limits.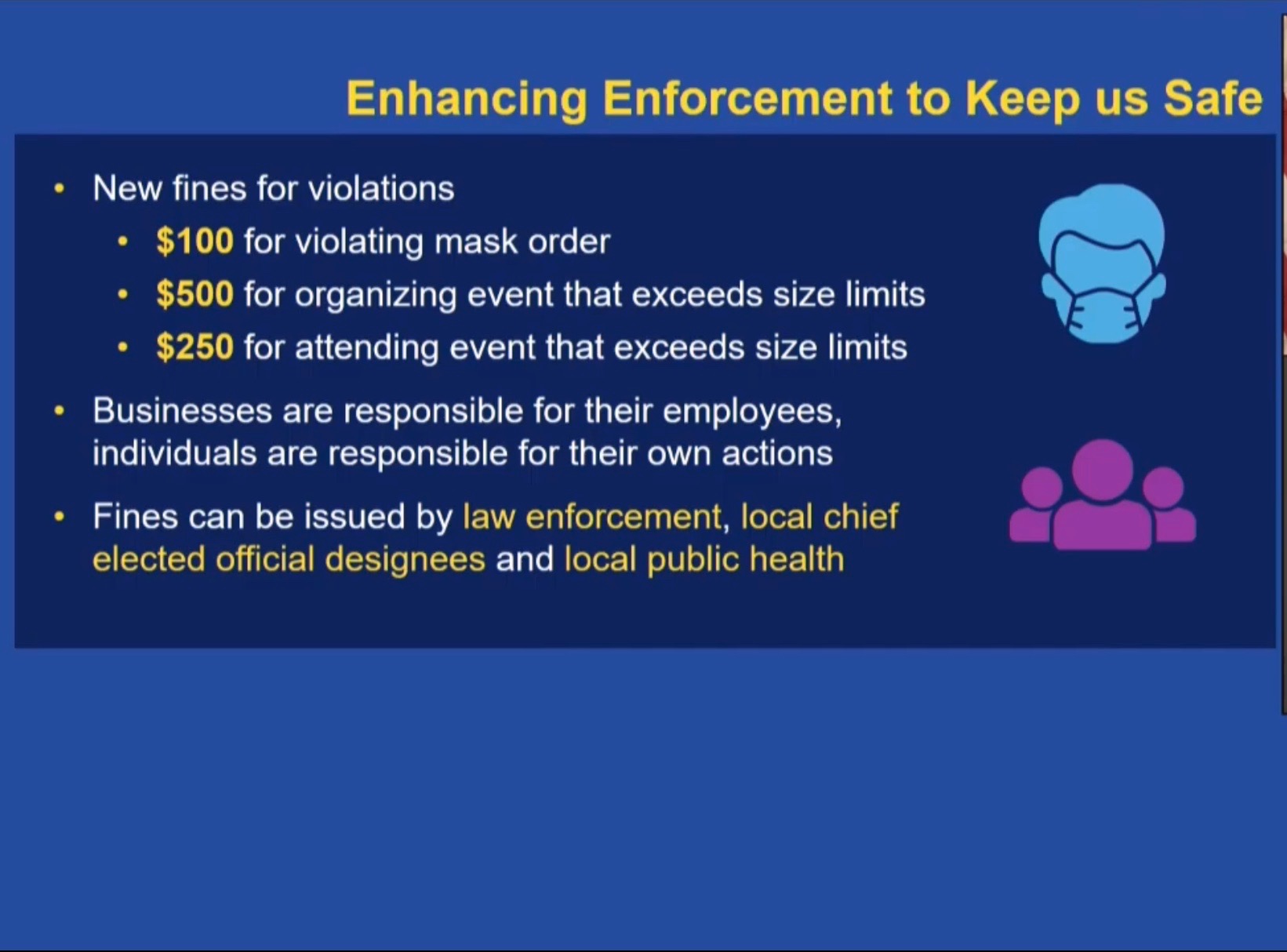 The fines are expected to be implemented this week.
Travel Advisory Update
Lamont spoke about the updated travel advisory update, which can be seen below: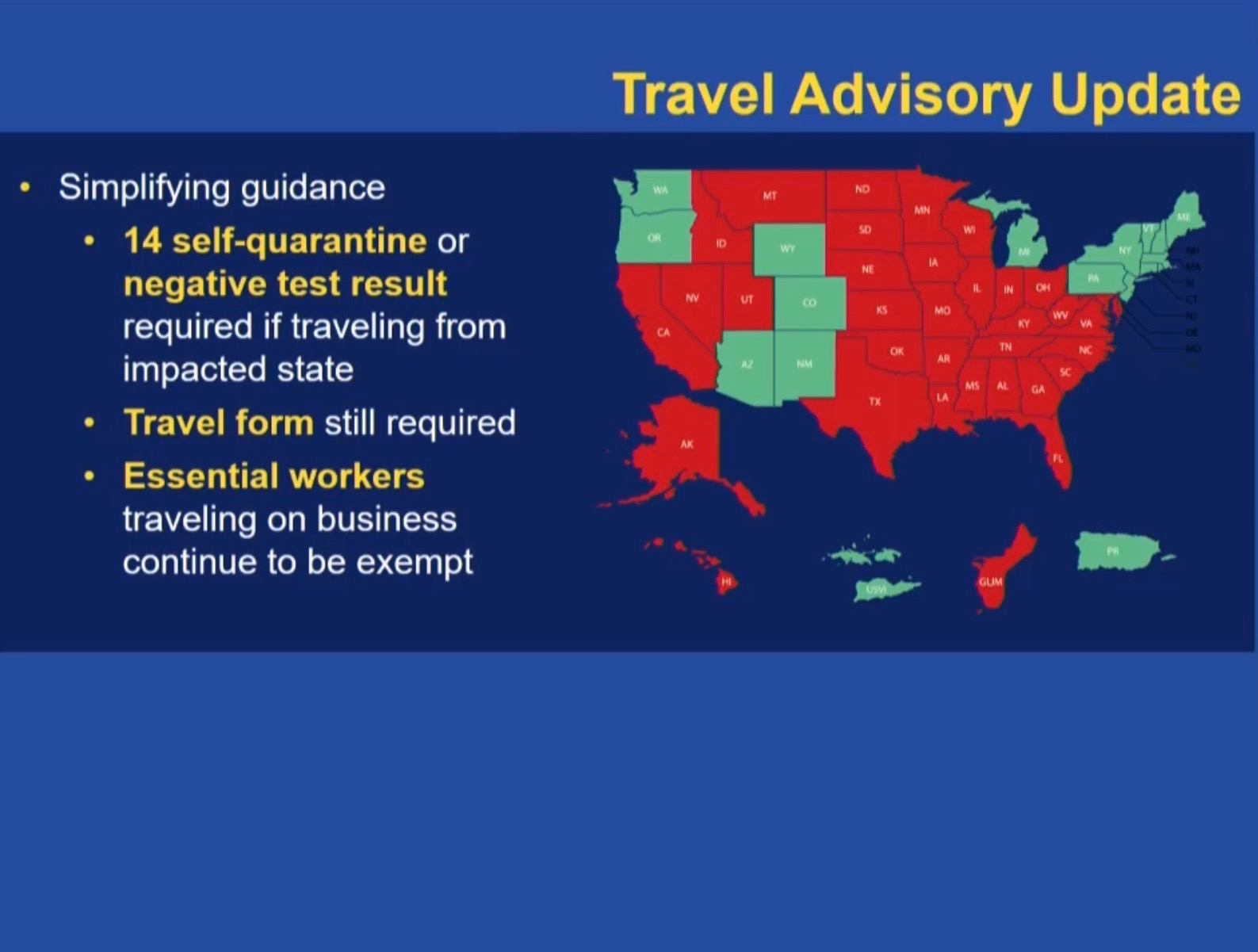 Tags:
Covid-19
,
Gov. Ned Lamont
,
greenwich
,
state of Connecticut
,
Town of Greenwich