September 12, 2020
On my watch – Lessons from our ospreys in a time of trial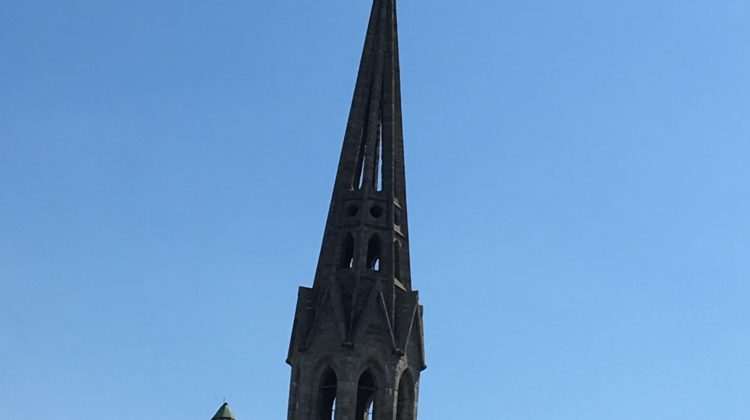 By: Anne W. Semmes 
So, the good news is the osprey count this year is up. Connecticut Audubon Society reports 650 Connecticut Osprey nests! In 2016 there were 337 active nests reported. Build those platforms and they will come! Count also that rare four fledglings found in the Cos Cob Harbor nest (courtesy Audubon Connecticut) with its parents officially named Ted and Margaret, though one fledgling did not survive.
But the bad news was the wipe-out wind storms this month that took away long-built substantial nests. It was heart breaking for this osprey steward to arrive at Byram Park and see no nest atop the flood lights overlooking the ballpark after eight years of watching that nest as a volunteer for Osprey Nation run by Connecticut Audubon.
Seeing that lone fledgling looking desolately at that empty site from a nearby tree, and hearing its mournful cries was not happy making. Swooping over it I saw its parents likely encouraging it to go fishing with them. The worry was the unsettled bird might pine away. But both fellow steward Steve Galkin and I have seen the fledgling prospering, sans nest.
Truly tragic was the news of the newly rebuilt osprey nest observed on Smith Cove overseen by the DuBois family. They had watched repeated attempts of an osprey pair to build a nest and raise young, albeit precariously atop two pilings connected by a cross beam. Lo and behold, though late in the season came the fledgling, but the great winds came and off went nest and too small fledgling to survive.
Timing is everything, and fortunately the big winds came when most fledglings were mature enough to survive. And I'm betting my money that includes a Greenwich Hospital cell tower nest fledgling. That nest is still there! High up in the sky! Windy territory for sure. That fledgling I believe has found the highest perch in Greenwich. Atop the steeple of the Second Congregational Church!
For most eyes looking up, you'll see only a black dot atop an ornate weathervane on a metal rod rising out of the steeple. But, seeing so often that dot so stationary through days of humidity and heat, I finally posed my camera and zoomed in to find that osprey! (And, surely that osprey is a fledgling with most adults having begun their journeys south).
That osprey has found the prime real estate location in town. Yes, ospreys are thriving, so they are found moving inland. Just like those New Yorkers moving out wanting country air and space in this pandemic. Look to the ospreys to know how to overcome hardship. Fifty years ago the ospreys had well-nigh disappeared from Connecticut, killed off with effects of DDT. Fortunately, humankind wised up and they're now prospering. And, hopefully, humankind can design a vaccine to bring a cure so humans can once again prosper.
And now with kids having to find their way to be educated without getting Covid, fledgling ospreys are having to find their migratory way – flying thousands of miles through all kinds of weather to their tropical locations. And when they return from their colossal journeys many will need to rebuild those blown away nests.
But it's that osprey atop the steeple of the Second Congregational Church that captures the imagination. Is he (or she) contemplating that first epic journey to his winter grounds? Or, is his high perch speaking to the savannah hypothesis? I'd learned about it from an ecologist Dr. Gordon Orians, that we humans prefer an open savannah landscape. That osprey surely has that. I experienced that theory proved when I took in an Afghan freedom fighter teenager, here to have his war-torn face fixed courtesy AmeriCares.
When he arrived to bunk in with me for six weeks, when I lived in a house overlooking a small pond surrounded by woods, he panicked. He was used to those high vistas and wide-open landscapes – better to see the enemy. What was behind those woods?? It took time to build his trust.
It's going to take time for us to trust we will get our normal life back. Maybe, come March when those ospreys begin to arrive we'll have made some progress. Meanwhile, we can look to the ospreys' rebound for inspiration.