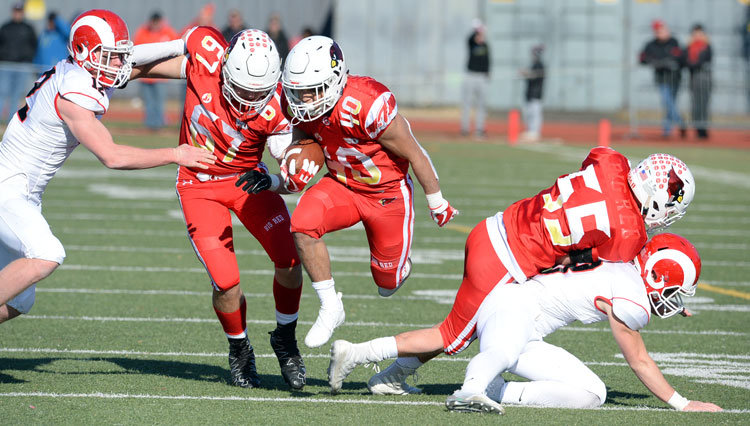 By Paul Silverfarb
Sentinel Editor
Last year the Greenwich High School left Stamford High School's Boyle Stadium with the a few plays short of winning the CIAC class LL championship. This year a motivated group of Cardinals refused to let that happen again.
And on the same grand stage and in the same venue this year, Big Red put on a clinic in the CIAC class LL finals, blanking New Canaan High School 34-0 and bringing the state class LL trophy back to Hillside Road.
"This is absolutely unbelievable," Greenwich High head coach John Marinelli said. "All the credit to my coaching staff and kids. They show up to practice every day and to challenge kids every single day. I have unbelievable role models and men on my staff and I have unbelievable kids that bought in. It was an incredible job.
"It's not about me," added Marinelli. "There are so many people behind this thing, from the administration to my athletic director to the booster club that is 14 members that are all alumni. This is a true community program. There are so many people that have a hand in it and so many people deserve credit. I'm just the guy that gets to be interviewed. There are so many other people that deserve credit. So for all of us I think it's special because you see a plan come into fruition. On Monday we have to get back to work for 2019."
With the victory, Greenwich finished the season a perfect and claimed its first state championship since the 2007 season.
"This is surreal," GHS defensive specialist Evan Weigold said. "There' nothing like it. I'm only a junior so this is crazy. Last year I was just a backup and didn't know what it meant to play in the championship game. To do it like this is crazy. [New Canaan] has a lot of good players and give a lot of credit to them. They work hard, but I think we just wanted it more today. Since last year's loss we have been coming out with a vengeance and it showed today."
GHS quarterback Gavin Muir wasn't to be denied in the class LL finals. The senior was quite active on Saturday throwing the ball. He finished going 28-for-39 for 295 yards, threw for three touchdowns and ran for another one.
"This feels great," Muir said. "To do it in this fashion with a shutout and the offense was able to put up some points. Everyone was making plays today. The ball bounced our way and it feels great. We knew that in the first game we went deep a lot. That made us successful in the first game. So we assumed they would try to play back and make us get impatient. But I just took what was there. If the screen pass was there I would throw it and we just drove down the field and get some points on the board."
And the duo of sophomore AJ Barber and senior Lance Large were the key recipients of Muir's screen passes and deep throws. Barber finished the game with 10 receptions for 161 yards and was responsible for all three touchdown receptions.
Not to be outdone was Large, who took home nine receptions for 85 yards. One was a miraculous diving catch on a 33-yard deep pass on a second down that kept the drive alive. GHS scored two plays later.
While Barber was able to find the end zone three times, including a gorgeous deep catch and run for 60 yards down the GHS sideline, it was a play where he threw the ball for a touchdown that was a game highlight.
On a first and 10 with just under eight minutes left in the half, Muir threw a little high to Barber for the lateral. Barber leaped as high as possible and made a spectacular one-handed grab. He immediately switched hands and threw a perfect spiral to Hunter Clark, who was wide open at the New Canaan 3 and ran in the rest of the way for the 27-yard completion.
"I was like 'Wow, I get to throw it this play. I can't screw this up,'" said Barber. "I surprised myself when I caught that ball. I was really excited to run that play all week. It was supposed to get our running back doing a corner across the field and I was supposed to look confused to confuse the defense. When I saw the ball coming at me, it was super high. So I just stuck my hand out there and hoped for the best. It was nerve-racking at first playing in the game, but I got the hang of it."
Not to be outdone was senior running back Tysen Comizio. His hard-nosed style of running was swallowing up the New Canaan defense all game. Although he didn't find the end zone, Comizio had his number called 24 times and finished with 146 yards.
This game feels amazing," senior Garrett Murphy said. "It's something I have been dreaming for all my life. We've been working on this since Dec. 11 of last year after we lost to Darien. It's like a dream-come-true for us. We thought it was a great game and New Canaan is a great team, but we all had each other's back. We came in with our game plan and executed very well."
Barber got the good times rolling in the class LL championship game. After both teams exchanged punts in their opening drives, Greenwich got on the board with 2:27 to play in the quarter, as Muir stepped back and threw a three-yard touchdown completion in the right corner of the end zone for the 7-0 lead. That drive was highlight by the shoestring diving catch by Large for 33 yards down the NCHS sideline.
Big Red exploded in the second half, scoring 20 points and put the game out of reach. Starting on the Greenwich 22, it took five plays for another touchdown celebration. With the ball on the Greenwich 40 and with plenty of time in the pocket, Muir stepped back and found Barber down the GHS sideline for a 60-yard touchdown throw.
Keeping the good times rolling, Greenwich got the ball back on the Greenwich 49. Comizio got back-to-back handoffs and combined for 20 yards. After a Large completion for short yardage came Barber's one-handed gem and throw for the Clark score.
"On offense we just want to score," said Muir. "If we get off the field, we are upset because scoring is fun. We just want to get in the end zone and celebrate. It drives us to keep putting points on the board and letting our defense shut things down. To be honest, our mentality going into this game was that it was just another game."
After a Hunter Cusimano interception on defense, Greenwich's offense came back and didn't let up. Highlighted by a Barber 17-yard completion and a Comizio run of 35 yards, Big Red eventually got the ball to the New Canaan 3. With 24 seconds to play in the half and the ball back to the New Canaan 8 due to a penalty, Muir called his own number and rumbled up the middle for the eight-yard score. Muir found Large for the two-point conversion that put Greenwich up 27-0 at the half.
"Each week someone else steps up, whether on offense or defense," Marinelli said. "Today I think everybody stepped up on defense. One week one receiver is going to have a lot of catches. Gavin does a great job distributing the ball and it showed today. AJ had a big day. Lance had a big day. A couple of guys had some serious catches and they blocked for each other on the screens. Those screens don't work without wide receivers blocking for each other."
Greenwich added one more touchdown in the final quarter, as Barber took home a nine-yard reception midway though the fourth.
"From December until now, the grind never stopped and look where we are now," Weigold said. "It makes it all worthwhile."
In addition to Cusimano's interception on defense, GHS senior Ryan Raybuck also took the ball away from the New Canaan attack. Larry DeLuca was lights out when getting at NCHS quarterback Drew Pyne, finishing with two sacks. Fellow senior Mozi Bici also took home a sack, as did Jack Feda.
And while this game had the normal pressures a championship game would bring, there was the added element of Marinelli coaching against his father and head coach of New Canaan, Lou Marinelli. Although they've coached against each other before, it has never happened in a playoff game.
While in the past the younger Marinelli despised coaching in these match-ups against his dad, the GHS coach took a different approach for this game.
"It was low key," John Marinelli said. "I embraced it. I used to hate it, but this week there was something special about it. I embraced it. My kids have no idea. I don't talk about the father and son and I don't overhear them talking about it. So I think we kept that away and let them play and not worry who their two coaches are."
But that didn't mean all feelings were swept under the rug. After the Gatorade shower and celebration was on, John Marinelli ran across the field to greet his father and enjoy a long hug.
"It was special," said John Marinelli. "He taught me everything. This is his blueprint that I am putting together. I know it's bittersweet for him too."