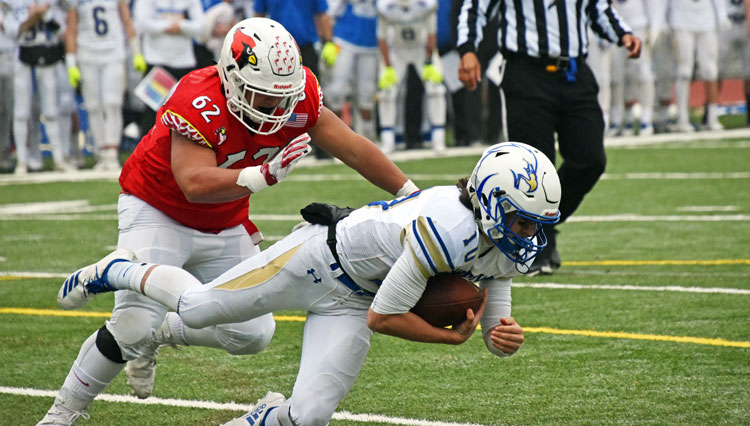 By Paul Silverfarb
Sentinel Editor
The Greenwich High School football team, especially the seniors on the roster, wanted to make a statement in their final game this year at Cardinal Stadium. Winning meant another trip to the CIAC class LL title game, while losing would give Greenwich an entire offseason of trying to figure out what went wrong.
However losing wasn't an option for head coach John Marinelli and the rest of the Cardinals. And on a misty Sunday afternoon at GHS, it was Big Red that came up in a big way, dominating all aspects of the game en route to a 50-0 drubbing of the Nighthawks.
"[Newtown's] a good football team," Marinelli said. "That score doesn't indicate how bad of a football team they are. It's the same thing with New Britain. Our kids came out and executed. They were fired up and were focused. They've been on a mission.
With the victory, Greenwich returns to the CIAC class LL championship game for the second consecutive year. And once again Big Red will be battling a familiar foe from the Fairfield County Interscholastic Athletic Conference, as New Canaan High School upended Fairfield Prep in the other semifinal game.
"It means so much for us to get back to the championship game," said senior wideout Stephen Bennett. "It's been a year coming and I am just really excited. New Canaan will be very tough in the championship game. But we need to keep the intensity up during practice. I think we are going to get to the championship game and be ready to play. That's all that matters."
Earlier in the season, Greenwich traveled to Dunning Stadium and blasted the Rams 42-14. For GHS senior Mozi Bici, he's well aware of how much improved New Canaan is since the first time the two schools met.
"They have the best tackles in the league," said Bici. "Those guys know how to play the game of football. One is going to Michigan and the other is going to Boston College. We just have to practice our butt's off and keep on working hard. We need to come out firing on all cylinders."
Marinelli said that a trip to Shelton High School and playing on CIAC championship Saturday is a dream come true for all involved in the GHS football program.
"It's the ultimate reward," Marinelli said. "It's such a journey. I am so proud of the kids and what they have done and the effort that they have shown. It's them. They got themselves back here. It's all the hard work that has paid off. Now we need another week of hard work to capture the ultimate goal. I think these kids are on a mission. For these kids to have the mental fortitude for 12 months and now to have that opportunity to get back and try it for the second time is great. I am so proud of them."
Although Marinelli will be coaching in the championship game for the second consecutive season, he is not taking any credit for the victory.
"I'm giving it all back to the kids," the head coach said.
However, in order to get to the title game, Big Red had a tall task, as Newtown High School, the same team that knocked up three-time class LL champion Darien High School, was coming to Cardinal Stadium.
Greenwich didn't flinch and sent their home fans home happy, which was something important to senior defenseman Edward Iuteri.
"It was our last game at Cardinal Stadium and putting up a 50-0 win was awesome, but what we play for is representing Greenwich," said Iuteri. "We play for our fans and for this community. Going into this final we are going to play for a lot and it's really something special."
Greenwich High senior quarterback Gavin Muir finished the game against Newtown going 15-for-21 for 216 yards and threw for four touchdowns. Muir also ran for a one-yard score. Lance Large connected on two of those four touchdown receptions, while AJ Barber took home a touchdown and 83 receiving yards.
Running back Tysen Comizio led the way on the ground and netted 70 yards on 15 carries and found the end zone once. Greenwich High kicked Toby Turbull connected on two field goals, one a 20-yard field goal and another a 22-yard attempt.
"We thought we would come in with a certain look and they gave it to us," Marinelli said. "We were able to execute. They changed it up a little bit and we adjusted. Gavin is a player and put us in some good spots today. I feel like everybody forgot about Tysen Comizio this week with the Dan Mason stuff. But Tysen came out to play and so did our offensive line."
While the offense was clicking, the star of the show was the Greenwich High School defense, which shut out Newtown.
"Honestly this feels awesome, but I think we all know what we have to do next," said Iuteri. "We have to finish strong and that's our mission right now. We have confidence in our defense and we knew what we were capable of and we showed it today."
Newtown quarterback Luke Melillo threw for only 30 yards, while standout running back Dan Mason led the team with 19 yards on 10 carries. On defense, Wiley Ward took home 26 yards. In total offense, Greenwich finished with 338 yards while the Nighthawks only netted 24.
"It means so much to Coach Hocter and rest of the seniors," Marinelli said. "They've led us all year. We've been a defensive football team all year. The offense has been able to get up on teams and force offenses to not do what they normally do, which helps. We have some crazy guys on the defensive side of the ball and they love to fly around to the ball. They are excited each and every day of practice. They are going up against a pretty good offense and our offense goes up against a pretty good defense in practice each and every day. If anything, I think it shows the good practice habits we have."
The group of Bici, Jack Feda, Emilio Camou, Evan Weigold, TJ Abbazia, Larry DeLuca, Nick Veronis and Iuteri were once again leading the way for Greenwich on defense, causing fits for Newtown's Melillo and the rest of their offense all game.
"Our front seven guys on defense have been great all year," Veronis said. "They really get after it every game, and the pressure they bring complements our coverage in the passing game."
Camou led the way with three sacks, while the duo of Bici and Iuteri finished with 1.5 sacks apiece. Bici was a part of five tackles while Iuteri made one solo tackle.
"That is the goal on defense," Bici said. "Every game that we have we want to shut them out. Against Newtown we practiced with their formations and practiced what they were going to do. We saw exactly what was going to happen and that's because of our good coaching. We came out strong. It feels great to put up 50 and great to put a zero on their side of the scoreboard."
Feda took home three solo tackles and assisted on three more. DeLuca and Bennett also pitched with by aiding in one sack apiece. Weigold was the recipient of an interception.
"Today's victory against Newtown kind of shows how far we have come in a year," Bennett said. "We are really dominating on both sides of the ball and I think that's evident in our practice habits and it shows on the football field during games."
Muir got Greenwich on the board with 5:21 to play in the opening quarter, as he stepped back and found Large open on the far side of the field for the 15-yard touchdown. The lead got extended to 14-0 on the opening play of the second quarter, as Muir called his own number, plowing through the Newtown defense and stretching out to get the ball across the goal line for the touchdown and 14-0 lead.
Howarth connected on the 34-yard field goal for the 17-0 lead and Greenwich took the lead to 23-0 when Muir stepped back and fired a picture-perfect pass to Barber, who caught the ball at the Newtown 10 and ran the rest of the way for the 57-yard touchdown.
With less than two minutes to play, Greenwich's lead grew to 30-0 courtesy of a 12-yad touchdown completion to Large, his second of the game. Big Red closed out the half with a 20-yard field goal by Howarth and kept the good times rolling in the third quarter, as Comizio competed the drive with a two-yard run up the middle for the touchdown.
William Montesi got into the act when he grabbed the ball from Muir for the 10-yard touchdown to make the score 47-0. Toby Turnbull added the final field goal for Greenwich to complete the scoring.
"This feels really good right now," Bennett said. "We worked preparing for this game all week and I think we brought it at practice because we knew Newtown was a good team. We were able to combine the run and pass games effectively to keep the defense on their toes so that way they didn't know what was going to happen. It feels good to win, especially on my home field and for the last time playing here as a Cardinal."
For Bici, playing his final football game at Cardinal Stadium was quite the emotional ride.
"This feels amazing," Bici said. "It's great because we worked hard in the offseason and have been working hard this season. We wanted this goal of making it back to the state championship and this time we want to finish strong. This was our last game at Cardinal Stadium for the seniors. It was emotional for myself and the other seniors, but it's a happy emotion. We aren't sad about it because we finished strong."