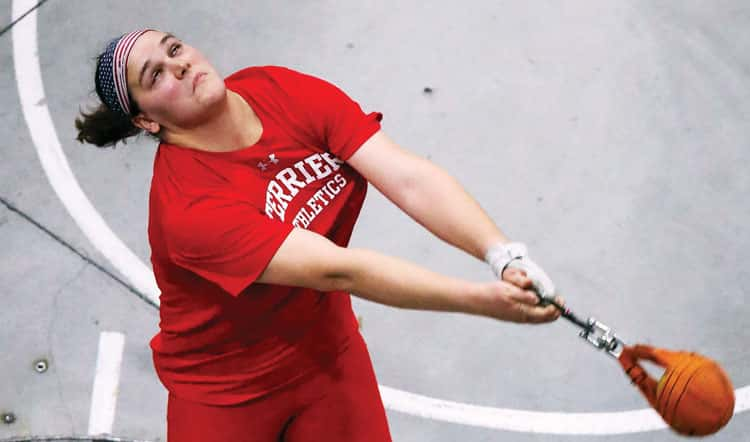 By Paul Silverfarb
Sentinel Editor
Greenwich High School alumna and Boston University senior Sarah Cicchetti never says no to an opportunity when it comes to track and field. And, that's not a good thing for previous record holders.
Entering her senior year with the Terriers track and field team, Cicchetti made a big splash during her first meet of the season. Competing in the weight throw during the Sharon Colyear-Danville Season Opener at the Boston University Track and Tennis Center, Cicchetti dialed back a throw of 56-08.
"It was pretty exciting, and I was excited about what that means for me later in the season," Cicchetti said. "It was a goal of mine since I started track here. Everybody comes in and wants to be on the record board, and I was no exception to that. To actually achieve that is pretty cool. Hopefully I will get big improvements throughout the season."
That throw was good enough to smash the previous record of 54-00 ½ held at BU for 31 years by Lauren Andrews.
Cicchetti credits her success in the weight throw to new throwing coach Jarred Rome, a two-time USA Olympian and two-time USA National Champion in the discus throw, who joined the Terriers in October. Prior to the start of the indoor season, Rome mentioned to Cicchetti that he thought she would excel at the weight throw. The rest is history.
"It's like the hammer, but indoors, so I thought it would be great," Cicchetti said. "I kind of just did it. Our new coach has been incredible, and we have all been improving by leaps and bounds."
And, it's a good thing that Cicchetti broke the record. Throughout the week leading up to the first meet of the year, Cicchetti admitted that she had been talking the talk about breaking the record and got a little nervous prior to the event if she could walk the walk.
"I was telling people that it was crazy and that I was going to break this record," Cicchetti said. "Then I get to the actual day and I was thinking about if I didn't break that record. My coaches told me not to think like that and get in there and do it. The second day of the meet, I broke the record initially and the third throw I did farther than that, so I couldn't have been happier and relieved."
To break a 31-year-old record doesn't happen overnight. For Cicchetti it's all about the hard work she puts in during practice. For five days a week (she usually has meets on Saturdays and has an off-day during the week) the BU athlete works consistently on her throwing techniques and is always taking reps throwing.
During the indoor season, Cicchetti competes in two events, the shot put and weight throw. In the outdoor season, Cicchetti is just as busy, competing in the shot put, discus and hammer throw.
"It is really exciting to contribute, especially during our conference meets this year," Cicchetti said. "I think it will be nice that I will have points coming in from several places."
In last year's indoor season, Cicchetti took home 14th place in the shot put during the Patriot League Indoor Championships, by posting a distance of 12.33 meters. Outdoors, last year, she was 10th in the conference championship of the hammer throw, netting a distance of 44.56 meters.
"It's been a lot of fun being on the team, and I have met some really awesome people," Cicchetti said. "My best friends all do track with me, so it's been a really big part of my experience here."
While as a member of the Greenwich High School girls' track team, Cicchetti was lights out from the moment she picked up the shot put. During her senior year as a Cardinal, Cicchetti was the Fairfield County Interscholastic Athletic Conference champion in the shot put, throwing 39-03.
She also was golden in the Connecticut Interscholastic Athletic Conference class LL and State Open championships her senior year, posting a throw of 39-07 at LL's and 40-02 ½ at Opens. And to top of her high school career, Cicchetti competed in the 2015 New England High School Indoor Championships, ironically in Boston, and won top honors, throwing a distance of 41-00 ¾.
"I still run into some of the girls that I was competing with on the Greenwich team and at different meets now," Cicchetti said. "We might be in the same conference or at different meets, but it's really cool knowing that I am now competing against them, I still know them and we came from the same place. My time on the team at Greenwich started my interest in the sport. You don't get through four years of college sports without really enjoying what you're doing, and I think the start of that for me was at Greenwich High."
Evan Dubin, Cicchetti's former head coach at GHS, said that Cicchetti was an extremely talented and hard-working athlete.
"For her to continue her success at the college level to the point of setting a school record at a prestigious school like BU, it is a true testament to the hard work she puts in daily," Dubin said. "I could not be prouder of her. I'm so happy of the success she has achieved and look forward to seeing her success only grow."