August 14, 2018
Greenwich Fire Department Swears In 2 Recruits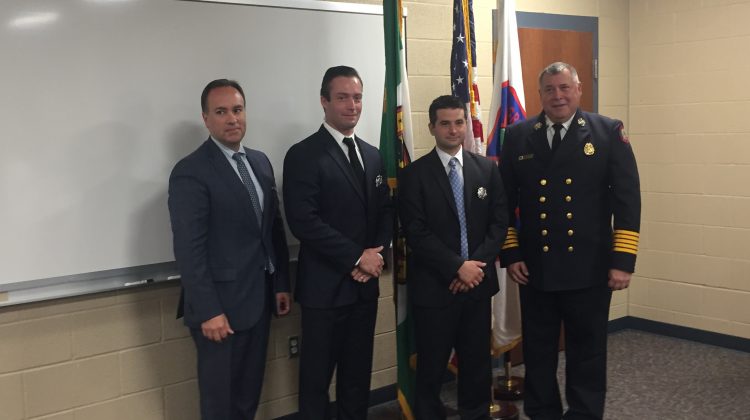 By Richard Kaufman
On Monday morning inside the Greenwich Fire Department, two new recruits were sworn-in, effectively beginning their careers in the Town of Greenwich.
Adam Corwin and Kevin O'Connor took the oath from First Selectman and Fire Commissioner, Peter Tesei, in front of family, friends, and fellow firefighters.
The recruits will fill the vacancies left by firefighters Rick Hayes and Terry Murphy. Hayes has 32 years of experience, and retired Aug. 1. Murphy will retire on Sept. 1 with 26 years of service.
Fire Chief, Peter Siecienski, spoke briefly before the ceremony and praised the department's ability to find such solid candidates. He also welcomed Corwin and O'Connor into the GFD family.
"Your families become part of our families. Our details become your details, our ability to keep your men safe, send them home every day is a priority for us," Siecienski said. "They become part of a team that's the best trained department in the state of Connecticut."
Tesei said that he enjoys nothing more than administering the oath to new recruits or to those who have been promoted within the fire and police departments.
"Today's inaugural start of your careers contributes to the very service we all depend upon as residents of this town. There is no more important service than life safety and property and life protection," Tesei said. "I wish you each the very best, and a long tenure with the town."
Corwin and O'Connor will now head to Windsor Locks, Conn., for 15 weeks of training.
Corwin, who has a bachelor's degree from Full Sail University and currently lives in Manhattan, comes to the department with over a decade of experience in fire services. He began as a volunteer in Westchester County in 2003, and later volunteered in Prince George's County, Md., in 2007. In 2012, Corwin became a volunteer in Henrico County in Virginia, and was assigned to the technical rescue team, and served on the suppression and operation committee. He also has experience as a rescue specialist on the FEMA USAR (Urban Search & Rescue) team.
Corwin said that his previous experience will help him integrate into the department, and during the 15 week training period. He added that he's looking forward to utilizing his skills in a unique area like Greenwich.
"[Greenwich] has a little bit of everything. It has its downtown area right on the water. It's more rural as you get more northern. You have your interstates and Merrit Parkway. There's a good variety," he said.
O'Connor, who graduated from John Jay College with a degree in criminal justice, has spent the last five years working in Greenwich's Parks and Recreation Department. He has volunteered with the Georgetown (CT) Volunteer Fire Company, and even joined the Peace Corps., where he worked in Mali doing agricultural work. O'Connor is also a state-certified Emergency Medical Technician.
O'Connor said that he likes the "dynamic nature" of being a firefighter, and wanted to make a career out of helping others. He added that he was happy to find a job in Greenwich where he's familiar with the community.
"I like the town a lot. I'm happy I got a job here. As someone who was actively looking to get a fire job, to get the job here was the ultimate," he said.
Siecienski added that the firefighters of Greenwich are a multi-million dollar investment to the town, and that joining the department is more than just undertaking a job. He hopes the two new recruits will have a lasting impact on the community.
"My expectation is, when you leave this fire department, you leave it as a better fire department than how you found it," he said. "You're going to work hard, make your mark on this community, make your mark within this fire department, and it's going to be defined by your work ethic, and I know we won't have a problem with that."
Tags:
GFD
,
greenwich
,
greenwich fire department
,
Town of Greenwich