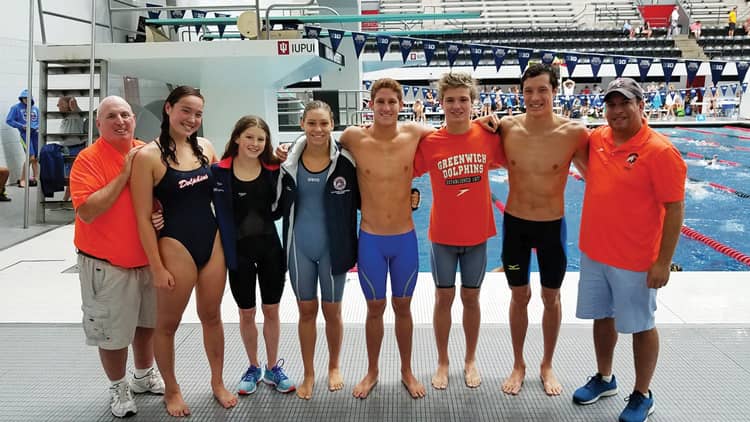 By Paul Silverfarb
Sentinel Editor
The past two weeks have been quite stellar for Nick Cavataro and the rest of the Greenwich YWCA Dolphins Swim Team. After an eye-opening appearance in the USA Swimming National Championships in Irvine, Calif., the Dolphins backed that up with a strong showing during last week's National Club Swimming Association Championships in Indianapolis, Ind.
"This is, arguably, one of the best indoor pools in the country," Cavataro said. "You go to Indianapolis and look on the wall. They hosted Olympic Trials there a few times and the names of the Olympians that swam at that venue are written in calligraphy on the wall of the natatorium. It's really cool."
Paced by outstanding efforts from Kate Hazlett and Meghan Lynch, the Greenwich YWCA Dolphins Swim Team put together a 14th place effort in the July 31 to Aug. 4 National Club Swimming Association Championship, held on the campus of the Indiana University-Purdue University in Indianapolis, Ind.
The five day, 40-event program featured more than 600 swimmers ages 18-and-under from over 40 clubs across the USA.
"It was a lot of fun," said Hazlett. "There is a lot of amazing competition out there because it was a national meet. It was fun to be there and have my teammates there and to see them swim fast as well was so encouraging for me to go fast as well. There was such an energy at these bigger national meets that you don't really get at local qualifier meets."
Joining Lynch, 14, and Hazlett, 17, on the women's side was Samantha Scott, 17. The Dolphins' men's contingent included Alexander Hazlett, 15, Tommy Lewis, 16, and Parker Scott, 17. Lynch, tallied 173.5 points on her own, coming off a superb USA Swimming National Championships in Irvine, California the week prior, where she was the youngest swimmer to appear in three evening finals heats.
In Indianapolis, Lynch picked up a pair of gold medal titles, taking the 200-meter individual medley with a time of 2:17.39 and the 200-meter breaststroke, touching the wall with a time of 2:33.15.
"It was really nice to have some really good meets, especially since last year I had a broken foot," Lynch said. "Coming back from that and doing a bunch of best times this year at the big meets and placing well is nice. It was a lot of fun, knowing that I am improving and getting some good times."
The rising Greenwich High School sophomore was also second in the 400-meter individual medley at 4:51.89; fourth in the 400-meter freestyle with a time of 4:51.89; sixth in the 100-meter breaststroke at 1:12.46; and seventh in the 200-meter freestyle with a time of 2:03.87.
"It's fun to see all my hard work pay off," Lynch said. "It makes it more fun to keep going. My favorite event at Nationals was the 200-breast. I could tell that my breaststroke has improved a lot this long course season and had a big drop in that event."
Lynch also posted respective times of 27.11 seconds (22nd), 58.21 (19th) in the 50- and 100-meter freestyles and 34.22 (24th) in the 50-meter breaststroke.
"She is obviously special," Cavataro said. "She is dedicated and works hard day in and day out. I talked to her after her last race, after she came behind to win the 200-IM and it was a fraction off her best time, I said that she was able to do that after a lot of swims. If you go back to all the meets she's been to this
summer, including trials and finals, she has been swimming in 50 pressure races and can still respond like a champ. She excels in everything that we do, whether it's freestyle, IM work, distance work, kicking or individual stroke work. She wants to be the best in everything that we do."
Not to be outdone was Hazlett, who posted her best finish in the 50-meter freestyle and nearly won the event after taking a preliminaries swim off for eighth place. The rising Greenwich Academy senior tied Illinois' Natalie Ungaretti, 17, for eighth place in the preliminaries.
In the one-on-one swim-off that followed, Hazlett touched out the taller Ungaretti with a career best time of 26.67. The evening championship heat saw Hazlett swimming in the far outside lane just miss gold with a 25.93 clocking.
"For her to step up and do what she did in the swim-off," Cavataro said. "First she tied for eighth and had to have a swim-off to see how competes in the championship finals. For her to go better in the swim-off and to just miss taking the top spot is amazing."
Hazlett was also fourth in both the 50- and 100-meter backstroke events with respective times of 29.75 and 1:03.30, and 17th in the 200-meter backstroke with a time of 2:17.31. Her performance at the championships gave the Dolphins a total of 88-points in the meet.
"I was really happy with how I performed," Hazlett said. "I was just off my times from the 100- and 200-meter backstrokes. I had a pretty good 50 free that I was happy with as well. The swim-off was exciting and fun. They are pretty rare and actually got me really excited to race. Both the other girl and I dropped times from our personal best during the swim-off, so it was great for both of us. It also got me confident for finals later that night."
Cavataro's Greenwich YWCA Dolphins also placed other strong finishes during the championships. One of them was Samantha Scott, 17, whose best placing was 56th in the 50-free, touching the wall with a time of 27.66. She also took home 57th in the 100-meter freestyle at 59.53.
Scott's twin brother, Parker Scott, was ninth overall in the 100-meter butterfly, posting a career-best with a time of 59.31. Alex Hazlett, 14, was one of the youngest male qualifiers at the event and posted his best finish in the 200-meter individual medley, taking home a time of 2:14.30 which was good enough for 79th place. Thomas Lewis, 16, had his best performance in the 100-meter breaststroke where his 1:07.96 clocking was good for 54th place overall.
"For Alex, who is 14, to get up and punch away there in his first time in a national stage, was really good," Cavataro said. "He put up some best times. He's been exposed to swimming at the national stage and thought it was cool. It was Parker's and Tommy's first time on a national stage and they responded well.
I think it made them hungry."
The Dolphins wrap of their summer season this week with Penny Lazar, 11; Rory Keller, 11; and, Abby Bleil,12, joining Team Connecticut at the 2018 Easter Zone Lone Course Championships in Richmond, Virginia.
"All the athletes on the Dolphins are working so hard to get better every day and as a coach you can't ask for more than that," Cavataro said. "They all want to be good. Our girls are getting a lot of the press, but our guys are doing great too. They are a little bit younger and they are going to get there, too. It's a
fun group to be with and we are excited about the future."
And competing at such a high level is something that Cavataro and the rest of the Dolphins relish.
"Not everybody gets to the Olympic Trials, but we are hoping that one of our athletes soon will do just that," Cavataro said. "Getting there in USA Swimming is the pinnacle, outside of making the Olympic Team. That's the direction all our kids want to go in, and that's the direction we want them to go in."
And, while the pressure is certainly there for the Dolphins to perform at such a high level, Cavataro and his coaching staff do their best to stress to the team it's actually pressure-free.
"You're going up against 600 kids and in some cases the athletes have worked their whole swimming life to get to this stage," Cavataro said. "There's pressure, but the only pressure I put on the kids is for them to give me their best effort. You always want the best for the kids. They are prepared, and we tell them that they wouldn't be at this stage if they didn't belong. They qualified and worked hard. The only thing I ask is for them to do their best. If they do that, the results will come."