June 15, 2018
Hintzen Drafted by Brewers in 2018 MLB Draft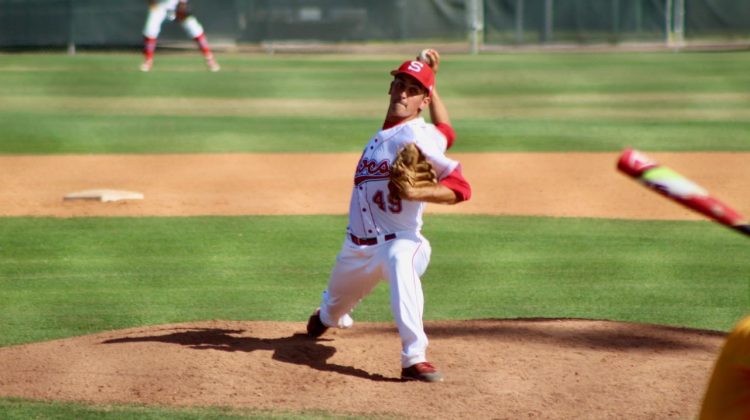 By Richard Kaufman
Sitting in his parents house in Old Greenwich staring at the television last week, surrounded by family and friends, all J.T. Hintzen could do was wait.
Fresh off a stellar senior season at Florida Southern which saw the 22-year-old right-hander go 14-0 with a 1.96 ERA and 114 strikeouts in 96.2 innings pitched (32 appearances, two starts), Hintzen, a Greenwich High School graduate ('14), knew he was probably going to be selected in the 2018 Major League Baseball Amateur Draft last week. He just didn't know exactly when.
"It was probably one of the most stressful days of my life, to be honest," Hintzen said of watching the draft, noting that he'd been in contact with several interested MLB teams over his collegiate career. "I saw the names go by, and I knew some of the players. I knew just about where I should stack up."
With his phone by his side and after waiting for several hours, the call finally came, and the room Hintzen was in fell silent.
"We're going to try and draft you in this upcoming round. Will you accept this offer we're giving you to continue and play minor league baseball for the Milwaukee Brewers?" said the voice on the other line.
"Yes," Hintzen replied. "I can't thank you enough for this opportunity. This is what I've been working for my whole life."
A childhood dream was finally realized. Hintzen's father, Jim, encouraged his son to play baseball as early as five years old.
"I've since come to realize that this this exactly what I want to do in life," Hintzen said.
At GHS, Hintzen hit .400 as an infielder and racked up 120 strikeouts in 93 innings, with just 18 walks over his entire career on the mound. An all-around good athlete, he was also a member of the varsity swim team.
The day after Hintzen was drafted, he went to GHS to talk with the American Legion team, and his former high school coach, Phil Tarantino. Standing at 6-foot, 180 pounds, Hintzen told the team that playing at a high level is possible with hard work. In high school, Hintzen said he weighed probably 150 pounds.
"I was really just trying to put some knowledge on these kids, and I told them that anything is possible if you put your mind to it," he said.
After high school, Hintzen played at The University of the South in Sewanee, Tenn., for two years before transferring to Florida Southern, one of the top Division II schools in the country.
Hintzen made an immediate impact for the Moccasins, posting a 2.56 ERA over 21 appearances in his junior year. In 31.2 innings, he struck out 53 and walked just nine, good for an eye-popping 15.06 K/9 ratio.
Prior to his senior year in 2017, Hintzen played in the storied Cape Cod Baseball League, and went 2-0 with a 1.98 ERA, with two saves and 25 strikeouts in 27.1 innings for the Orleans Firebirds.
His breakout season this past spring propelled the Moccasins to a 45-11-1 record and the program's 21st South Region Tournament victory. The Moccasins even took a run at the Division II National Championship, finishing third. Hinzten earned ABCA/Rawlings All-America team honors, as well as being named to the the Division II Conference Commissioners Association All-America team.
Later on in the same day he was drafted, Hintzen found out he had won the Brett Tomko Award, which is annually given to the most outstanding Division II pitcher in the country. Tomko, who attended Florida Southern in the mid 1990's, went on to win 100 games at the Major League level over 14 seasons.
Tomko called Hintzen to personally congratulate him, and the two talked for nearly 30 minutes.
"He was just a really cool guy. He was so proud of me," Hintzen said. "It meant a lot to me to hear his story about going to the minor leagues and the advice he had to give me moving forward."
Hintzen features a fastball, which sits between 88-92 mph and can reach 94. He also throws a curveball, slider and every now and then he'll break out a knuckleball, which his father taught him in high school, to give hitters an extra pitch to think about. 
The Brewers were intrigued with Hintzen's swing-and-miss ability, and the fact that he throws a lot of strikes.
In fact, striking out batters is Hintzen's favorite aspect of pitching.
"I can't really explain it," Hintzen said. "Just blowing the barn doors off of somebody on an inside fastball and having them swing through something and make them look silly is fun for me."
Mike Burns, a scout for the Brewers who covers the central Florida area, discovered Hintzen at Florida Southern.
"He's had two years of success at a really good Division II program. His ability to throw strikes with a fastball that jumps on hitters, to go along with two secondary pitches in his curveball and slider, made him an attractive guy to try to go after in the draft," Burns said. 
"His college coaches all spoke very highly of him as a person. In my conversations with him, he seems to be very self-driven, a good self-motivator and works extremely hard at honing his craft. We're expecting to get a guy that's going to go out there and work hard, and we'll see where that takes him in the future."
Having signed a contract and passed a physical less than a week after he was drafted, Hintzen now finds himself in Helena, Montana, with the Helena Brewers in the Pioneer League, a short-season advanced rookie-ball affiliate of Milwaukee. 
It's unclear yet if Hintzen will initially start out as a reliever or a starter. He's expressed his desire to start, but said he'll do anything that's asked of him. Burns added that Hintzen's role will develop with time.
"We really don't like to pigeonhole guys into one set position. We'll let him tell us by his performance out there on the field about what potential role he could fit moving forward for us," he said. 
The long road to the big leagues has officially begun, and the the whirlwind week for Hintzen is one he'll remember for a long time. But now, it's time to get to work.
"I've been traveling a lot the last couple of days, and now I'm just settling down," he said. "The stress is gone, I'm drafted, and I'll have the chance to show everybody what I can do."
Tags:
GHS
,
greenwich
,
Greenwich baseball
,
J.T. Hintzen
,
Town of Greenwich