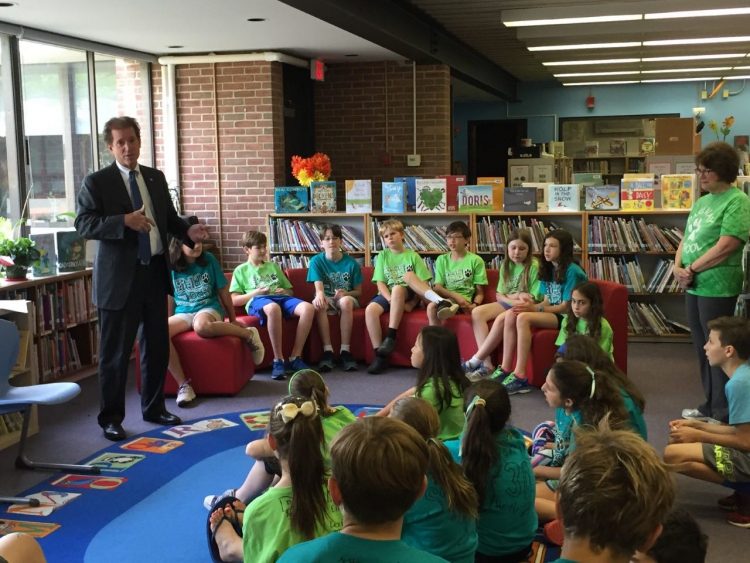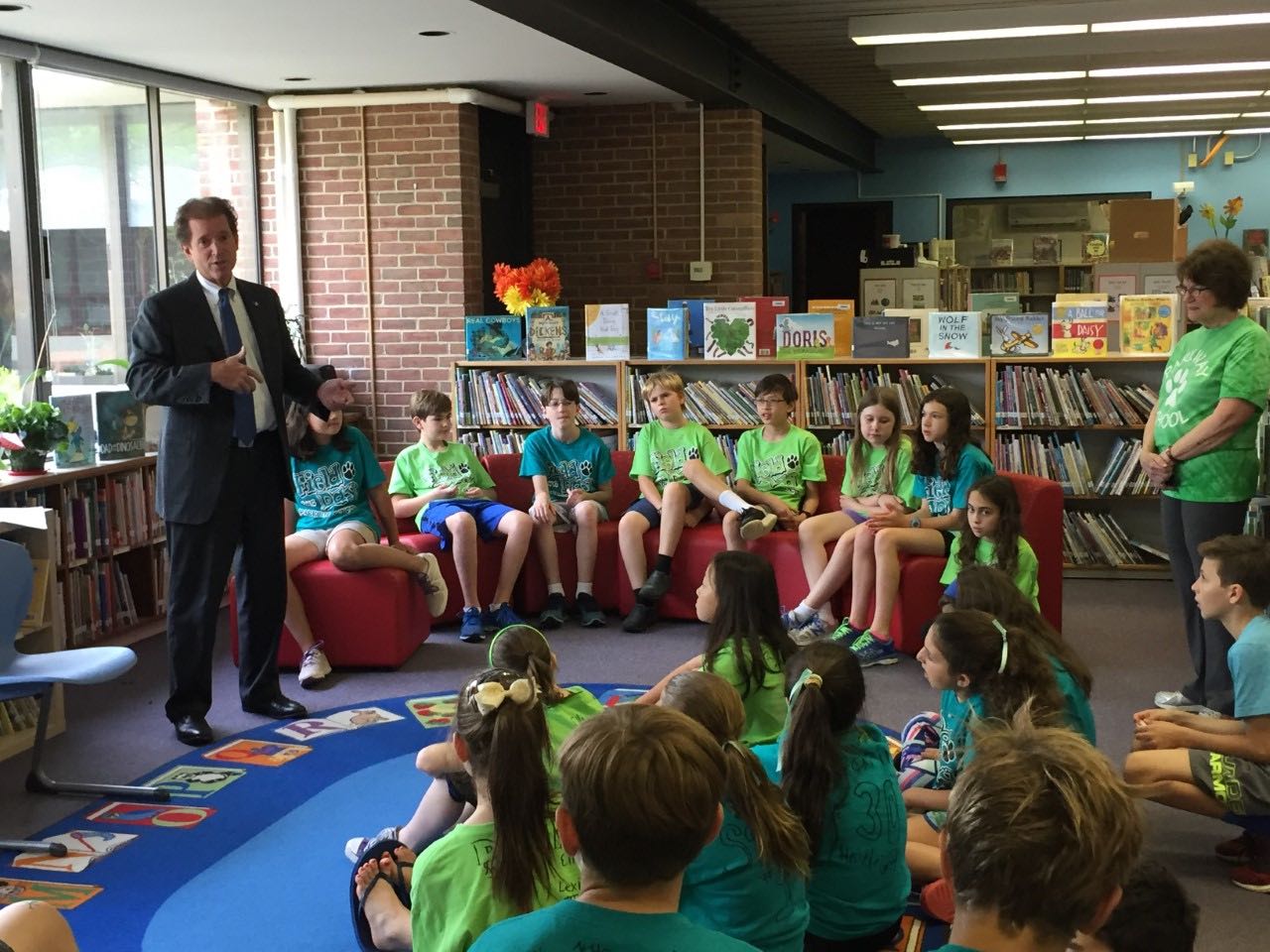 By Richard Kaufman
Ahead of their field trip to Philadelphia this week as part of the American Revolutionary War curriculum, fifth-graders at Parkway School were treated to a visit from State Sen. L. Scott Frantz (R-36th) last Friday.
Frantz gave the students a one-hour crash course on how the United States government works, and how legislation is handled in the state of Connecticut. 
Parkway principal, Mary Grandville, said Frantz's visit was extremely valuable to the students.
"It's such an honor to have him here to speak with our students and teach them how our government works," she said. "I think you can learn a lot from a book, but to have a dialogue with someone who has his experience in government is such an opportunity for our students."
Frantz started off with some government trivia, and handed out pins of the Connecticut state flag as prizes. He then passed around packets which taught the students how a bill becomes a law.
The students were then split in half between two groups, replicating the Senate and House of Representatives. The students decided to come up with a mock bill that would allow for early dismissal on Fridays.
After a few minutes of debate, amendments and weighing the pros and cons of an early dismissal, the bill passed by a majority vote to much delight.
Frantz then took questions from the students, who asked him various questions about government and life as a senator. One student asked how Frantz approaches failures and difficulties.
"You fail all the time in the legislative process; it's a fact of life. You get used to it real fast, and you keep that smile on your face no matter what. You help your colleagues, and even if you're on the opposite side of the aisle, you show as much respect as you possibly can every day," he said. "If you fail at trying to get a piece of legislation passed, just pick up your dice and start all over again and keep trying as best you can and don't let it get you down. You just have to keep persevering and keep going."
Afterwards, Frantz said he was impressed by how much the fifth graders already knew about government, the Constitution and even the electoral college.
"They're paying attention," Frantz said. "They're smart kids."
Frantz believes it's important for young people to understand how the U.S. government operates because it can only be valuable to them later on in life.
"I think it's important that they start at an early level so the concepts really sink in, and they keep reviewing it and get more sophisticated over the course of time," Frantz added. "Then, I think they develop much more of a conscience towards the legislative process, and maybe more of an interest in joining the effort, and that's important."
Fifth-grade teacher, Karrie Vale, said Frantz's interaction with the students stirred up some excitement about learning.
"I bet the students are going to be more excited than they would have been [about going to Philadelphia] if Senator Frantz hadn't come in, because now he's given us more to think about," Vale said.