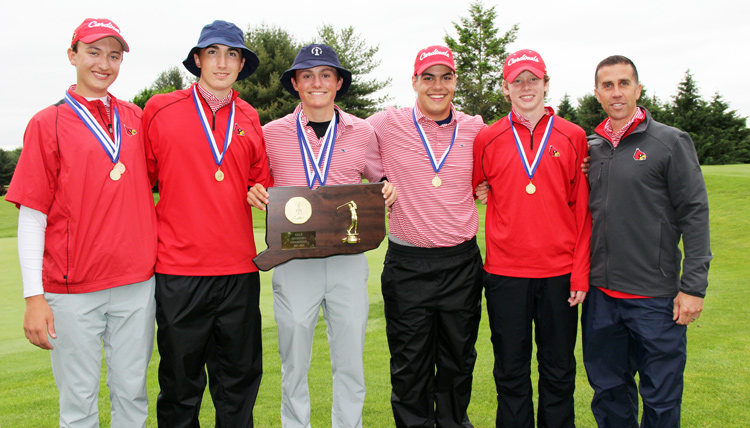 By Paul Silverfarb
Sentinel Editor
Experience should never be overlooked. That's an old cliché in the sports world and for Greenwich High School boys' golf head coach Jeff Santilli, it's words that he values tremendously.
With nearly everybody on the roster back from last year, the Cardinals steamrolled through the regular season. And when faced with some adversity, that's when Big Red shined brightest.
After a solid regular season, the Cardinals entered the postseason and dominated, winning the Fairfield County Interscholastic Athletic Conference and the CIAC Division I championships.
"This season meant a lot," GHS standout golfer Jackson Fretty said. "We knew this year that we had a good team, but we didn't meet our potential that we knew we had. This team has such a high level of experience and talent, from top to bottom. We were able to put that all together this year and show everybody what we knew already."
After claiming FCIAC gold, Big Red returned to the course on June 4 and battled in the Division I championship up at the Stanley Golf Course in New Britain and was tops once again.
"I thought we grew tremendously this season," said Santilli. "The joy and happiness they had for each other when we got the FCIACs and States made it worthwhile."
As a team, Greenwich finished first overall with a Division I total of 293. The next closest team was fellow FCIAC foe Darien High School, as the Blue Wave took second with a total score of 297. Conard High School placed third and was a stroke behind Darien. Simsbury ended the day totaling 299 and that was good enough for fourth place.
Finishing with the top individual score was Big Red's Jackson Fretty, as he was 3-under par 68 on the day. In fact, the only other golfer that shot below par was Xavier's Chris Fosdick, who took home a 1-under par 70.
"Throughout the postseason I think I played some of my best golf," Fretty said. "I was really happy with the way I was able to execute on the game plans we had. Before States, I didn't think I played up to the way I could, so I was so happy that I was able to be firing on all cylinders throughout the postseason. I kept the foot on the pedal."
During Fretty's performance at States, he finished four birdies and only tallied one bogey.
"He's coming into his own and is a solid player," Santilli said. "To go out there at the FCIAC championship and tie a course record and almost beat it on the last hole, was amazing. There's no doubt why he's one of the best golfers in the state. He's just a solid player and does a great job reading the course and knowing how to focus on the task at hand."
Not to be outdone was fellow junior Ben Ropiak, as the Greenwich standout was lights out at States. Ropiak joined Darien's Alexander Gu and finished tied for third place with an even 71 overall. Like Fretty, Ropiak knocked home four birdies on the day.
"Ben is also a consistent player for us," Santilli said. "He's getting into that game philosophy and making sure that he's playing hard for the rest of the guys and not just himself. He's not selfish and knows there are four other guys out there playing. He doesn't let anything get in his head and he's very consistent. Ben's game doesn't get out of control."
Keeping the good times rolling was Billy Nail, as he finished tied for 14th overall with three Simsbury athletes (John Bosworth, Kevin McDonough and Thomas Dallahan) and took home a 4-over par 75.
"Billy goes out there and plays his own game," Santilli said. "He's different style of player than Jackson is, but he's a great athlete and gets the job done. He has a great head for golf and really plays smart and is consistent on the course. He doesn't get rattled and competes hard."
Rounding out the scoring for Big Red was Tyler Sudell, who carded an 8-over par 79 and was tied for 34th place. Although his score wasn't counted, Jacob Pennella had a standout performance, as he finished the day by taking home an 86.
Santilli said that the start was something that he's never experienced. After getting up there bright and early, the head coach thought Big Red had an hour to prepare and warm up before the finals started. About 20 minutes after we got there, Greenwich found out that were doing a shotgun start.
"There were a lot of twists thrown at us," Santilli said. "It was like a mad dash. Tehre were like 20 teams and 100 kids standing around the putting green, trying to find out what's happening and what holes to go to. Literally with seconds to go before they were about to tee off, we found out we were playing the white tees instead of the blue tees. So there was a confusion factor, that's for sure. But that shows how focused we were because of how calm, cool and collective we were during all that."
"It was definitely a strange day, that's for sure," added Fretty. "We thought we were going out as the last group and then all of a sudden it was delayed. Then it was a shotgun start. Then we played off of different tees. Once we got over the weirdness of it all, we focused on the task at hand. To be honest, it might have made us focus a little more because with all the chaos, we had to simplify things in our minds.
And maybe not playing that practice round holds some merit. In the three state championships that Greenwich High School has claimed, they didn't play the course prior to the championships.
"Personally, I think there might be something to it," Santilli said. "It was ironic that the three state championships we won, it was the three times we didn't play the course. All the other times, we played the course, did the preparation and learned the course. But we didn't play our best golf. I don't know if there's really something to be said about that. Maybe you focus a little more on the tee boxes. Maybe you pay attention to your locations and shot types. We really didn't know a lot about the course going into the finals."
While winning the State Division I championship was a thrill, Santilli couldn't have been happier with the way his team turned the corner at the end of the season.
On May 30, Greenwich traveled up to Darien's Wee Burn Country Club to battle the Blue Wave, the only other undefeated team at the time. In that match, the final of the regular season, the Cardinals were edged by Darien by eight strokes.
The best part for Santilli was that he really didn't have much to say to his team. After the team's loss to Darien, the team's first regular-season loss in quite some time, the coach walked to the team's van and calmly told the team about how it was just one loss and that he's confident the squad could rebound in a big way.
"We played on Darien's home course and three of the team's five were members of the course, so they knew the course and we knew it would be tough to come in and beat them," Santilli said. "They played great and we played okay. But the bottom line was that I wasn't too concerned because we had the experience."
So just before the FCIAC championship match, which was played at the Fairchild Wheeler Golf Course in Fairfield on May 31, Santilli dropped his team off on the driving range and noticed how relaxed the Cardinals were.
"I looked at my captains and said that I was going to go up to the putting green and that I think we got this," Santilli said. "They nodded and I let them do the talking."
Big Red was able to put their loss to Darien in the rear-view mirror. At FCIACs, an experienced Cardinals squad took to the course and dominated, finishing with an FCIAC-winning score of 298. The next closest team was Staples, who finished 12 shots back from GHS.
"Maybe the loss to Darien was a wake-up call for us," Fretty said. "We were kind of getting complacent. I think it was really good for our team to lose and kind of get that hunger back."
Leading the way, once again, was Fretty, who fired an FCIAC tournament-record 6-under par 65. The next closest competitor was teammate Nail, as he joined New Canaan's Max Orwicz and Ridgefield's Oliver Frossell with a 75 on the day.
One shot way from Nail was Ropiak, who carded a 5-over par 76.
The trio of Fretty, Ropiak and Nail have been on the team since freshman year and started every match since freshman year.
"The experiences those three have had since freshman year definitely made it easier for them to be as strong as they were this year," Santilli said.
Pennella wasn't far behind, bringing home a 11-over par 82 and Chris Magliocco ended the scoring for Big Red with an 87.
Chris had a solid season at the No. 4 spot and was an important player to get us to where we were," Santilli said. "He was very pivotal to our success. So was Tyler and Jacob."
And Santilli believes that the experience his team has was a key contributor to bringing home both the FCIAC and Division I titles.
"If you can't play the game of golf with a level of comfort, you're going to be in trouble," Santilli said. "You have to find that balance of competitiveness and comfort. When you put too much pressure on yourself, you're going to make some mistakes that will come back to bite you. We were very focused during FCIACs. They knew exactly what their goals were, and they wanted to go out there and play their hardest to win another title. That's where the experience comes in. We had nothing to lose because we got our butts kicked by Darien a few days before. We knew the talent that we had and went out and did well."
The one thing that Santilli is confident about is how much the team has grown throughout a very tough season. With all the rain, snow and basically horrible playing condition, Santilli and the rest of the Cardinals were wondering if the season would ever start up.
"It was the worst of my 19 years, that' for sure," said Santilli. "I think we literally had three practices the entire year, due to the busy schedule and weather postponements. We didn't have time to work on anything, so we were really using our matches from the entire season to get ready for the postseason. I also tried to make sure they played a lot over the weekends."