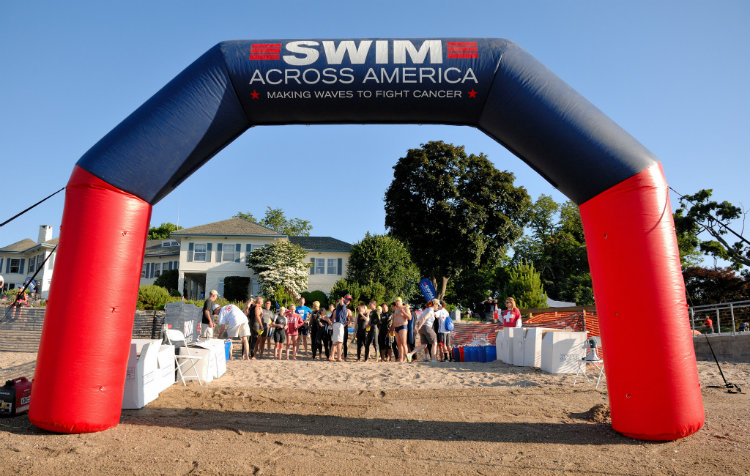 On Saturday, June 23, more than 300 swimmers and 100 land volunteers, boaters and kayakers will make waves in the fight to against cancer in the 12th annual Swim Across America Greenwich-Stamford Swim. The Greenwich-Stamford Swim Across America event is held on the border of Old Greenwich and Stamford, at 96 Cummings Point Rd., Stamford, that is home to the Swim's beneficiary, the Alliance for Cancer Gene Therapy (ACGT). Swimmers, boaters, kayakers, paddle boarders and land volunteers interested in participating in the event should register at swimacrossamerica.org/greenwich. For more information, email greenwich@swimacrossamerica.org or call 203-570-9195.
100% of all funds donated to ACGT go directly to support cancer cell and gene therapy research. The Swim has supported nine different scientists over the past 11 years. This year's Swim will raise funds to support four ACGT scientists: Dr. Crystal Mackall, of Stanford University School of Medicine, who is working on immunotherapy treatments for osteosarcoma; Dr. Samuel Katz, at Yale University who is working on novel new immunotherapy treatments for blood cancers; Dr. Greg Delgoffe, of the University of Pittsburgh School of Medicine, who is working on immune-based therapy and vaccines for melanoma and Dr. Nori Kasahara, of the University of Miami who is working on virotherapy for brain cancer.
Co-chairs of the annual Swim Across America Greenwich-Stamford swim are Michele Graham of Old Greenwich, whose 21 year-old daughter Nicole is currently undergoing treatment for relapsed leukemia, of which she was diagnosed when she was 16; and Lorrie Lorenz of Riverside, whose daughter Brooke has been close to seven years cancer-free from lymphoma. Both Graham and Lorenz graduated from Greenwich High School.
Honorary co-chairs of the Swim Across America Greenwich-Stamford event are Olympic Gold medalist Donna de Varona and her husband John Pinto, John and Cindy Sites, Mary Henry and Howard Rubin, Arlene and Reuben Mark, and Richards of Greenwich.
In Connecticut, the annual Swim Across America event is an open water swim offering a half-mile, 1.5-mile and 3-mile options. For those that aren't able to swim or volunteer but want to help, tax-deductible donations can be made online at swimacrossamerica.org/greenwich