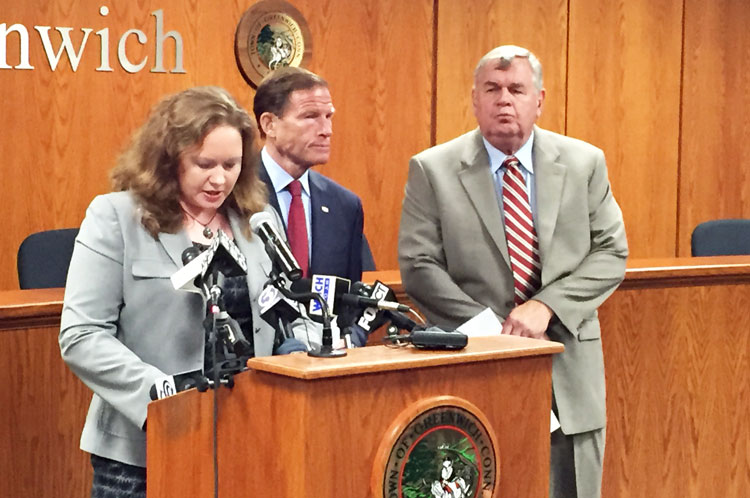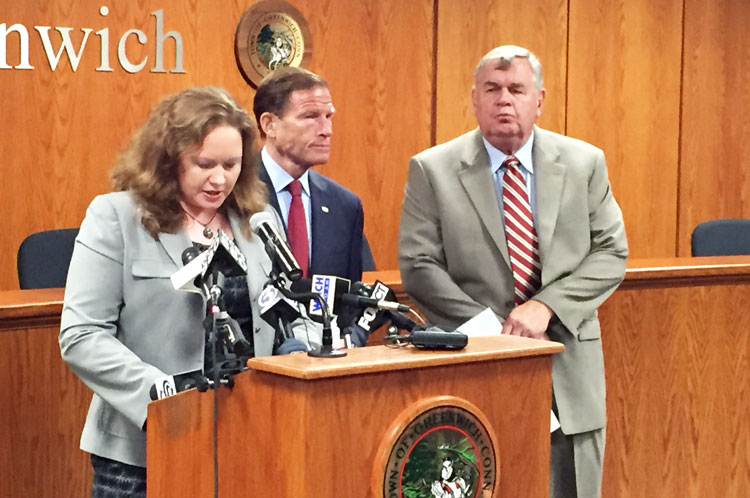 With the family of George Smith IV at his side, U.S. Sen. Richard Blumenthal traveled to Greenwich Town Hall on Tuesday to introduce a new bill that would improve safety and add protections for Americans on cruise ships.
A decade after Smith's disappearance while on a honeymoon cruise in the Mediterranean Sea, Blumenthal announced that he and Senate colleague Edward Markey, a Massachusetts Democrat, are co-sponsoring the Cruise Passenger Protection Act of 2015.
"Cruise ship passengers should not be abandoned at sea when it comes to protection from crimes that would never be tolerated within the borders of the United States," said Blumenthal, who, like the Smith family, lives in Greenwich. "What this bill provides is essential minimal protection for Americans at sea on cruise ships. These basic protections should be required by law. The Cruise Passenger Protection Act is essential to prevent the kind of tragedy that befell George Smith."
The act would step up onboard policing through sea marshals. "There will be marshals on every ship, provided by the Coast Guard, charged with law enforcement responsibilities," Blumenthal said. "They would protect passengers, investigate crimes, and make sure the evidence is secure and that criminal investigations are done promptly and effectively."
The act would also require the installation of technology that alerts the crew to persons overboard, and captures falls on video. "It provides for man-overboard technology, so that anybody that falls overboard will trigger an alarm and there will be video footage of it," the senator said. He added that 12 passengers have already fallen overboard in 2015.
Additionally, the CPPA would improve medical standards aboard the cruise ships. Blumenthal said that, currently, there is no real mandated legal standard for medical equipment, such as defibrillators and heart monitors, used to treat passengers in the event of a heart attack or other medical problem.
Blumenthal and the Smith family were in Washington recently to testify on behalf of the CCPA bill in front of the Commerce Department.
The new law would help dispel any idea that George Smith had died in vain, Blumenthal said. "He leaves a legacy, through his family, of fighting for justice. Americans deserve justice, when they are at sea on cruise ships, just as they do on land when they are in this country. That is the legacy of George Smith."
Smith was 26 years old on June 29, 2005, when he and his bride, Jennifer Hagel-Smith, stepped aboard the Royal Caribbean cruise liner Brilliance of the Seas for their honeymoon cruise. In the early hours of July 5, for reasons unknown, Smith went over the balcony of his cabin and plunged into Aegean waters, never to be seen again.
At Tuesday's press conference, George's sister, Bree Smith, said she believed George Smith was murdered—thrown overboard from the balcony after a night of gambling at the ship's casino, where he allegedly won close to $15,000. Suspicions have centered on a group of young Russian men who were with Smith the night he died, and who were eventually kicked off the cruise for reprehensible behavior.
"Despite a copious amount of foul play, we were told by the Connecticut FBI that George's death may have been the result of a tragic accident," Bree Smith said. "The Connecticut FBI shut down the investigation, even after receiving numerous new informative tips resulting from the $100,000 reward that our family began offering nearly six months before."
To this day, no criminal charges have been brought and no arrests made. The New Haven division of the FBI notified the Smith family in January that they were closing down the investigation due to lack of evidence, deeply disappointing the Smith family.
"That is due, in large part, to lapses and failings by the cruise line itself," Blumenthal said. "George Smith perished when he fell overboard, and the lapses and gaps in evidence resulted from actions by the cruise line, such as washing down the cabin, even other kinds of action that were bordering on tampering with evidence."
In 2014 the Smith family offered a reward of $100,000 for information in relation to the case. Anyone with tips can email georgesmithtipline@gmail.com or call 1-844-651-1936. All calls and emails will be kept confidential.