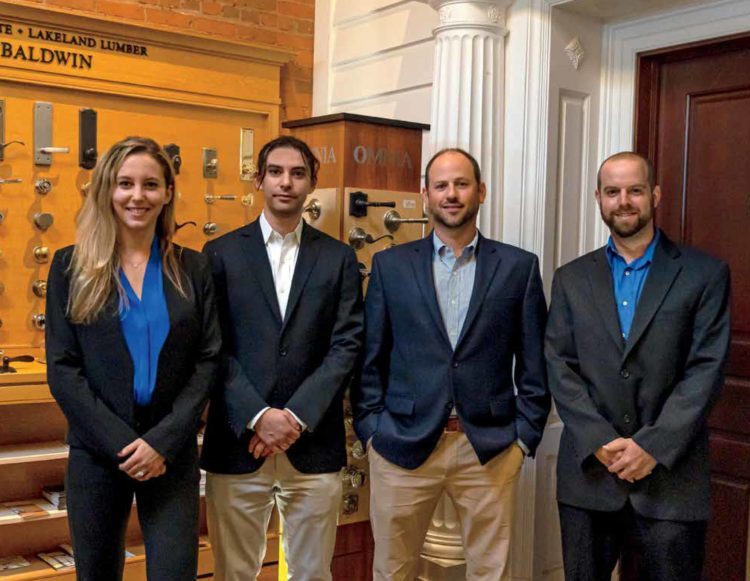 By Anne W. Semmes
Sheldon "Shelly" Kahan, the president and CEO of the Interstate + Lakeland Lumber (IL) enterprise is quoted in the published history of his enterprise, "Custom-Made Customer-Driven," as, "When you have a successful and growing family business – now introducing the fourth generation – it's special."
Definitely special after a hundred years from Interstate's founding by Kahan's grandfather in 1922. Kahan continues that success story, with introducing some of those family members. But first, he tells how IL enterprise has grown over the last 50 years from its Byram location to include now seven facilities providing building materials across two states, Connecticut, and New York, sharing his high points in between.
First added was Lakeland Lumber Company at two different sites, Shrub Oak, NY, and Croton Falls, N.Y., then sites at Port Chester, Stamford, Bethel, and Westport.
A game changer for Kahan was when Home Depot made its appearance in Port Chester, and other sites in Connecticut. "It was time to look in the mirror and figure out who you are and who you're not," he tells. "So, we made a conscious decision then that everything we were going to do would be geared toward the professional contractor. We're going to focus to be the best that we can be for the home builders, contractors, and architects."
And from that focus came those distinctive and original IL Design Centers Kahan created that put that millwork on display – windows, doors, and stairs, first in Byram taking the place of Grandfather Kahan's woodworking shop. Then came that "state of the art" Design Center in Westport, and the newest one in Shrub Oak, N.Y. "Part of Interstate Lumber's DNA or personality," notes Kahan, "is its custom architectural millwork."
But then came Covid – surely a setback? "Other than getting sick and all that jazz," tells Kahan, "for the housing industry in areas around New York City, it was unbelievable. We had our best years in the history of the company."
"When Covid hit," he relates, "everyone's working from home. You need an office; you need a gym…I want a barbecue area…anything related to housing. It changed our lives, and the people were young people. It was fascinating, because pre-Covid, young people wanted to live in town, near town, walk to the train. Covid hits, and 'I'm not going into the city.'"
"And then if you're in the city," he adds, "the migration out of the city was unbelievable. Houses were going for over asking, multiple bids. It was crazy. And there was an explosion of new building because the demographics were just right. 40-year-olds, married, a couple kids, they want out of the city. And now, because I don't need to go to the city as much, I want the front yard. I want a backyard. It changed like a light switch."
And today Kahan sees, "The demand for new housing is very, very strong. Just based on the demographics of the 40-year-olds." But the biggest challenge he sees now is "Where's the next [fourth] generation going to take it? I'm mentoring them now, I'm teaching them."
That challenge includes, "Having a good management leadership team, having good quality people, and the right technology and implementing everything."
So, introducing the first of three fourth generation family leaders, Kahan's son-in-law Tony Ferrucci, who heads up IL operations. "So, as part of the next generation of Interstate," says Ferrucci, "I'm trying to understand and see where we have opportunities to create better efficiencies when it comes to delivering lumber and delivering for our customers. Day-to-day operationally, it's making sure that our yards are stocked with premier building materials, whether it's lumber, sheetrock, the siding, roofing, et cetera. And then making sure that our delivery functions are operating at full capacity, making sure that we're loading the trucks and getting them out to customers around the Fairfield and Westchester County region."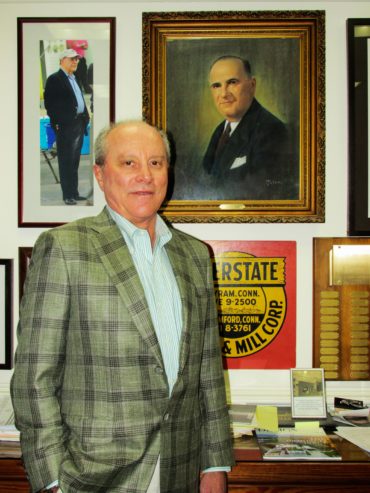 Now, introducing Kahan's son, Ben Kahan, who heads up marketing at IL. "So as Interstate's first full-time marketing officer, one of our key goals was just bringing those marketing efforts into the digital forefront…Establishing social media presences, growing our followings across platforms like Facebook, Instagram, LinkedIn, Pinterest, so we're increasing our digital footprint. As well as just expanding into full-on digital advertising. You have your banner ads, your digital video ads, your search engine marketing ads. We know that's how people are finding what they're looking for now, so we just want to make sure that Interstate's going to be where people are looking."
And now introducing Brian Kurtz, Kahan's second cousin once removed, as vice president of Sales. "I currently oversee all the sales force for Interstate Lumber," he tells. " We have probably about 10 outside sales people that basically go out to jobs. They work very closely with builders and customers of ours. And then we have a whole team of inside sales staff who, again, whether it's handling people that are walking in, homeowners, architects, builders, it's just really to oversee the sales group, to continue to put out products that we offer to that architectural community, the builder community, the homeowner community."
So, how might Kahan's mentoring be reflected in these fourth-generation family members?
Brian Kurtz speaks of being mentored by Kahan for 15 years. "Shelly is very focused on the succession of Interstate Lumber, and that takes a lot of time to develop what you need to be successful in the future. So, it's natural experiences coming up that you can't teach in a book. And that's probably 75 percent of this business in how to gain the loyalty of our customers, and how to always maintain best in class. So, Shelly has taken that role and really put it towards full effort of teaching me how the business works and how we've been successful for the last 100 years, to continue the success in the future."
"And just to reiterate Brian's point about the importance of customer loyalty and the loyalty we show our customers," says Ben Kahan. "I go out to job sites, we do filming for social media content. And something I hear from builders all the time is, 'You know, my dad used to work with your grandfather.' So, these really are relationships that literally stretch back generations."
Brian Kurtz agrees. "This industry, over the last five years or so, is definitely seeing some change with venture capitalists and private equity funds coming in and buying up lumber yards. And so, we find it all that more important to maintain that family community and the family-owned business. And we feel that that's one of our cornerstones that we pride ourselves on, is we've been a part of all the communities that we've been in. Just entering Westport a few years ago was big for us, but we really entrench ourselves and our family and our company in the communities. And I think that's very important for everyone, for our existing customers, for potential new customers."
Tony Ferrucci adds his thoughts on a family-run business. "The benefit is we spend a tremendous amount of time together, so that builds a level of cohesiveness and just understanding of how one another thinks that really just makes things a little bit easier. If you were in a regular enterprise organization that's not family run, there's just different nuances to understanding how people think and how people work. But in a family-run business, again, we all understand how one another thinks, and we all have the same goal in mind. So, no matter how we're going to get there, we all have the same values. And I think that's a tremendous advantage in our instance."
Shelly Kahan sums up what he sees as the Interstate + Lakeland family business legacy. "We're known for our millwork and primarily that. But it's a philosophy that my grandfather passed on to my dad and my Uncle Jack, and they passed it on to me, and I'm trying to pass it on. It's the way you do business. I'm an old-school guy. I shake your hand, we're done. Your word is your bond. And, unfortunately, it's something that's eroding. In the world we live in today, handshakes don't mean today what they used to mean."
Son Ben Kahan adds his inherited view. "For 100 years we are a known quantity. Builders know we shake your hand and look you in the eye, our word is our bond. And I don't think that always comes from your Wall Street venture capital guys swooping in, but families with decades and a century of experience in the industry, in the community. We're not fair-weather lumber people, swooping in to see how this industry is. We're here to stay, and our customers know they can rely on us."