By Liz Leamy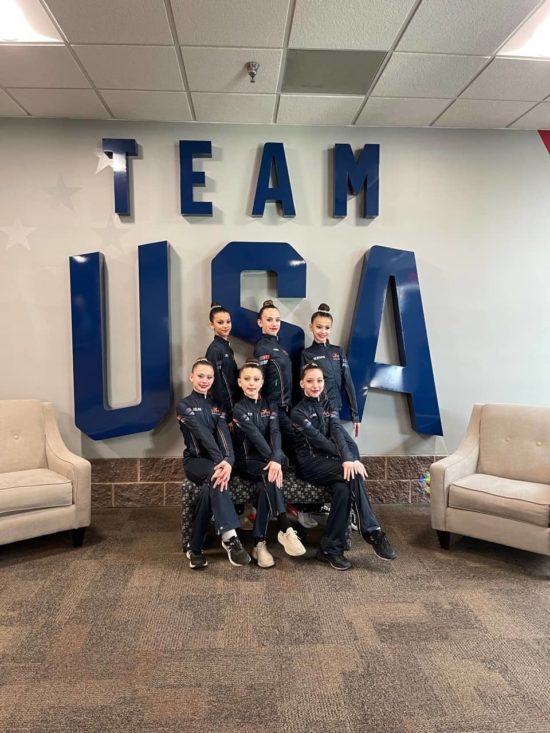 Last April, eight gymnasts representing H.O.P.E. Rhythmic Gymnastics, the renowned Greenwich-based sports contingent formulated, managed and run by Bibiana Pinto of Riverside, a two-time Brazilian world contender in this discipline, qualified for the U.S.A. Gymnastics Developmental Program National Championships to be held in Palm Beach this June as the result of garnering high placements at the 2023 Regional Championships in Lake Placid, New York.
This driven and accomplished contingent of young athletes is comprised of three Greenwich residents, Penelope Friday, Amanda Pinto (Bibiana's daughter) and Maria Costa Gonzalez, as well as Alina Khilko of Stamford, Ayse Cekic of New Haven, Connecticut, Anja Schiwek of Armonk, New York and Sofia Wofsey of Ponderay, Idaho.
In Lake Placid, members of this dedicated and talented crew performed their skills and programs in stellar fashion to earn coveted spots at Nationals in both the group as well as individual categories.
Penelope Friday, a sixth grader at Whitby School, ranked fifth among a formidable roster of 39 total contenders in the Individual Regional Level 7 to earn her National berth in Palm Beach next month.
Wofsey, a H.O.P.E. team member who trains with the organization through virtual means from where she is based in Idaho, claimed fourth among several dozen contenders in the Individual Level 8 category to qualify for Nationals.
In the group event, Friday, along with Amanda Pinto, a fifth grader at Riverside School, Maria Costa Gonzalez, a seventh grader at Eastern Middle School, Ayse Cekic, Alina Khilko and Anya Schiwek represented the H.O.P.E. Advanced team in valiant fashion, qualifying for Nationals with their stellar series of performances.
In light of these impressive results, Pinto said she and her six-member team of coaches were absolutely thrilled for their students and families.
"We really think everything outside the box and push our max to the very limit in order to give our gymnasts a chance against so many amazing gymnasts in our region," said Pinto, President and Head Coach of the H.O.P.E organization.
Pinto then said the most important thing is for her and her team to continue to nurture the development, confidence and strength of their gymnasts through this sport.
"Because of our [volunteer/mom] structure, we don't focus on medals and results," said Pinto. "We focus on the lessons our daughters are learning through the discipline and hard work that a highly competitive Olympic sport has to offer."
Pinto also noted how the drive, hard work and determination of these athletes represent so much of the spirit and philosophy of what the H.O.P.E. organization is all about.
"Penelope is an example of the H.O.P.E. mindset and mission," said Maria Luigia (Gigia) Perenze, a H.O.P.E. Rhythmic Gymnastics coach. "She used a not so good result [from last season] to propel her to the top of the region this year at a more advanced level. It's an amazing lesson for a 12 year-old gymnast that shaped incredible resilience in the face of adversity."
Ultimately, for Pinto and the H.O.P.E. coaching staff, their primary purpose is to help instill important life lessons among these young individuals that they can use in Rhythmic Gymnastics and also in their endeavors outside the gym as well.
"They need to believe in themselves, relax and have fun showing what they have been working so hard on for several months," said Rocio Gonzales Montes, a H.O.P.E. Rhythmic Gymnastics coach who is an ESL teacher for the Greenwich Public Schools. "The most important thing is to be confident and believe that you can do it. This is a mindset that the gymnasts will take for life and everything they learn at this young age will be engraved at a subconscious level and will be an important tool for adult life and it is for this reason that our staff and parenting community dedicates so much to the girl's training."
In addition to building a strong psychological and physiological foundation for these gymnasts, the H.O.P.E. organization is focused on implementing the concept of teamwork on and off the floor, lessons that are also modeled through the efforts of all of its devoted group of parents.
"The moms and dads help in the best way they can," said Pinto. "[They] offer a lot of their free time and are highly involved in the gymnasts training."
On a training front, the organization strives to insure that the H.O.P.E. gymnasts maintain a regular training schedule, which, on average, consists of 14 hours of workouts four days a week.
For the past year or so, the H.O.P.E. gymnasts and coaches have been training at the Greenwich Catholic School and Eagle Hill School in Greenwich as well as at sites in Stamford and Armonk, New York. (The organization also offers online training to gymnasts, like Wofsey, who are unable to attend classes in person as well.)
Certainly, it is impressive to think about how much these athletes have accomplished, especially considering such challenges as managing their family lives, busy school schedules and homework responsibilities in conjunction with their training.
Another challenge for the H.O.P.E. organization is the fact that although their members have been working out at great training sites over the years, they still are seeking to find a main training base to serve as a permanent headquarters.
"With Rhythmic Gymnastics awareness growing in the country, H.O.P.E. needs to [continue] to find dedicated facilities and sponsors to continue our amazing work and bring even more gymnasts to the path of Elite Rhythmic Gymnastics training," said Pinto.
Right now, Pinto and her team are more than grateful for all of the training resources they currently have, as well as for the Herculean efforts of everyone who has been involved with their organization.
This fall, meanwhile, the H.O.P.E. organization is looking to further expand its reach by offering classes to children ages four through six interested in learning the sport at an introductory as well as competitive basis.
Ultimately, for Pinto, it's all about building the sisterhood and strength among all of their students, no matter what their age or skill level might be.
"Rhythmic Gymnastics careers finish early and what [the gymnasts] will take with them are the lessons learned, how their parents and whole family supported them and encouraged them when results were not good, how their teammates formed a powerful sisterhood offering emotional support to endure competition stress and very demanding training sessions," said Pinto. "These are only a few of the rewards that a sport club dedicated to raising powerful women that will lead their generation can offer."
Certainly, the H.O.P.E. organization appears to be forging a golden path in terms not only its own impact upon its members, but also upon so many individuals from Greenwich and its surrounding communities, efforts that perhaps represents one of its most profound victories to date.
H.O.P.E. Rhythmic Gymnastics Organization and Staff :
-Bibiana Pinto, Head Coach
-Maria Luigia (Gigia) Perenze, Coach
-Rocio Gonzalez Montes, Coach
-Ela Cekic, Assistant Coach
-Cristiane Pinho, Online H.O.P.E. Coach based in Porto Alegre, Brazil and Brazilian National Rhythmic Gymnastics Judge
-Bruna Plachi, Online H.O.P.E. Coach from Porto Alegre, Brazil
For more information on H.O.P.E. Rhythmic Gymnastics, please contact them at: www.hopegymnastics.org