Veterans Day
Today is Veterans Day. The annual Veterans Day walk down Greenwich Avenue will gather at the Amogerone Crossway and begin at 10:30am. The ceremony will be at 11am at the Veterans Memorial in front of the Havemeyer Building. The annual walk and wreath presentation by the Byram Veterans Club will begin by lining-up at 6:30pm at 300 Delavan Ave and begin at 7pm. In observance of Veterans Day, Town Hall and our libraries will be closed.
2022 MIDTERM ELECTION RESULTS
All numbers as of 8pm on Wednesday, November 8th.
Governor; Incumbent Ned Lamont wins with 55.6% of the vote.
US Senate; Incumbent Richard Blumenthal wins with 57.2% of the vote.
US House of Representatives, 4th Congressional District; Incumbent Jim Himes wins with 58.9% of the vote.
CT House of Representatives 149th District; Rachel Khanna wins with 46.7% of the vote.
CT House of Representatives 150th District; Incumbent Steve Meskers wins with 58.8% of the vote.
CT House of Representatives 151st District; Hector Arzeno wins with 53.5% of the vote.
CT Senate 36th district; Incumbent Ryan Fazio was currently leading with 50.11% of the vote.
The Senate race in the 36th district is going to an automatic recount. Please see GreenwichSentinel.com or the Greenwich Sentinel's app, available on the app store, for the final results.
POLICE & FIRE
Lt. Louis Pannone has Passed Away
Lt. Louis Pannone passed away suddenly earlier this week. Lt. Pannone dedicated 42 years of his life to the Town of Greenwich and will be missed.
The Cos Cob Fire Police Patrol has announced its Executive and Service Board of the Cos Cob Fire Police Patrol, effective November 9th, 2022.
Service Board: Chief, Alexander Sachs; Captain, Nik LaBorne; 1st Lieutenant, Robert Wilson; 2nd Lieutenant, Alexander Buffone.
Executive Board: President, Stephanie Dunn Ashley; Vice President, Brian M. Kelly; Secretary, W. Christian Andersen, Jr.; Treasurer, Felix Dostmann; Assistant Secretary, Luis Alarcon; Assistant Treasurer, and Alexander Buffone.
Board of Directors: Sebastian Dostmann; D. Peter Yeskey; and A. Pat Mead, Jr.
FROM TOWN HALL
Boat Reminder from Parks & Rec
Boats at the Town marinas must be removed from their slips by next Tuesday, November 15th.
Town Hall Elevator Update
Due to supply issues, the necessary elevator replacement parts are expected to take a few weeks to arrive. Town Hall is actively working to expedite their delivery. At this time, Town Hall is anticipating that repairs could be completed around early December.
AROUND TOWN
New Members on Greenwich Hospital Board of Trustees
At its annual meeting, The Greenwich Hospital Board of Trustees recently elected five new members. Joining the Board of Trustees are: Nancy Brown, MD, dean, Yale School of Medicine; Robert F. Carangelo, partner, Weil, Gotshal & Manges, LLP; Leslie Dahl, former managing director, Lone Pine Capita LLC; Carlos M. Hernandez, executive chair of Investment & Corporate Banking, JP Morgan Chase; and Pam Sutton-Wallace, chief operating officer, Yale New Haven Health.
2023 Fireworks Dates Set
The Department of Parks & Recreation is expanding the Town's firework entertainment for next summer. They have booked two shows for Saturday, July 1st, 2023 at both Binney and Greenwich Point parks. There will also be two end of summer shows, one at each park on Saturday, September 2nd 2023.
PEOPLE IN TOWN
Greenwich Resident Selected for CT Nurses 2022
Stephanie Paulmeno of the Health Department was selected for the Connecticut Nurses 2022 President's Award, awarded on November 10th. The Diamond Jubilee Awards were established by the Connecticut Nurses Association "to honor individuals or organizations that have made outstanding contributions to nursing in the areas of practice, education, administration, political action, and service to nurses and nursing."
LOCAL NON-PROFITS
Family Centers Elects new Board Chair and new Trustee
Earlier this month, Family Centers' Board of Trustees elected Kate Clark as their new Board Chair. Jen Hyde was also elected as a trustee.
Greenwich Land Trust Announces Converse Brook Preserve
Earlier this month, Greenwich Land Trust (GLT) announced the new parking area to access the 80 acre Converse Brook Preserve which is now GLT's largest preserve. Parking is located off of Cherry Valley Road. Converse Brook Preserve is open year-round from sunrise to sunset.
Habitat for Humanity of Coastal Fairfield County Launches Annual Campaign
Earlier this month, Habitat for Humanity of Coastal Fairfield County announced its 2022 annual campaign: 10 Homes for 10 Families. The campaign is providing a dollar-for-dollar match for all donations up to $500,000 to help procure a large parcel on Chopsey Hill Road in Bridgeport, Connecticut and transform it into ten new energy-efficient affordable homes for low-income families in coastal Fairfield County.
The Return of the Scouting Camporee to Tod's Point
Greenwich Boy Scouts had their first camporee at Tod's Point for the first time since last century (in the 1990s). Scouts from Troops 5 from Old Greenwich, 10 and 11 from Cos Cob, 35 from Glenville, 37 and 38 from backcountry, and 9 from the center of town all participated. After spending the day completing several activities, as well as a service project, the scouts camped out at Tod's Point.
LOCAL BUSINESSES
Food Recycling Update
Last spring, Waste Free Greenwich, the Center for EcoTechnology, and the Town of Greenwich held the Greenwich Food Matters Challenge. Over a year-long period, the impact of their actions will include 5.6 tons of food waste reduced, 1.6 tons of food donated and 13 tons of food scraps composted.
SCHOOLS
Dr. Toni Jones Proposed 2023/24 Budget
Earlier this month, Superintendent of Greenwich Public Schools Dr. Toni Jones presented her proposed 2023/24 operating budget to the board of education. The budget is in line with the guidelines recommended by the Board of Estimate and Taxation. The proposed operating budget weighs-in at $182,165,266, an increase of $5.2 million over the 2022/23 budget.
SPORTS
Greenwich boys soccer team edged Farmington on penalty kicks, earns rematch against top-seeded Trumbull
Rallying back from a one-goal halftime deficit, Greenwich's boys soccer team cleared their first hurdle in the CIAC Class LL Tournament.
Sacred Heart Greenwich advances to semifinals of FAA volleyball tournament
It's on to the semifinals for the Sacred Heart Greenwich volleyball team. The second-seeded Tigers swept seventh-seeded Hopkins School in the quarterfinal-round of the FAA Volleyball Tournament on Monday at Sacred Heart Greenwich.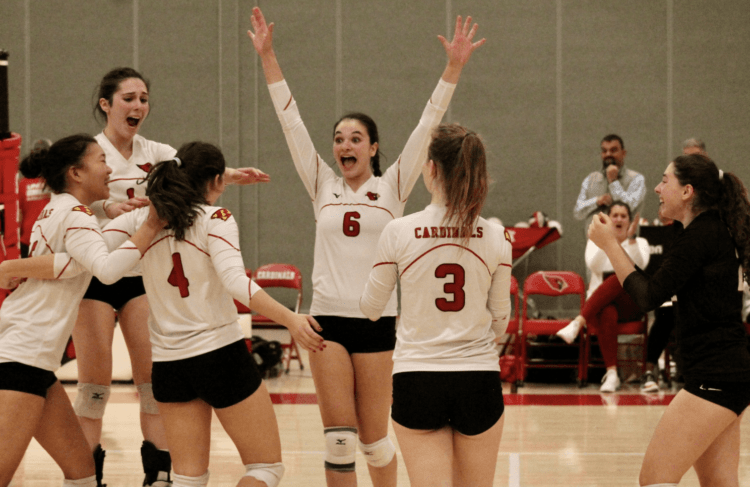 Greenwich High volleyball team rallies past South Windsor in first round of CIAC Class LL tourney; Shelton up next for GHS
One of the marks of a team that's primed for the pressure that's attached to the postseason is how well it handles adversity and Greenwich High School's girls volleyball team faced an adverse situation at the outset of Monday's state tournament match against South Windsor.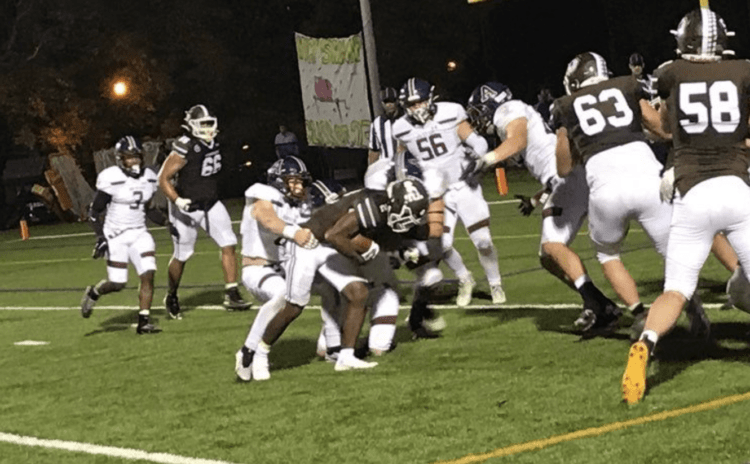 Brunswick football team tops Avon Old Farms on Senior Night behind three touchdown runs by Bryce Davis; Bruins improve to 7-1 with seventh straight win
The winning streak is seven and counting for the Brunswick School football team. And victory No. 7 was a Senior Night special for the Bruins. Brunswick moved a significant step closer toward solidifying a NEPSAC championship bowl berth with a win against one its main rivals, a team it always has close, back-and-forth battles with – Avon Old Farms School.
Greenwich finishes third at FCIAC Swimming Championships; Ridgefield wins team title, Darien places second
After pouring plenty of energy into each event during Thursday night's FCIAC Championships, the members of Ridgefield High School's girls swimming team were more than happy to jump into Greenwich High's pool one more time at the exciting meet's conclusion – and for great reason.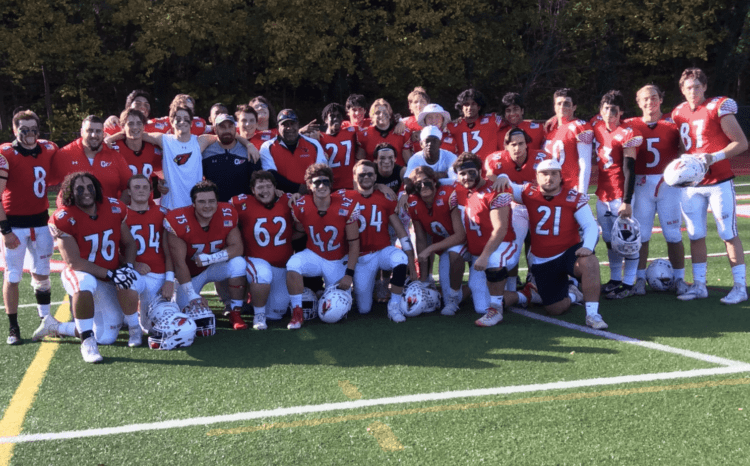 Scoring 45 first-half points, Greenwich football team downs Danbury, 59-6, raises record to 7-1; Wilson with five TD passes
They scored 22 points in the first quarter, added 23 more in the second quarter and received touchdowns from seven different players. Indeed, Greenwich High School's football team's offense was once again, virtually unstoppable, this time against visiting Danbury.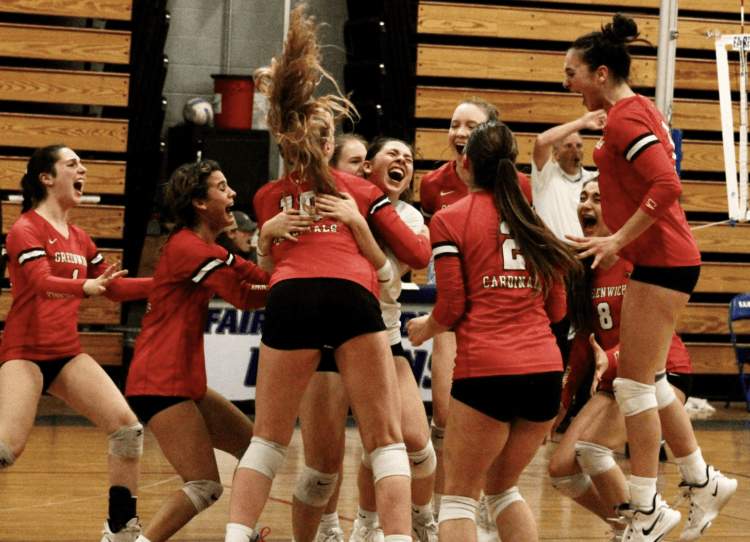 Greenwich High girls volleyball team drops tough match to Darien in FCIAC Tournament semifinals; Cardinals will host South Windsor in state tournament
The semifinal-round of the FCIAC Girls Volleyball Tournament saw Greenwich High put forth a strong effort against an undefeated Darien team, which hadn't dropped a set all season entering the matchup.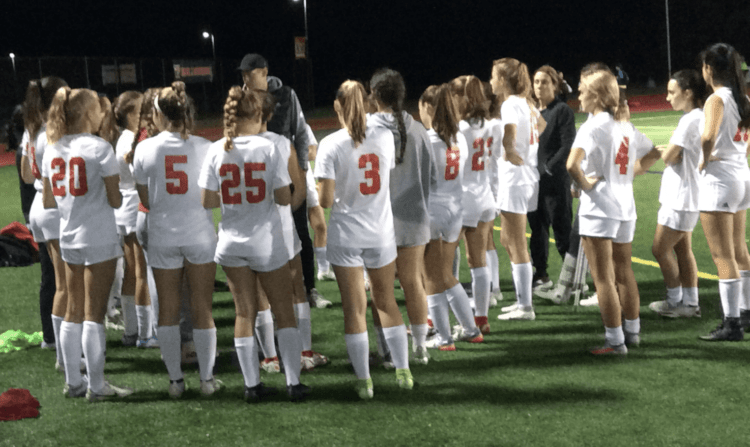 Greenwich girls soccer team defeated by Staples in FCIAC semifinals; Cardinals to host Shelton in Class LL Tournament
Greenwich High School's girls soccer team has accomplished plenty this so far this season and now it is looking to make its mark in the upcoming CIAC Class LL Tournament.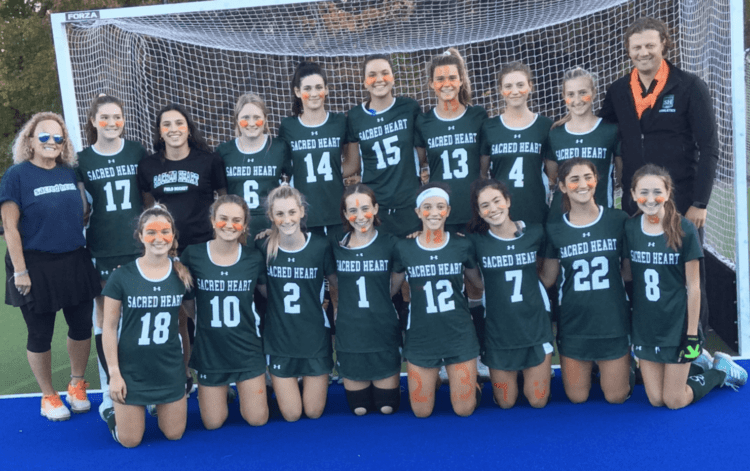 Sacred Heart Greenwich field hockey team celebrates Senior Day with victory over Greenwich Country Day; Tigers cap regular season 7-0 in FAA
A season of perfection in league play. That's what the Sacred Heart Greenwich field hockey team accomplished this fall and it put the finishing touch on such a feat by shining on Senior Day in its final regular season game.
Greenwich senior Javiera Garcia places fifth at FCIAC Diving Championships
Greenwich High School senior Javiera Garcia produced excellent dives at the FCIAC Diving Championships at Westhill High School in Stamford on Wednesday night, placing fifth at the competitive event.