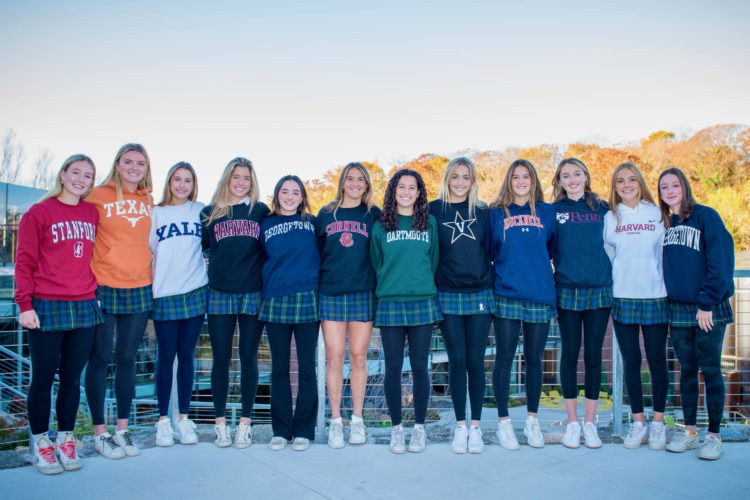 On this National Signing Day, parents, coaches, and teachers convened to recognize the 12 Greenwich Academy seniors planning to compete at Division I colleges and universities.
Those signing national letters of intent at this morning's event were Kate Haffenreffer, lacrosse at Vanderbilt University; Ellie Johnson, lacrosse at Stanford University; Mimi Novak, lacrosse at Bucknell University; and Phoebe Wise, crew at the University of Texas at Austin.
Also celebrating their plans to continue as student-athletes in college were: Rebecca Arpano, lacrosse at Harvard University; Ellie Burdick, lacrosse at Dartmouth College; Laetitia Cartellieri, field hockey at Harvard University; Kit Harned, sailing at Cornell University; Cassidy McKee, crew at the University of Pennsylvania; Ella Schoonmaker, squash at Georgetown University; Maddy Sweet, crew at Georgetown University; and Sienna Tejpaul, field hockey at Yale University.
"These young women are scholars, athletes, and the embodiment of our motto, Toward the Building of Character," said Head of School Molly King. "It was wonderful to celebrate their hard work, perseverance, and achievements with all those who have loved and supported them through this journey."
Caption (l to r): Ellie Johnson, Phoebe Wise, Sienna Tejpaul, Laetitia Cartellieri, Ella Schoonmaker, Kit Harned, Ellie Burdick, Kate Haffenreffer, Mimi Novak, Cassidy McKee, Rebecca Arpano, Maddy Sweet