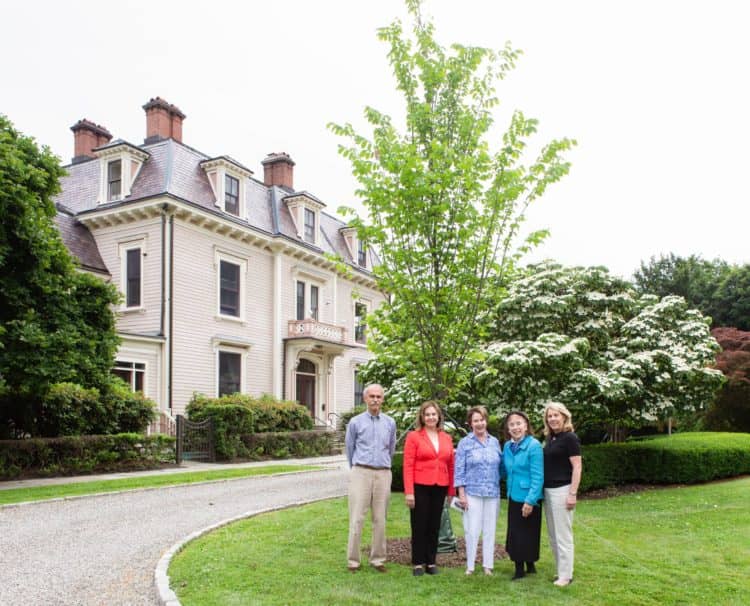 By Anne W. Semmes
There are two outstanding men of the 19th century in America with talents inextricably entwined, landscape designer and architect Calvert Vaux, and landscape designer Frederick Law Olmsted who wore other venerable hats. Vaux participated in the design of the American Museum of Natural History and designed the Delano home of the grandfather of FDR. But it was in 1857 that the Vaux/Olmsted partnership would bring into being the beauty of Central Park in New York. Olmsted would go on to design the memorable surround of the Capitol in Washington, D.C., and so many University grounds across the U.S.
This year the 200th anniversary of the life and landscaping legacy of Hartford-born Olmsted is being celebrated across the country by the Garden Club of America (GCA). Stepping up to the occasion, Preservation Connecticut has a new survey of Olmsted sites documented across the state. On their list in Greenwich is the Khakum Wood subdivision designed in 1926 by Olmsted Brothers, Olmsted's two sons. But that Olmsted Brothers firm is also documented by historian Rachel Carley in her book, "Building Greenwich," for designing in 1895 the landscape surround of the Indian Harbor home of Commodore E.C. Benedict.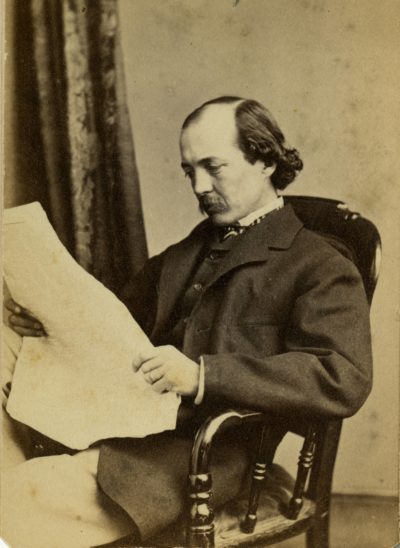 Enter two members of Green Fingers, one of three GCA garden clubs in Greenwich – Fi Fi Sheridan and Florence Boogaerts with their project to honor Olmsted by planting two of his often-favored Elm trees in front of a house designed in 1861 by his colleague, England raised architect Calvert Vaux. The house is the Tomes-Higgins house, owned by Christ Church Greenwich next door, with inside a GCA plaque praising Christ Church for "The Restoration of the Tomes-Higgins House."
"To commemorate Frederick Law Olmsted who is known as the father of landscape architecture here in America," tells Sheridan, "The GCA wanted as many garden clubs as possible to remember him and honor him in some fashion within their communities." So, beginning on Olmsted's birthday, April 26, she tells, "There have been cleanup projects or planting projects or other ways to honor him."
And Green Fingers has a history with Christ Church (Sheridan is a Church member). "Green Fingers has held meetings in the Tomes-Higgins house," says Sheridan, "and our 'Preview of Spring' flower show was held in the Church's Parish Hall for a number of years. So, we decided to honor Mr. Olmsted for his body of work and significance as the Father of Landscape Architecture."
"Olmsted was born in 1822 and died in 1903," notes Boogaerts. Vaux had recruited Olmsted in 1857, then serving as Superintendent of the park-in-the-making, "to work with him on the competition for the design of Central Park." With 33 contestants the race to create the winning design would stretch from the fall of 1857 to March of 1858, with the difficulty of a terrain that badly needed shaping. As it was described: "It would be difficult to find another body of land which possessed less of what we have seen to be the most desirable characteristics of a park."
A planned 240,000 trees to be planted would include "a canopy of Elms for a short promenade." The choice of two Elms to be planted before the Tomes-Higgins house by Boogaerts and Sheridan was further inspired by the Elm's botanical name of ulmus. "I thought Olmsted," says Boogaert, "sounds so much like ulmus. And Olmsted does indeed mean place, so the place of the Elm…next to the building designed by his partner, Vaux."
The Elm variety they chose found to be resistant to the Dutch Elm disease was a Princeton Elm. "It was created at the Princeton Nursery in New Jersey," tells Boogaerts, who is a noted garden designer. She tells too of those original Elms having once "lined American cities."
"We needed permission from the Christ Church Property Commission to move ahead," adds Sheridan, "And the Rev'd Marek Zabriskie was fine with it."
"They're 10-year-old trees," tells Boogaerts about the two Elms. "We got them from Roth Nursery and Bartlett Tree Company planted them." And that planting day commenced on June 1, a month or so after Olmsted's April 26 birthday. "Three trucks, 10 men, and two little trees!" tells Boogaerts.
"We decided to mark the event with a handsome certificate to be hung in the entry of Tomes-Higgins with all the other accolades," adds Sheridan. "It will be more visible and will not obstruct lawn maintenance."
Today, those two Elm trees are thriving, one on the left and the other on the far right of the Tomes-Higgins house, honoring for posterity that historic Vaux-Olmsted park-designing connection.