Greenwich Fast Becoming a Major Art Center: Something for Everyone on the Avenue and Beyond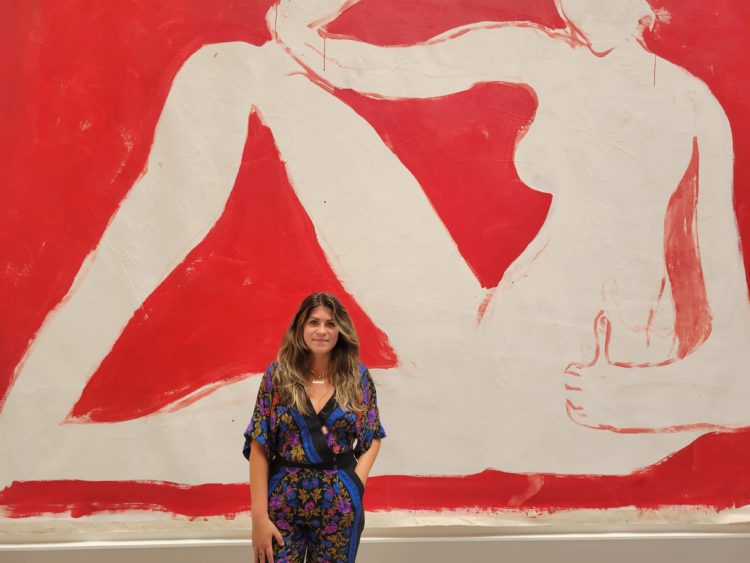 By Laura McCormick
Have you noticed the galleries increasingly populating the Avenue? We are fortunate to have such a rich mix of art in town that spans the Avenue to the stately Bruce Museum undergoing a massive expansion, Greenwich Historical Society in Cos Cob, up to the majestic Brant Foundation Art Center in back country. And others sprinkled throughout town. It's a veritable art lover's paradise. Art has gotten a boost from newcomers to Greenwich, with many looking to decorate their new homes − a trend that started with the pandemic.
Here's a peak at several of the galleries, what makes them distinctive and what's in store. (Due to space limitations, not all galleries are included.)
C. Parker Gallery
Tiffany Benincasa has a passion for making art accessible, which she's done successfully as her gallery celebrates its 10th anniversary. The gallery offers a wide range of contemporary art, from Picasso, Dali, Warhol to other impressionistic and pop artists, including distinctive works of musicians such as the Beatles, Jerry Garcia, Jimi Hendrix and iconic rock photography. Tiffany says many performing artists seek a visual medium to express their creativity. She's proud that C. Parker was the first gallery to exhibit Ringo Starr's artwork. Be sure to see the signed cover of Ringo's drum. Currently on view is 'Splash' featuring dramatic depictions of beaches, pools and stylish sunbathers. In October, the gallery will showcase Bonnie Lautenberg, an esteemed photographer who has captured unforgettable images of political and rock stars ranging from U.S. presidents to international heads of state to Lady Gaga. C. Parker exbibits in N.Y., Newport and Ocean Reef, FL.
Hayes Gallery
Diamond Dust is sprinkled throughout some of the bold canvasses of this contemporary gallery specializing in abstract expressionism. The technique was originally popularized by Andy Warhol and, according to owner Jillian Hayes, their clients love it as the art literally sparkles. Hayes, who opened the gallery last July and recently returned from showing at the Hamptons Fine Art Fair, is passionate about bringing a fresh new vision of the art world to Greenwich, with a varied collection of mid-career and emerging artists who often push boundaries. The gallery is staging August After Hours from 6 – 8 on Thursdays, so be sure and stop by to sip wine while enjoying the fabulous art.
Samuel Owen Gallery
Named after owners Cindy and Lee Milazzo's sons Samuel and Owen, this gallery is all about fun and contemporary art that will make you happy. Finding joy is at the heart of their collections, according to Operations Manager Margaret Trenis. Step inside and see renowned artist Hunt Slonem's magical collection of bunnies, sculpted and on canvas, for proof. The Milazzos' 25 years in the art world began with a poster restoration business, giving them a discerning eye for what people want in their art. They offer art world exclusives in town, including Slonem, and have additional galleries in Nantucket, Palm Beach and Boston.
Cavalier Ebanks Gallery
This long-established gallery, with a 30-year presence on the Avenue, moved last year to premier space next to Hoagland's which, according to fine art consultant Bill Burns, is an ideal position for servicing their discerning clientele. Visitors will be struck by an eclectic mix of traditional and representational art, lush landscapes and still lifes, including works from Andrew and Jamie Wyeth, to contemporary pieces and bold sculpture. Two life-size bronzes by world renowned sculptor Jim Rennert adorn the Avenue, delighting passersby. Be sure to see the collection of dancing Hippo Ballerinas on view through December. Owners Ron Cavalier and Lindsay Ebanks also operate galleries in Manhattan, Palm Beach and Nantucket.
Greenwich Historical Society
A highlight of the 90th anniversary celebrations is Life and Art: The Greenwich Paintings of John Henry Twachtman. Opening October 19, this blockbuster exhibition showcases one of America's most celebrated Impressionists, and a founder of the genre when he painted and taught at the Holley House, now the National Historic Landmark Bush-Holley House, in the late 1800s. Historical Society Curator of Exhibitions Maggie Dimock said the paintings, which feature Twachtman's home and surrounding landscape, were created at the peak of his artistic maturity. Executive Director Debra Mecky underscored the importance of the exhibition in offering a direct link to the artist's life in Greenwich at time when Cos Cob became a cradle of American Impressionism.
The campus's Permanent Collections Gallery showcases works by other leading members of the Cos Cob Art Colony, including Childe Hassam, whose striking "The Red Mill, Cos Cob" is proudly displayed. Bush-Holley House also features fine and decorative art, and period furnishings dating from 1790 – 1920.
Brant Foundation Art Study Center
Founded by famed publisher and art collector Peter Brant, the majestic back-country Center, which houses a gallery and learning center, was converted from a stone barn that affords sweeping views of the Greenwich Polo Club. Director of Education Sabrina Marsalisi explained that its mission is to promote education and the appreciation of contemporary art and design. Artists are presented in depth, from their earliest periods to recent works, evident from the current exhibition "Perfect" featuring acclaimed artist Spencer Sweeney, whose art ranges from self-portraits with emotional depth and tension to dramatic large-scale nudes in repose.
The Center is open through September. Attendees of polo matches can view the collection two hours prior to the games. The Brant Foundation also has a gallery in N.Y.'s East Village.
Soon to Reopen
The centerpiece of Greenwich's fine art: the world-class Bruce Museum, under construction as part of a transformative capital expansion that will double its size, will continue to promote the understanding and appreciation of art, science and natural history in its state-of-the-art galleries on a par with many of the world's leading art institutions.
Greenwich Library's Flinn Gallery opens September 8th with an exhibition titled Atmospheric Moments.