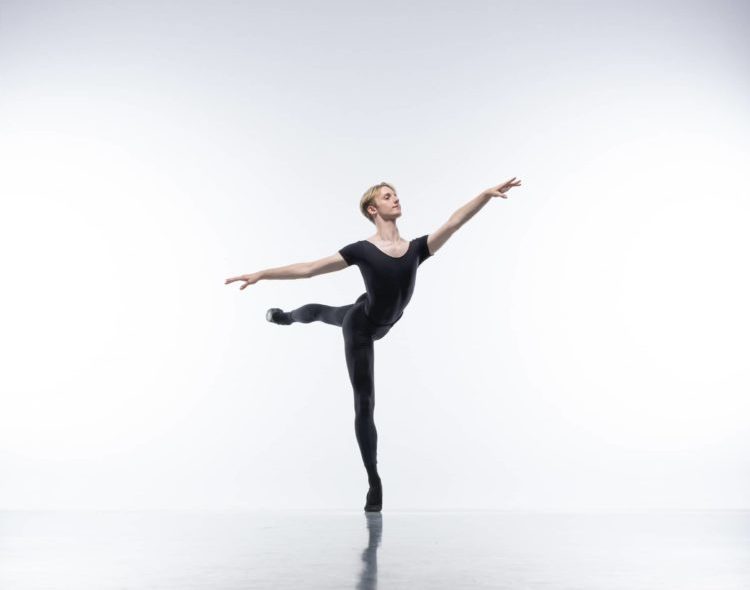 By Anne W. Semmes
Aidan Buss of Old Greenwich, our ballet star in-the-making for the last 15 years of his 19-year-old life, has graduated from the Royal Ballet School (RBS) after six years, and as of August 15 he is joining the Boston Ballet Company's second company, Boston Ballet II, with both counting some 63 dancers from around the world.
"I'm excited," says Aidan, "I'm excited to be in Boston and it's a beautiful city."
No more eight-hour plane rides to London, says Aidan, "It is now a two hour and 45-minute journey on the train." "This gentleman will now be on this side of the pond," confirms his happy dad, Andrew.
"They have an amazing variety of repertoire and styles," Aidan tells of his new company. "And that's really important. At [RBS] school, we did a lot of ballet, of course, but we also did contemporary in our summer performances." He looks forward to exploring "other avenues of movement, other styles of dance" at Boston Ballet II.
So, now he will live that challenging life of performing, of being on stage he has so wanted. "I love the avenue of movement – it's a way of expression," he says. But what has grown in him over the years is, "Music is really important to me. Ballet and music go hand in hand and for me, ballet and dancing is music illustrated.
"That's what I always try to come back to. How can I use the music to make my dancing better? That's something that has really helped me improve within myself. I don't know how people watch me feel, but for me, trying to find a way of illustrating the music and painting a picture of what the music represents to me to an audience is just what dance is."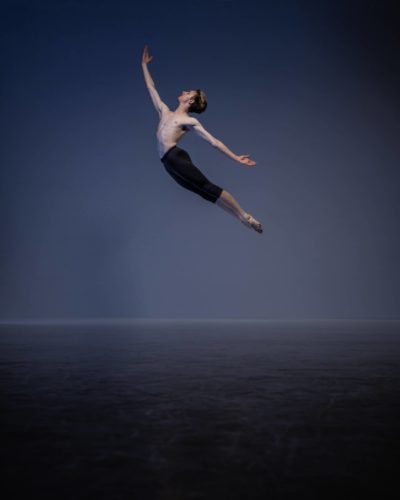 This reporter shared her experience of seeing the American Ballet Theater's performance of "Romeo and Juliet," and hearing that so memorable Prokofiev music for the balcony scene. "Yes," he says, "That music wedded to that dance is just totally unforgettable."
Aidan notes that a month into his new career, he will turn 20 on October 16. So, is he still five foot ten inches? Yes, he answers, and "I'm not going to grow anymore. That was decided for me, sadly." Sadly? "Yes, taller is better. The reason is you can partner more ladies with better ease because when they're on point shoes, they gain about six inches or four inches, so partnering a really tall lady is not as easy as it is partnering somebody who's that similar height to you."
So, what was his auditioning experience like at the Royal Ballet School? "It really was a year-long thing of not auditioning from the start but preparing for the auditions. We came back last September and around the third or fourth week until November we'd film our audition videos, individual with a teacher…For the audition process of your application, on some ballet company's websites they'd say, "If you want to audition, send your resume, send your photos, and send an audition video to this link.
"You would send your audition video, which was a very short 10 minutes and it's just snippets of bar work, snippets of center work, and maybe a solo. The idea behind it is that artistic directors can decide, "Oh, I like what they're doing. I'd like to see them in person."
Aidan would send out his applications. "While this was happening" he tells, "the School did a really good job of getting directors from companies to see everybody, and some people got offers through that." Aidan received an invitation to go to Boston in February to take a class at Boston Ballet, so readily flew across the pond. "I took the class, and the rest is history."
So, what were some performing highlights of Aidan's final "preprofessional" year at RBS? "One of the things that the third year preprofessional students get to do is work with the Royal Ballet and its sister company, the Birmingham Royal Ballet, for a few times through the year. Some of us went to Birmingham Royal Ballet for their Nutcracker ballet. We took company classes, were in rehearsals, and we had big parts." And Aidan landed a favorite part.
"The most special thing was I got to dance the Russian dance. It's called the Trepak, which is three boys, and it's so incredibly tiring. Because in many companies the dances in the second act of Nutcracker, the Spanish dance and the Russian Trepak are big parts to play, and it was really special that I got to as a pre-professional student."
So, what did he dance at his last RBS summer performances at London's Holland Park that this reporter was once privileged to attend to see Aidan dance? "The upper school did 'Raymonda' Act Three by Rudolf Nureyev, a contemporary work called 'PreSentient' by Wayne McGregor, and 'Yondering" by John Neumeier." That title "Yondering" intrigued.
"As the name suggests," he tells, "Yondering" is about going over into the unknown and exploring something that's different. And so, the ballet is a celebration of life, but also about a loss of innocence. And John Neumeier's idea is to not let professional adult ballet companies perform this work, because he believes it's about self-discovery…that only students who are leaving and going somewhere else, who are exploring something that's unknown within themselves, can perform the work as he believes it should be performed. And I think that's beautiful. It's true to oneself and it's true to the original intent of the piece."
So, welcome home Aidan Buss, and three cheers for your next act, Boston Ballet II!
Just a short hop, skip, and a jump for us to come see you perform!
To keep abreast of Aidan Buss, he has a website – aidanbuss.com. To see the calendar of the Boston Ballet Company, visit https://www.bostonballet.org/Home/Tickets-Performances.aspx