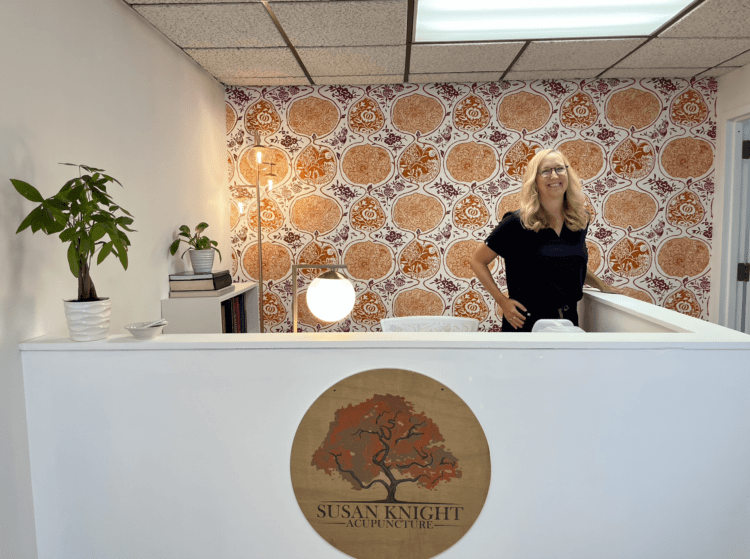 By Julia Barcello
On Wednesday, August 3rd, 2022, Susan Knight held the Grand Opening of Susan Knight Acupuncture, located on 100 Melrose Avenue, Suite 107, Greenwich, CT.
The office provides services ranging from simple acupuncture treatments to the Yin/Yang signature treatment. Susan's office specializes in facial rejuvenation and working with young adults. Susan explained that as a mother of three adolescents, she "Understand[s] that when treating a young adult, you're treating the whole family… I think I am adept at being able to explain what I am doing to the parents as well."
The office strives to "Provide patients with excellent acupuncture and just more information so that they know what natural things to do to help their own body heal" explained Susan. Along with in-office care, Susan teaches her patients who struggle with physical pain at home exercises that will help them heal and help with their range of motion, "Ideally, the best acupuncturist treats preventative medicine so people can put their body back in balance" stated Susan.
In a one-on-one interview, Susan Knight discussed her passion for acupuncture and assisting those struggling with anxiety or physical pain. "Treating anxiety is one of my interests, and acupuncture works really well for anxiety… I like that it's holistic and that it can relieve stress without medicine" stated Susan.
Susan Knight Acupuncture is open Tuesday and Thursday from 9 AM-6 PM and Saturday from 9 AM-5 PM. Call (203)-274-1126 or visit the website, susanknightacu.com, to schedule an appointment.