By Anne W. Semmes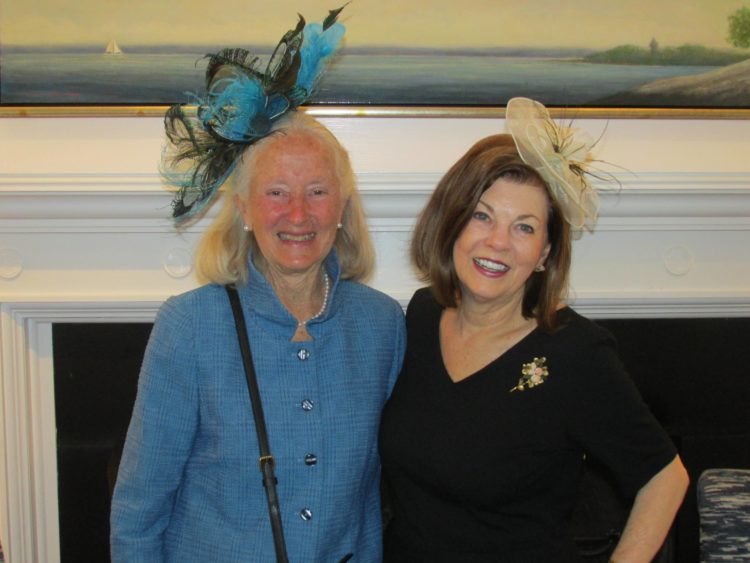 Natalie Pray was there welcoming her guests at the Belle Haven entrance on Sunday afternoon in her seventh year as president of the Greenwich Branch of the English-Speaking Union (ESU). The ladies came in their colorful swirl of hats, the gentlemen in their summer suits.
This year they were celebrating Her Majesty, the Queen's Platinum Jubilee and 96th birthday, so champagne was in order as were those delectable English treats of tea, finger sandwiches and chocolate desserts.
But the meeting came to order under the big white tent overlooking Long Island Sound with special guest of honor introduced, the New Orleans-based ESU National Chairman, Dr. Quinn Peeper, followed by an immediate rise with champagne glasses for a toast "To the Queen."
Peeper shared some memorable quotes on the Queen's Platinum Jubilee. He began with Barack Obama remembering his and Michelle's first trip to Buckingham Palace as President. "Her majesty put us at ease with her grace and generosity. So much so that I walked away thinking she actually reminded me a little bit of my grandmother…May the light of your crown continue to reign supreme."
The next quote came from British actor David Cameron who celebrated Her Majesty's "extraordinary reign…and unwavering service over 70 years. There is no greater public servant the world over. God save the Queen."
The last quote Peeper shared was from Prince William who had at the Jubilee Concert at Buckingham Place echoed the Queen's words from her speech to the Cop26 UN Climate Change summit. "It's my firm belief that my grandmother's words are as true in 70 years' time as they are tonight that as nations we come together in common cause, because then there is always room for hope."
Then it was time to address the ESU business of the day to lift up the English language of young students as well as those who educate them. Natalie Pray introduced a Guilford High School student, Machiavelli Merkle-Ward as Third Place winner in this year's ESU Shakespeare Competition, who treated the audience to her recitation of one of Shakespeare's most famous soliloquies from his tragedy, "Macbeth'" She began, "Is this a dagger which I see before me, The handle toward my hand? Come, let me clutch thee."
Not present was Hope Armstrong of Greenwich Academy who received an Honorable Mention and August Kittleson of Hall High School who came in Second Place in the Shakespeare Contest.
Roses were then presented to Pray and to the Guilford High Student by guest Karen Karpowich, the Executive Director of the ESU National office in New York. She, in addition handed to student Merkel-Ward a small teddy bear called "Will" aka William Shakespeare.
"The heart of the English-Speaking Union of the United States," shared Karpowich, "has always been our educational programs. And our Greenwich Branch has always exemplified the best of the best under the leadership of President Natalie Pray, and the amazing work of the Board and the program coordinators."
"This year," she continued," we had a Connecticut student, Declan Smith of Conard High School in the finals for our national Shakespeare Competition. And two Connecticut students were runners up in our new writing program on the Modern Sonnet Competition – Dror Ohad and J. Santiago from William H. Hall School. They worked with Shakespeare's sonnet Number 27. That begins, "Weary with toil, I haste me to my bed."
"And finally, she concluded, "This summer the Greenwich Branch and the New York Branch are sending a secondary school teacher from Connecticut's Marvelwood School, Valentin Dumitrascu to study international politics at Oxford on our TLab Scholarship program. And this gentleman is actually an immigrant from Moldova. And, given what's going on in Eastern Europe, it was very advantageous that we were able to send someone to Oxford who's from Eastern Europe."
And next spring, Karpowich added, "We will mark the 40th anniversary of our Shakespeare Competition.