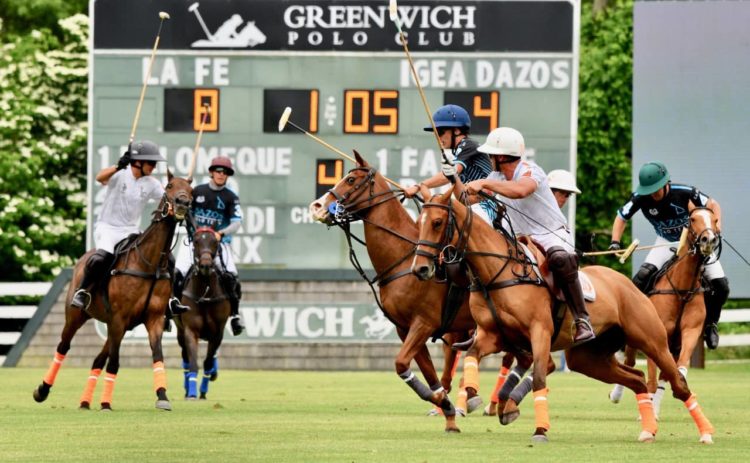 By Liz Leamy
Although last Sunday's weather was one of gray skies, clouds and looming rain, the atmosphere at the Greenwich Polo Club was as luminous as ever as La Fe, the Wellington, Florida-based 16-goal team, powered its way to an 11-8 victory over IGEA Dazos, a 16-goal Wellington, Florida contingent, in the second round of the 2022 East Coast Bronze Cup.
Playing in front of a crowd of nearly three thousand-plus spectators, the players and ponies of both of these turbo-charged teams lit up Conyers Farm, the famed site of the Greenwich Polo Club on Hurlingham Drive, with their potent strength, skills and presence.
Flying up and down the massive main field at high-octane speeds while knocking the ball around with the ease and acumen of seasoned world-class players, these athletes, both equine and human, commanded the attention of everyone on hand all the way from start to finish, making for a memorable afternoon.
In the final tally, La Fe, based out of Mashomack, New York during the summer, prevailed, with its members, Louis Devaleix, the Teflon-tough captain, Robbie Bilbao, the formidable five goaler, Agustin Palomeque, a firecracker four goaler and Lucas Diaz Alberdi, the stellar six goaler named Most Valuable Player at the end of this match playing in fluid, fierce and effective concert together.
"It was amazing to be out there today," said Diaz Alberdi, the esteemed La Fe number-three player whose brother, Alejandro Diaz Alberdi, had faced off against him as the number three-entry on IGEA Dazos. "I love playing here and being with everyone. It's a great place."
Alberdi cited the outstanding teamwork among his contingent.
"We worked hard out there and I also think Louis [Devaleix] was incredible," said Diaz-Alberdi.
Devaleix, meanwhile, seemed to feel good about his game.
"It felt amazing out there and I think I played one of the best games of my life today," said Devaleix, a player particularly known for his work ethic, as he is said to practice polo six to eight hours a day, six to seven days a week. "It's great to be back here at the Greenwich Polo Club and I'm very excited about playing here again this season." (Last year, Devaleix and his former team, Ellipse, clinched the 2021 East Coast Open title at the Greenwich Polo Club (GPC) during his first season there.)
Devaleix's teammates shared similar sentiments.
"The field is fantastic here and everyone is great," said Diaz Alberdi, who hails from Argentina, famously known as the polo capital of the world. "I feel like I am home."
Robbi Bilbao, the number two player for La Fe, agreed.
"The Greenwich Polo Club is amazing. It's so organized and everyone here is great," said Bilbao. "It was awesome to be out there and when you're out playing on the field, it makes you feel like you just want to keep doing this."
Throughout their faceoff against IGEA Dazos, a turbo-charged contingent lead by Gringo Colombres, the renowned eight-goaler, La Fe was firing on all top cylinders as its members knocked in goals with determination, aptitude and quickness.
"You can see right away that these are some of the top players in the sport and I feel that is why the Greenwich Polo Club the best polo club in America and also on par with some of the best polo clubs in the world," said Rohan Virmani of Greenwich, who has been attending matches since 1999 and was at the match with his wife, Tessa, and their sons, Ronin and Niels. "I, along with so many people here in town, look forward to the season every year. I see the potential at the Greenwich Polo Club as huge and see it becoming even bigger than what it is now. It's an incredible place."
Adding to the electricity and star power of the day were the horses, who thundered up and down and around the field at speeds of up to 30 miles an hour, efforts that were clearly appreciated by everyone there, particularly the spectators.
At the conclusion of the match, Gringo Columbres' stunning charge, Nikita (who he owns with Dr. Scott Swerdlin, a Florida-based veterinarian and high-goal player), was awarded the Best Playing Pony citation.
"This has been a great day," said Jason Yearwood, Business Development Officer of Barbados Tourism Marketing Inc. based out of New York City, a business partner of the Greenwich Polo Club, who also presented awards to the teams at the conclusion of the match. "This is an incredible place. It's so beautiful here and you can see everyone enjoying the experience of polo. It was also a huge honor to present the awards on behalf of Barbados Tourism Marketing and whatever I can do to bring Barbados to people is everything."
The community spirit among the Greenwich Polo Club crowd was appreciated and embraced by the food truck vendors as well, whose eateries were main stopping spots for spectators throughout the afternoon.
"We are thrilled to be here," said Adrian Hurtado, proprietor of the popular Taco Guy truck of Westchester and Connecticut that had a constant stream of customers. "It's our first season and the Greenwich Polo Club has been amazing. Everyone is so friendly and everything here is exactly what we had hoped for." (Hurtado, a fifth-generation food creator, is all about providing healthy food to his clientele, importing yellow, red and purple corn from Mexico, as well as fresh corn and other ingredients for his delicious tacos.)
The East Coast Open Bronze Cup series will continue on Sunday, June 19 at the Greenwich Polo Club.
For more information, please contact the Greenwich Polo Club at greenwichpoloclub.com