Centennial Greenwich Horse Show returns in more ways than one with its prizes and pleasures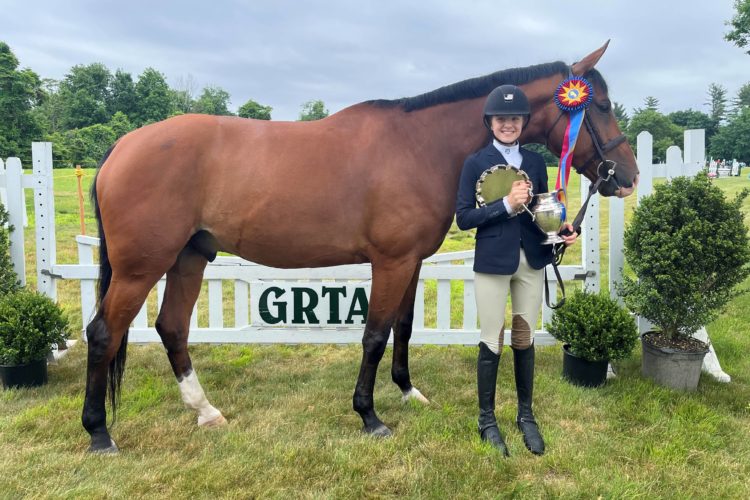 By Anne W. Semmes
On Sunday morning last the clouds did not hamper the 100th Greenwich Horse Show, returned to its handsome greenspace of fields and tree-lined pathways in the backcountry setting so kindly offered to the sponsoring Greenwich Riding and Trails Association (GRTA) by the Gerrish Milliken family for 37 years until the death of Phoebe Milliken in 2019 and subsequent sale of the Milliken property. Then came the Covid shut down in 2020, with in 2021 the need to move the Horse Show to a Bedford, NY location. But in 2022 the Greenwich Horse Show has returned to that Milliken setting off Bedford Road thanks to the generosity of the new owners, who wish to be known as 39 Pierson LLC.
What shined on that Sunday morning were the happy young riders smartly astride their horses, strutting their best, in walking, trotting, cantering, and jumping, as parents, judges, and instructors kept a close eye. But to arrive upon that scene this reporter first entered the great white tent where the Elegant Horse Show Luncheon would take place at noon. The tables were waiting with extraordinary centerpieces created by individuals and organizations participating in the 6th Annual Floral Centerpiece Contest.
On a separate table were the silver trophies and prizes awaiting the young riders, aged from 5 to 18! Stepping out of the tent, and led by Frank "Rusty" Parker, who serves the GRTA as executive vice president of operation, we are met by a 13-year-old rider, Porter Campbell, with a big smile on her face having won an armful of trophies and blue ribbon. She introduces her sizeable horse as "Notorious," aptly named, at 17 hands high.
"She's been riding since she was two," says her mom. "We lived across from a farm in Water Mill, L.I. and she would see the girls riding little ponies, saying 'Mommie, ponies!'"
Most riders begin competing in their teens shares Rusty Parker. And they come from a 50-mile range. "It could be Long Island," he notes. "The thing is there's a lot of horse shows to choose from on a regular basis in the summer. People decide where they want to go, because certain people are going for points to qualify for something bigger. And so, the trainers all figure this out, one week at a time."
"And in Ring Two riders trot please, in Ring Two," says the loudspeaker most loudly.
We're to meet up with a trainer, but first comes Rusty Parker's son Frank Parker holding two wiggly small daughters. Frank has ridden as has his father and grandfather Frank "Bud" Parker who had headed the GRTA and supported it in many ways.
"In Ring One walk please, and in Ring Two riders canter please," blasts the loudspeaker.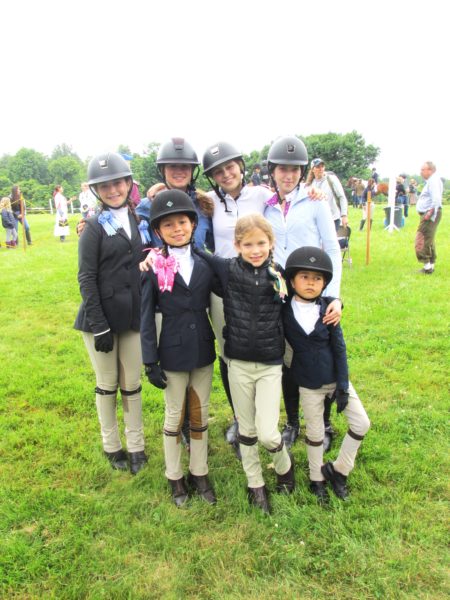 We next meet up with trainer Fred Schauder. "We start with children about five years old for horse shows. It will start with walks around the course to learn their overall appearance and their posture." Schauder manages some 30 horses on Country Lane Farm on John Street, with more property on Round Hill Road. Training kids for 33 years he notes, "So, we have had three different generations of families now come through. Grandparents ride and parents ride, daughters and now granddaughters." He adds, "So, my wife Christina and I have three daughters of our own that have all grown up riding here."
Horseback riding, he can attest is, "Incredibly popular in Greenwich for the kids. When we first started this business, which Rusty would probably attest to, "It was the older families and their next generations that were coming along that were horse people and loved having their children ride." But even with the transition of new people moving to Greenwich, he says, "There are endless numbers of children that want to ride. And COVID actually brought more kids out than ever before because it was a wonderful place to be outside – fresh air – out with an animal."
Schauder introduces me to some of his young riders, including Regan Driscoll, age 6 ½, with two a bit older, Winnie Meister and Catherine Driscoll. "They've all been riding about two years," says Schauder, who calls over four older girls for a photo, ranging in age from 12 to 16, and notes, "So, they've all been with us a long time."
We head back to the tent as its lunchtime. With most of the competing families – and trainers busy ringside, the luncheon is mainly attended by "friends of friends," says Rusty Parker. And the ladies with their hats and gentlemen have arrived. Some have gravitated to the auction items that include curious horse rider's gear. "The auction actually went online last night" says Parker. "But if you'd like to bid, "There's a 12-people croquet party, a sailboat luncheon, or a weekend in the Berkshires if it interests you."
Parker introduces at the tent entrance, Lisa Bailey Cassidy who started the Elegant Horse Show Luncheon 11 years ago. She recalls, "The then chair of the horse show had decided she'd done it 25 years or so and she was ready to move on. And they needed a new chairperson and asked me to do it, which was fun. So, we just decided to add this more elegant luncheon and the Hunter Derby which has prize money, and it really took hold and had quite a following over the last 11 years."
Inside the tent on exhibit are giant photographs of generations of GRTA notables astride horses: the Parker family, the Henry Fisher family, the von Gontards, Norma Bartol, Migi Serrell, and perched on a table the formal riding outfit of Elise Hillman Green's mother, Sandra Hillman, worn at a Madison Square Garden competition.
Elise Green's name was called out later in the lunch when Donna Moffly, founder with her late husband Jack of Greenwich Magazine, and longtime supporter of the Horse Show, read out the names of winners of the Annual Floral Centerpiece Contest. "Number Six goes to my friend Elise Green for a thing of beauty by going into her mother's [Sandra Hillman's historic] garden this morning in her nightgown and picking fresh roses, all pink and peach and white."
First prize went to the Greenwich Tree Conservancy for its "amazing assemblage of all kinds of mosses on a log." "Second prize goes to Troy Nurseries who did a straw hat right on this table," said Moffly, adding, "I covet that hat." And Third Prize went to Dancia Callahan for "probably the most amazing assemblage" Moffly had "ever seen." But this reporter's favorite was the white horse on our table with its mane and tail of air plants, surrounded by hydrangeas, with a sign that read "Sold" by its creator Catalina Weiser. Surely a keeper horse.