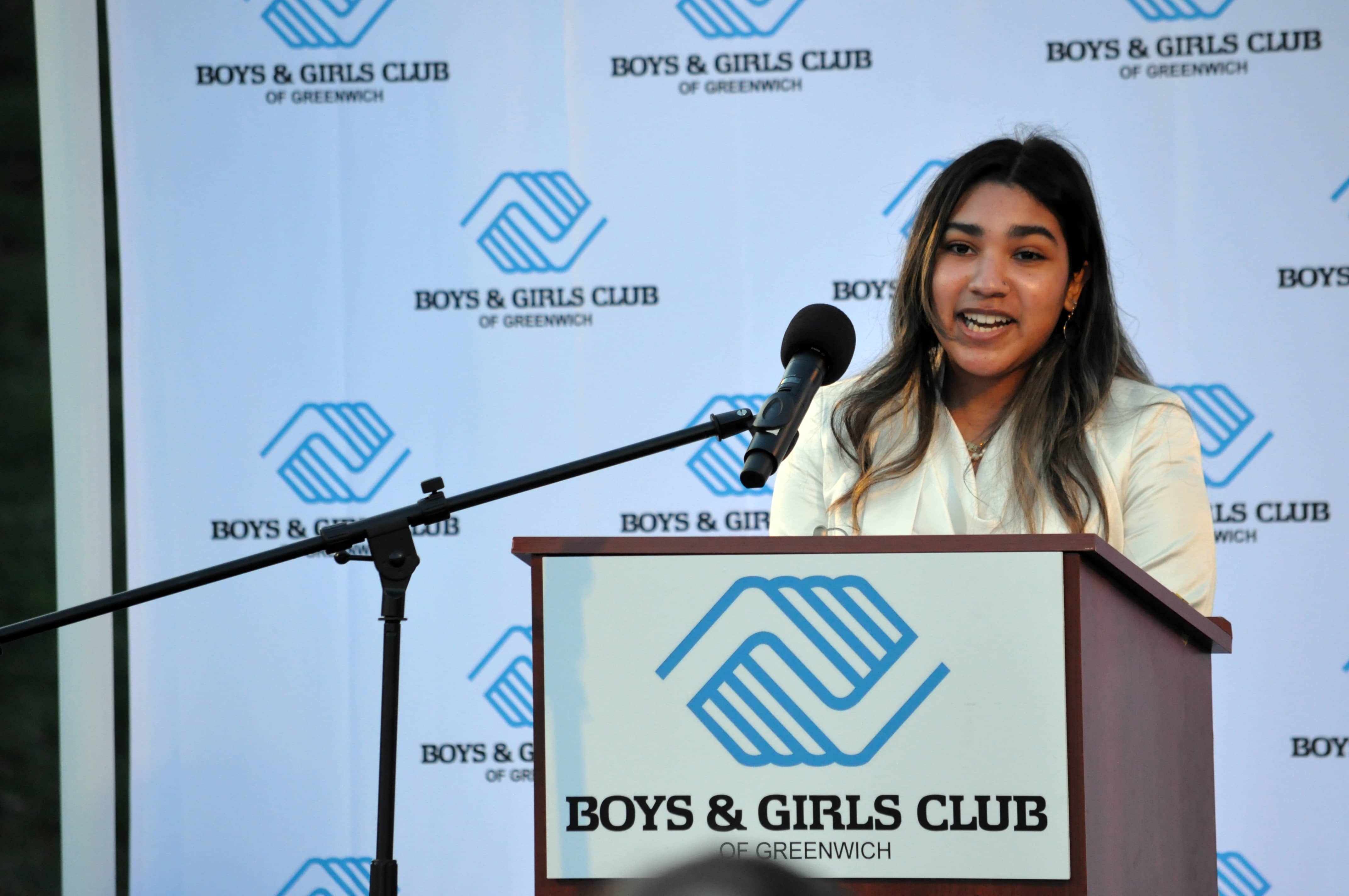 By Richard Kaufman
Last week, the community gathered for the 53rd annual Boys & Girls Club of Greenwich Youth of the Year Award event. Even though it had a different look to it because it was held outside due to COVID-19 protocols, the message of the night was still the same: the BGCG impacts lives in immeasurable ways.
Before the event began, Cristina Vittoria, CEO of the Club, spoke briefly about the challenging times over the past year.
"I cannot tell you how incredible it is to see all of you in person after this challenging and isolating past year. While the health crisis has impacted us globally, we recognize now more than ever that our neighbors and our community need and rely on the very services the Boys & Girls Club of Greenwich provides," Vittoria said. "Together we have supported our members, families, the greater community and each other with grace, courage and the resolve to do whatever it takes to ensure great futures for all of you who walk through our doors."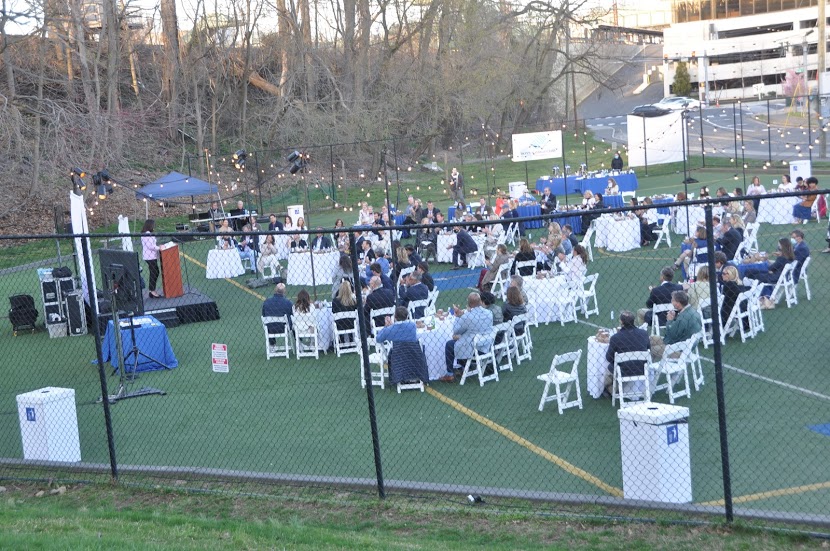 Damarys Aceituno, a junior at Greenwich High School, was named as the 53rd recipient of the award. The Youth of the Year program recognizes and celebrates Club teenagers for their dedicated community service, academic excellence, good character and leadership qualities. The selection process begins months in advance, when applicants submit essays about their Club experience and how it helped shape their lives. A selection committee is assembled, and finalists are narrowed down.
Aceituno spoke to a crowd of a little over 100 people, who were socially distanced on the outdoor field. She recalled how the Club was there when she needed it the most.
The summer going into Aceituno's freshman year of high school was a tough time for her. Her father, Dario, was taken into ICE custody and remained in a detention center for about a year-and-a-half before he was deported to Argentina last May.
"My father was very present in my life and we had a great relationship up until high school when things changed. Thankfully, I had the club who looked out for me and my family," Aceituno said.
During Aceituno's freshman year, she lacked motivation to do any work or focus on goals. But she joined the Keystone Club at BGCG, and things began to turn around. The BGCG's Keystone and Torch Clubs are yearlong programs that challenge its members to dedicate themselves to helping others through fundraising events and community service.
"The club gave me a different perspective on life. Instead of letting everything in my life get out of control, I took charge of the things I could control. My relationship with my family and how well I did in school were things that I was able to control and fix, so I did just that. I tried to stop beating myself up over the things in my life that were going wrong and began to use my struggles to become the best version of myself," Aceituno said. "Now my GPA is the best it has been. I am a part of three clubs in school, I am on the social media team for an organization outside of school, and I am President of Keystone. I have also gotten closer with my family and appreciate spending time with them."
Aceituno, now a part-time staff member at the BGCG, added that the Club has shaped her character and given her a sense of family and community. Throughout her time there, Aceituno said she has had the privilege or participating in impactful community service efforts, most notably going to Mexico where she helped expand on a home where children were living because their parents could not provide for them.
Even though her father could not be at the BGCG last week, he watched on a live stream from Argentina. Aceituno had told him she had won the award a few weeks ago.
"He's extremely proud of me and all that I've done," Aceituno said afterwards. She will now move on to be considered as the State Youth of the Year, followed by regional and national competitions. Aceituno is looking forward to the college admissions process where she's interested in studying environmental science or marine biology.
The other Youth of the Year finalists were honored as well. In total, there were 11 applicants for the award.
Finalist Karen Maldonado, a junior at GHS, moved to Greenwich in the seventh grade and joined Torch Club at BGCG, and began volunteering. Maldonado had wanted to pursue a career in teaching, but after the pandemic, she's thinking of exploring a career in the medical field.
Lauren Herrera, a senior at the high school, joined the BGCG began taking classes in arts and sports. She overcame cancer several years ago and will now head to the University of Connecticut where she plans on studying communications and marketing.
"Each of these three finalists are super smart, have overcome incredible personal challenges with grace, they are sensitive, responsible, caring and have displayed remarkable leadership skills. Each one has been positively impacted by their tenure at the Boys & Girls Club," said Icy Frantz, co-chair of the event.
Lisa Stuart was the 2021 Champion of Youth honoree.
Stuart served on the board of the Boys & Girls Club of Greenwich for 20 years. She co-chaired both the Governance and the Strategic Planning Committee, and she was Board Chair for four years. Lisa and her husband Scott hosted the BGCG Fall benefit twice in their backyard when the Clubhouse was under construction.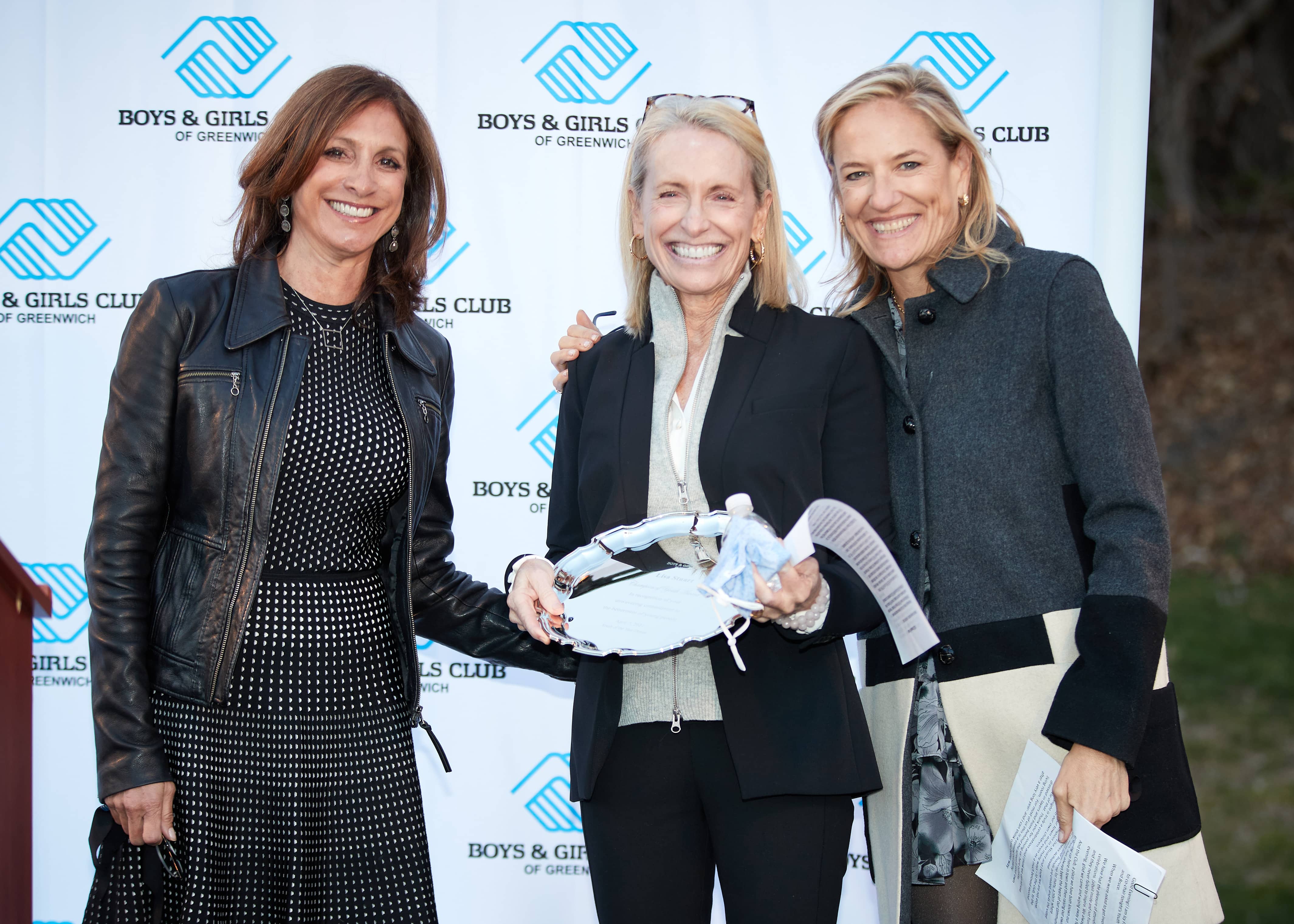 Stuart currently chairs the board of Waterside School, and she serves on the boards of Grassroots Soccer, which fights AIDS in youth in sub-Saharan Africa, and National CASA, which helps foster children. She has been a member of the Greenwich Representative Town Meeting since 2017.
"There is no greater champion for our club kids, and for the entire organization and our community," said Lisa Quackenbush, co-chair of the event. "I've known Lisa over 20, and you cannot find a more dedicated human who endeavors to give back."
Stuart said that the BGCG "embodies the spirit of believing in and nurturing children, regardless of circumstance, race, or ability," and it builds citizens for the community. She praised the Club for not shutting down due to COVID and helping those in need during difficult times.
Stuart also thanked all of the staff members at the Club for making it such a special place.
"While the Boys & Girls Club is the soul of Greenwich, its staff are the beating heart," she said.