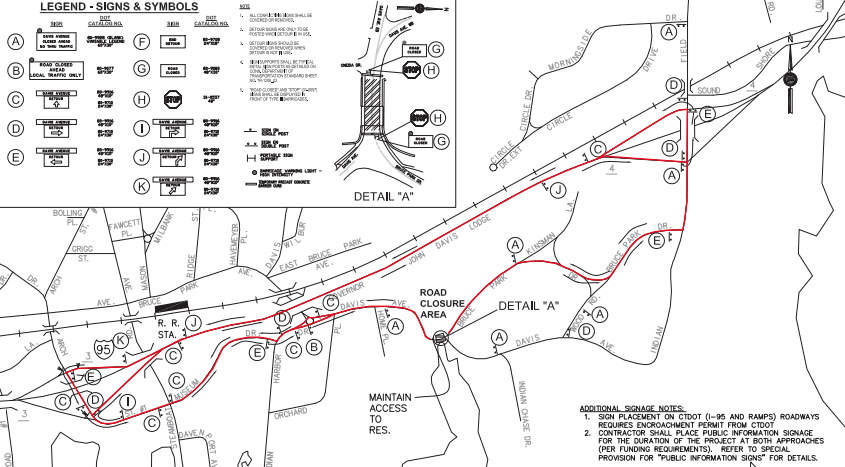 By Richard Kaufman
The Board of Selectmen on Thursday unanimously approved a road closure for Davis Avenue in Bruce Park, paving the way for a bridge replacement project to commence later this month.
The project involves the replacement of an existing bridge over Indian Harbor with a new pre-stressed concrete beam structure.
The Contractor, A. Vitti Excavators, LLC, from Stamford, will be working between 7 a.m. to 6 p.m., Monday through Friday, and 9 a.m. to 5 p.m. on Saturdays, beginning around Monday, April 26 with installation of temporary traffic control devices.
The road closure is anticipated to begin around May 1, and the proposed construction is anticipated to last approximately 15 months, with bridge replacement between May 2021 and September 2021.
In addition to the bridge replacement, curbing and sidewalk will be replaced near the bridge location, portions of Davis Avenue will be repaved in the disturbed area and new pavement markings will be applied. Final restoration of curbs, sidewalks and pavement will occur between September 2021 and June 2022. All dates are dependent on the weather and any unforeseen complications.
A detour will be posted with signage and will utilize Davis Avenue, Museum Drive, Arch Street, I-95, and Indian Field Road. Access to local driveways and Oneida Drive will be maintained throughout construction. Work before and after this duration may utilize alternating one-way traffic control during work hours. All pedestrians and drivers must obey uniformed traffic personnel and all posted traffic control devices.
Jason Kaufman, senior civil engineer for the Greenwich Department of Public Works, told the Board of Selectmen that a staged approach to the project was rejected for three reasons. There were safety and structural concerns if half of the bridge was under construction, and the other half remained open to traffic; a staged approach would have featured two seasons of construction, instead of just one; and costs would have gone up between 30-50%.
Selectperson Jill Oberlander, who is chair of Greenwich's Sustainability Committee, asked Kaufman about bicycle access as part of the project.
Kaufman said there will be five foot shoulders on the road leading up to and away from the bridge for bicycle access, but the area will not be designated as a bike path just yet.
"We struggle with the width of roadways, and to officially  mark something as a bike path, you need the entire roadway to have the available width of five feet on both sides," Kaufman said. Also, other roads adjacent to the bridge must be widened as well in order to have an official bike path.
James Michel, Deputy Commissioner of Greenwich DPW, said Both Davis Avenue and Bruce Park Drive are only about 22-24 feet in width.
"We really only have vehicle travel widths on those two roads. We would have to do a significant amount of widening to the roadway within Bruce Park. We've tried to minimize the amount of asphalt that we have in Bruce Park to keep the green there, but it's something we could look at in the future," he said. "Definitely when we [planned for] this bridge we did think about  bicycles in regard to the bridge itself."
Oberlander also mentioned that since Bruce Park Drive will not be an I-95 access route during construction, a temporary bike loop in Bruce Park could be installed perhaps as a pilot program.
Michel said he'd sit down with Oberlander to discuss different options.
"We can look at maybe having a couple of bike events maybe this summer in that area," Michel said.
First Selectman Fred Camillo supported a potential bike path in the future.
"I think that's a great idea. The roads in Bruce Park leading to the bridge and once you're into the park, they're not wide enough. But there certainly is room to expand and put a bike path in there," he said.
Camillo urged DPW and all parties involved to reach out to residents of Indian Harbor, Mead Point and Bruce Park to make sure they're aware of any future plans regarding bicycle access.
"I would make sure they're aware of this and get them in on the conversation. What we may think is a nice idea, they may not," Camillo said.
For regular updates related to bridge replacement project, click here.