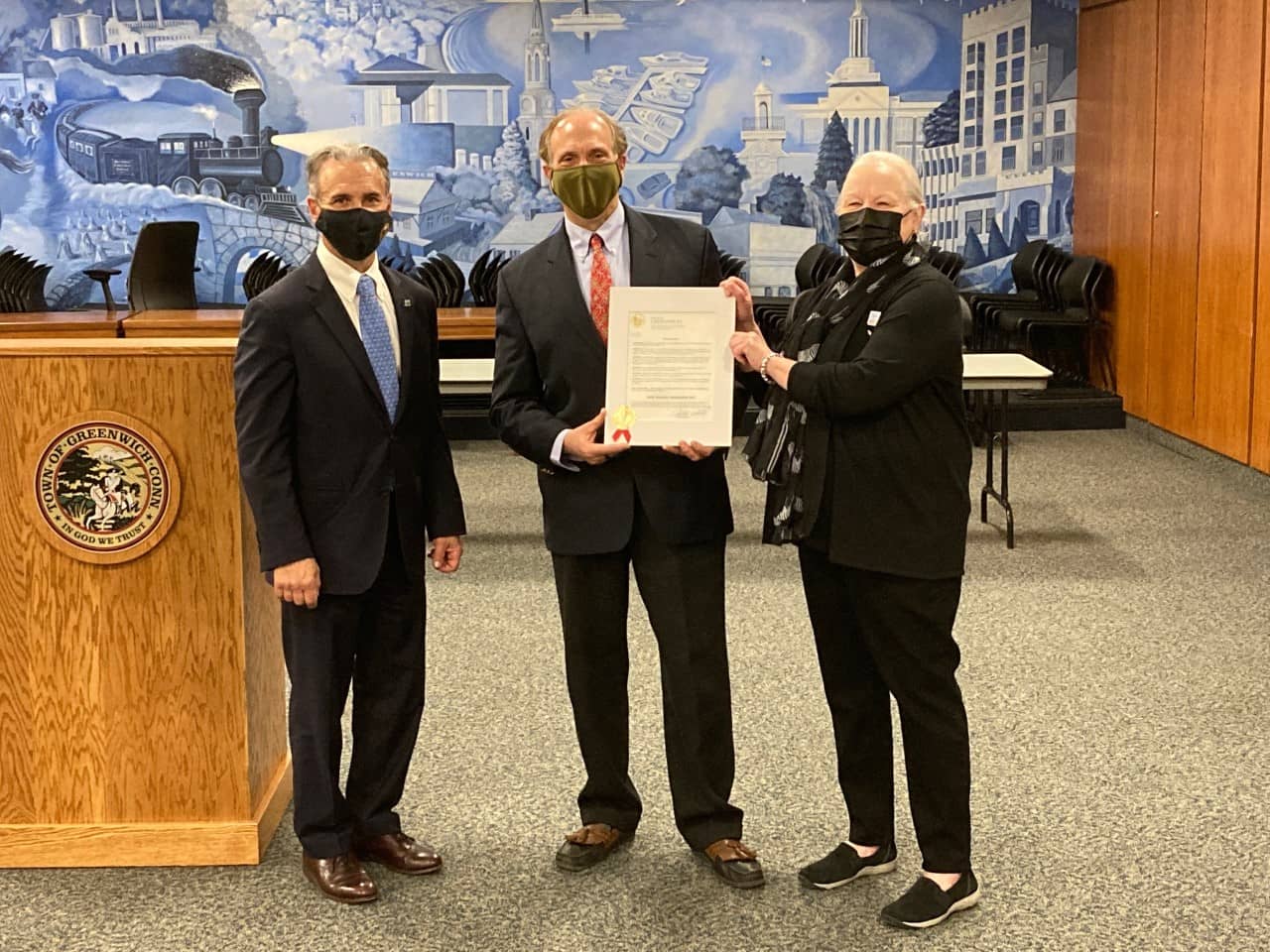 By Richard Kaufman
For the past year, nearly all of the world's attention has been on COVID-19, and rightfully so, as a once in a lifetime pandemic has wreaked havoc on the globe.
But on Friday, the Town of Greenwich hoped to shift some of the focus back on some of the lesser known diseases and ailments that families are facing everyday, by declaring Feb. 26 as Rare Disease Awareness Day.
First Selectman Fred Camillo issued a proclamation at Town Hall to John Hopper, President of the Greenwich-based Fibrolamellar Cancer Foundation (FCF), which represents one of the over 7.000 known rare diseases in the world.
Following the proclamation, several members from various rare disease organizations in Greenwich took part in a webinar on Zoom to discuss the work they've been doing.
This was the second straight year Greenwich has commemorated the day. Camillo, who used to participate at the State Capitol in similar events in his role as a State Representative, hopes the annual recognition becomes a tradition in Greenwich.
"Hopefully this is something that will outlive all of us, and there will be this day every year in Greenwich, until it's no longer needed. Hopefully that's sooner rather than later," he said, noting that the issue is personal to him, as his sister, Donna Marie, passed away at a young age from a rare form of pediatric leukemia.
Camillo said that this year's commemoration holds extra importance because of the pandemic and the way it has impacted so many patients and families who are dealing with rare diseases.
"What happens in times like this, worthy and noble causes sometimes get pushed to the side and for good reasons. We've had to focus on dealing with a worldwide virus. But it's really important that days like this force us to refocus our attention back on campaigns like this. Rare diseases don't go away. Until there's a cure for all of them, our job is not done," he said.
According to Hopper, who also serves as Co-Chair for the National Organization of Rare Disorders (NORD) Rare Cancer Coalition, 79% of patients with rare diseases have experienced canceled medical appointments as a result of the COVID-19 pandemic.
Further, 32% are having difficulty accessing medical care and treatment; 14% have issues accessing medication; 37% of families are impacted by a loss of income, 12% of whom can no longer afford medication.
Because rare diseases don't get national spotlight, and because funding can be tough due to small populations being affected, Hopper urged rare disease organizations to rally together.
"I think all of us need to make sure that we roar, and that we're heard," he said.
A disease is considered rare when it affects less than 200,000 people. One in 10 Americans have a rare disease, and over 300 million people worldwide have one. Collectively, the number of people living with a rare disease is equivalent to the population of the world's third largest country. Eighty percent of these diseases are genetic, and the remainder are caused by infections, allergies, environmental causes — or they're rare cancers.
Several people spoke about their experiences in dealing with rare diseases during the webinar portion of the day's events
Mark Carles, a beneficiary of the FCF, spoke about his experience getting treatment for fibrolamellar cancer during the pandemic. Carles was diagnosed with the rare liver cancer at the age of 24; it affects one in five million adolescents and young adults.
Carles recently began his second round of radiation treatments in the city. In the past, he'd bring an entourage of family and friends, who would cheer him on during treatments and appointments. But because of COVID-19, no visitors have been allowed.
"The toughest part about being sick during this pandemic has been loneliness," said Carles. "I have to navigate this brave new world…  I taught my parents how to use Zoom back at the hotel, while I was deciding which chemotherapy to start at the hospital with my oncologist."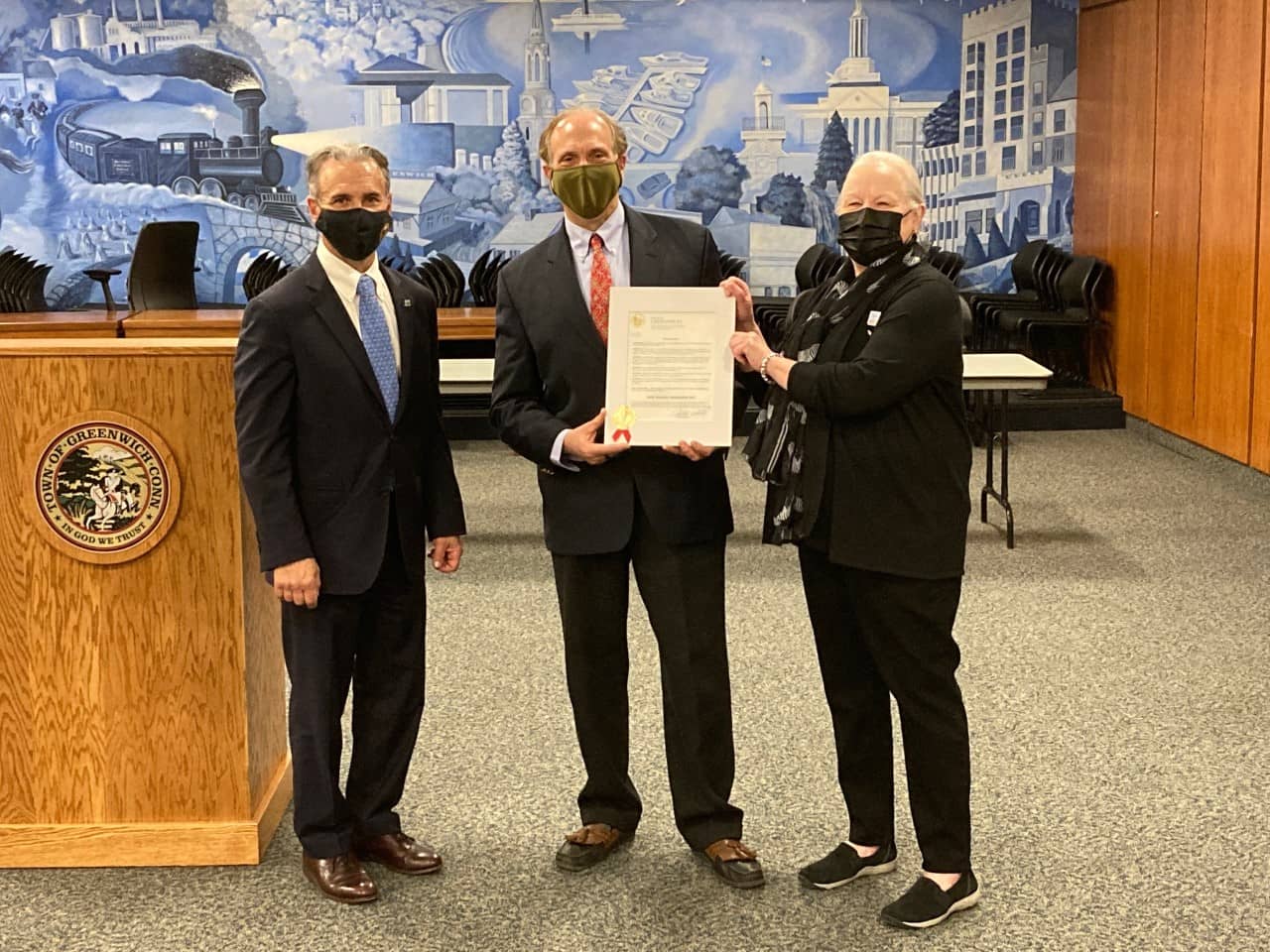 Phil Marella, one of the founding trustees of Dana's Angels Research Trust (DART) based in Greenwich spoke about his daughter, Dana, and son, Andrew, who were both diagnosed with Niemann-Pick Type C Disease. It affects one in 120,000, and is characterized by an inability of the body to transport cholesterol and other fatty substances inside of cells.
Sadly, Dana passed away; Andrew is now 21.
"He's doing much better because of the scientific and medical research we've helped fund for these past 19 years," Marella said.
Since 2002, DART, an all volunteer organization, has raised almost $5 million for research.
Taruna Reddy, a Greenwich resident, has a seven-year old daughter, Alya, who was diagnosed with PACS1. There are only about 200 children and young adults around the world with the disease, which is marked by intellectual disabilities, developmental delays, epilepsy, autism, and significant language impairments.
"Many of these diseases are forgotten and neglected plainly because of a lack of funding," Reddy said.
When Alya was diagnosed three-and-a-half years ago, there was no research available, so Reddy decided to form the PACS1 Foundation, which is based in Greenwich.
"I think now we can sit down and kind of have hope that in the future, there will be some treatments for Alya and all of her PACS1 friends. I'm hopeful that this year and in the years to come, we'll have plenty of success stories to share," Reddy added.
Greenwich resident, Emily Rubik, has a four-year-old daughter named Elodie, who was diagnosed with Epidermolysis Bullosa (EB). Those with EB lack a critical protein that holds layers of skin together, so any friction on the skin can cause wounding.
More specifically, Elodie has a subset of EB, called Receptive Dystrophic Epidermolysis Bullosa, which can eventually lead to cancer. About 2,500 people in the U.S. have that subset. The overall EB Population is 30,000 people.
Rubik has worked with the EB Research Partnership, and she's hopeful about several clinical trials that are ongoing.
"It's my belief that by the time we find ourselves at Rare Disease Awareness Day 2022, we're very hopeful that I think one of these trials will work," Rubik said.
Rubik's friends organized an annual fundraiser in which people take a plunge into water, similar to the Polar Bear Plunge on New Year's Day. Due to COVID, this year's plunge is virtual. Last year, the fundraiser generated $350,000.
For more information on this year's event, click here.
Clinical trials play critical roles in research for any rare disease.
Allyson Buck's son, Sam, a fifth grader a Glenville School, was diagnosed with Vanishing White Matter Disease at age two. VWM is an extremely rare brain disease that causes white matter in the brain to disappear. It's untreatable, incurable and terminal. Sam is one of about 250 cases worldwide.
In 2016, Allyson and her husband, Nick, started The VWM Families Foundation to raise money for research. Allyson is currently focused on funding a clinical trial that was supposed to start last year, but was delayed due to COVID. Buck hopes the trial can get going in Amsterdam within the next few months.
She urged other rare disease group members to work together to make progress.
"It's always good for us to all work together. Together we can just do so much more as a community."
For Greg Pauletti, a clinical trial helped save his young daughter, Heidi, from pediatric cancer after she was diagnosed almost three years ago. Heidi is now about six months out of primary frontline treatment and in remission.
Pauletti founded the Golden Lights Foundation to raise money for pediatric cancer research.
"Clinical trials really do have a major impact, and the Golden Lights Foundation's solitary mission is to make sure that we can fund as many of those trials as possible. We're trying to take the brightest and best doctors in the world to allow us to identify those particular projects," Pauletti said.
The foundation is about a year old, and Pauletti admitted it was tough to get off the ground in the middle of COVID. But the foundation was able to virtually raise $50,000 by the end of 2020.
"It is possible to raise money, and we're going to continue to put our nose down and push forward," he said.
Alan Gunzburg, who is Chair of the Department of Human Services Board in town, and Chair of the First Selectman's Advisory Committee for People with Disabilities, discussed his diagnosis of retinitis pigmentosa in his 30's. After wanting to learn more about it, he found out he had Adult Refsum Disease, a rare genetic disease in which the body can't process a long chain fatty acid called phytanic acid, which is found in milk products, red meat and other foods.
Gunzburg, who has been a strong advocate in town for access and inclusion for all, thanked Camillo and those on the Zoom call for their hard work and dedication.
"I thank Fred for continuing our committee and for giving the disabled people in the Town of Greenwich a voice, access, and inclusion, accessibility to our website, to town events, for voting, and everything else that we've done in our town to create an inclusive community that allows people even with very rare diseases to thrive as part of the population," he said.
Camillo mentioned the idea of dedicating the first "Rare Cancer Day" in Greenwich in September, and when it's safe to do so, members of Friday's webinar hope to meet in person to further discuss their causes.
Lesley Bennett, the Connecticut State Ambassador of NORD Rare Action Network, noted that more than 300,000 residents in the state of Connecticut are affected by rare diseases. She hopes to engage with Connecticut General Assembly members to discuss the formation of an advisory council on rare diseases.
Dr. Stephanie Paulmeno, who has her doctorate in nursing and has been a nurse for over 50 years, also works in the Greenwich Department of Health. She suggested perhaps holding a legislative breakfast with local elected officials to educate them on rare diseases and the needs facing those who are impacted.
"There's hope," Camillo said in closing. "We can't be satisfied until [cure rates] are 100%. That goes for every one of these afflictions. We're all in this together."
For more information, go to: fibrofoundation.org, vwmff.org, DanasAngels.org, pacs1foundation.org, goldenlightsfoundation.org/, defeatadultrefsumeverywhere.org.