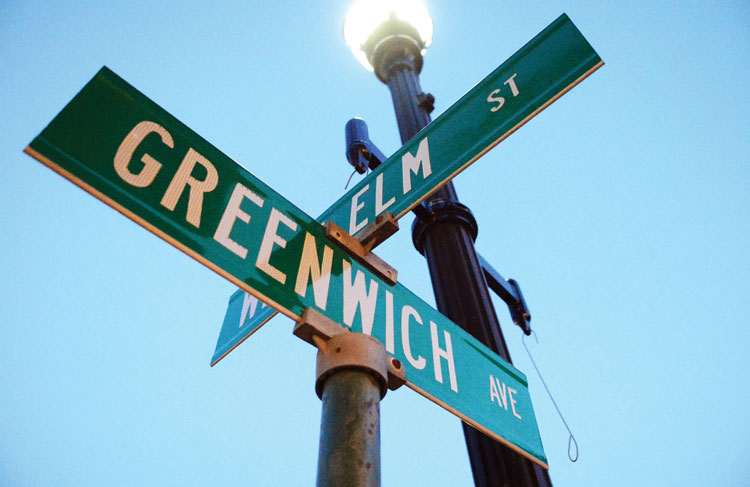 By Richard Kaufman
Sentinel Reporter
Valet parking is coming to town this holiday season.
On Thursday, the Board of Selectmen unanimously approved a temporary pilot program that will install two valet parking stations on Greenwich Avenue to drive business for local merchants and curb parking problems that have usually plagued the busy roadway during the holidays.
The private service, which will cost residents $20 per car, will be run by Parking Productions over the next two weekends — Dec. 12 and Dec 13,  and Dec. 19 and Dec. 20 from 12 p.m. to 6 p.m.
Station one will occupy several spaces on Greenwich Avenue at the corner of Lewis Street near J. Crew. Station two will utilize the horseshoe drive at the Greenwich Arts Council. From those drop off locations, cars will be parked in private lots on Mason Street and West Elm.
The idea for the service was brought forth by Sebastian Dostmann and Alyssa Keleshian Bonomo of the Greenwich Community Projects Fund, the group that helped bring lights back to the Avenue this year.
John Dent, General Manager of Parking Productions, said he was eager to get involved once he heard about the idea. Parking Productions has been providing similar services for residents and charity events around Greenwich for a number of years.
"My goal ultimately is to provide a nice alternative on the Avenue, convenience for the residents and the non-residents who also come to shop on Greenwich Avenue, and to alleviate some of the parking issues that were there," Dent told the Board of Selectmen on Thursday.
"No one wants to see standalone parking garages in Greenwich that are not attractive. We have to really think outside the box and look at any and all concepts. Certainly this one here has a chance to work, and maybe even be expanded down the road," First Selectman Fred Camillo said. "I'm happy to see it before us, and the few people I've spoken to around town loved it, including a merchant that I had a conversation with who has a business at the bottom of the Avenue."
There were several questions brought up during Thursday's meeting about the town hiring Parking Productions without going through an open bidding process.
"I think this is a wonderful concept. But It's very important from a government perspective that government remans neutral from a business perspective," said Town Attorney Vincent Marino. "Government shouldn't be providing preferential treatments to local businesses over businesses outside of town, or between local businesses."
First Selectman Fred Camillo said he wanted to make sure the town was "on the right side of things." He called the service a "critical need" and pointed out that right now, it would only be offered for a limited time.
The Board agreed that at the end of the two weekends, data from the program will be reviewed in order to determine if it can be a long-term solution to the long standing parking issues on the Avenue. Should the town want to make the service permanent, a Request For Proposal (RFP) would go out, and companies would submit bids for hire.
Dent said that if 50-100 cars, including turnover, use the service each day, that would be ideal. He added that the station attendants will be following all COVID precautions and guidelines.
"Naturally we're a business, so making money would be great, but that's not our primary concern here. Quite honestly, if I could minimize my losses, then that's a win for me. I'm happy to be a part of this project," Dent said.
Camillo remarked that the valet service is a "great step forward" in helping to alleviate parking issues in downtown Greenwich.
"This is the initial step. We'll see where we go from here," Camillo said.