October 9, 2020
Reflecting on a meaningful life: A tribute to Esther Bushell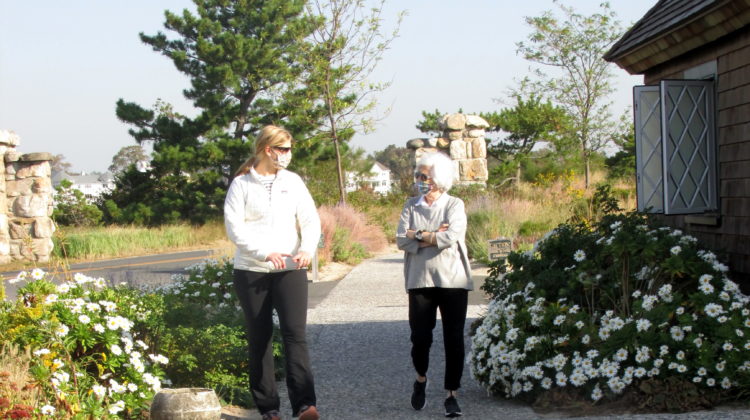 By: Kristin Toretta Lee
The isolation – and sometimes sordid deprivation – of the pandemic and events of the past year have manifested in some serious introspection. In the wake of Ruth Bader Ginsberg's passing in particular, I have found myself reflecting on the idea of a "meaningful life." In her February 2017 speech at Stanford University, Ginsburg remarked, "That's what I think a meaningful life is – living not for oneself, but for one's community."
But what does that mean? Do we all need to improve the fate of an entire gender? Should we all be doctors fighting to save lives?
Sometimes it is in the moments when we feel furthest from the answers we seek that we end up finding them. My mother, using her antiquated but customary newspaper-clipping and post-it note communications, put Anne W. Semmes' article about Esther Bushell's famous book clubs in my mailbox and asked me – via post-it – if I had been in contact with Esther recently. I decided it was time to reach out. But would she remember me? After all, I was one of literally thousands of students she had taught at Greenwich High School, and it was 20 years ago.
An email in the dark, and a response! We decided to go for a masked-walk at the beach.
It was more perfect than I could have imagined. I pulled into the park to see Esther standing at the entrance like a beacon; her effervescent confidence, silver hair in the breeze, iconic black glasses seamlessly matching her black-tufted coat. We walked, we talked.
I don't know if it was the impressionability of that phase of my life, or if Esther's personality was just so memorable, but the image of her high school English class is like a vignette I have brazen on my mind. Her legs aggressively crossed, clutching a decrepit water bottle that had been reused for three months, Esther would tell us how life worked – in an absolutely, unmistakable, husky voice. Silver and black and the wisdom of ages. I often felt like I was watching a dimly lit literary act in the basement of a West Village venue in the 1960's.
Having had over 10 years of higher education degrees after high school, I cannot remember the vast majority of books I have read, classes I have taken, or even the teachers I have had… but I cannot forget Esther. As we walked and talked, I realized that she had an even bigger impact on my life than I had ever appreciated.
She once told me that there were too many books in the world, and that it would be hard for me, but if I started reading something and I didn't like it, I had to put it down and move on. This advice spanned far wider than books, and I never forgot it.
Struggling with my legal work load that week, I told Esther immediately she was the first person in my life that told me I should be a lawyer one day (therefore, I blamed her for my annoying assignments). But more earnestly, I recognized that she knew my strengths, well before I did. I recalled her anecdotes about a vacation she took with her husband where they visited gothic churches in France…and her near obsession with how "everything changed in 1968." It occurred to me that years later, I wrote a thesis at Harvard about Catholicism in contemporary France post 1968, and the economic and social theories that corresponded. Was I so impacted by Esther's own intrigues that I explored them in my own way?
While on our walk, Esther stroked my ego and told me I was a "star," and a "superwoman." Only she can make you feel like a celebrity in the midst of a pandemic…with a toddler and a baby at home, the associated weight gain of a lockdown mitigated by ice cream, black circles under your eyes, and a hair-color envied by absolutely no one. It is people like Esther who make you feel like you have purpose, and in turn they show that their own lives have had so much significance. After finally reconnecting, I ran into a mutual neighbor at church and told him I learned that he also knew Esther. He said, "Everyone knows Esther, she's famous." I laughed. Although I do know that she is indeed famous, not only in this town but in literary circles across the country, I wanted to take a moment to share my gratitude, as a voice for all those who didn't get the chance to take this walk.
Just as when we were students at Greenwich High School, and Esther would tell us that "everything changed in 1968," I have found myself often wondering over the course of this year whether Esther, (who, in my mind, will be teaching in perpetuity), would tell students 40 years from now that "everything changed in 2020." (She said "yes" when I proposed this on our walk.) And after discussing the many trials and tribulations of the past months, I reflected to realize that there I was under the weight of a pandemic, testing our collective mortality, the haze of wildfires, a country facing its identity, updating resumes and life plans for an uncertain future – and yet somehow Esther had made me feel a sense of community, finally.
When you decide to return to Greenwich as an adult, you encounter a place you recognize but you don't necessarily feel connected to anymore – after two years back with my own family in town, it was seeing Esther that gave me a sense of community here; she brought it home to me. It wasn't a Supreme Court seat, a medical degree, or a life of charity; it was a teacher who gave me the tools and instruction in life to thread together a meaningful story of my own.
Kristin Toretta Lee, a GHS grad of 2004, is a mother of two currently working as a lawyer and living in Old Greenwich.