October 9, 2020
On my watch: Chase Banksville going, going, gone? Not on Easy Kelsey's watch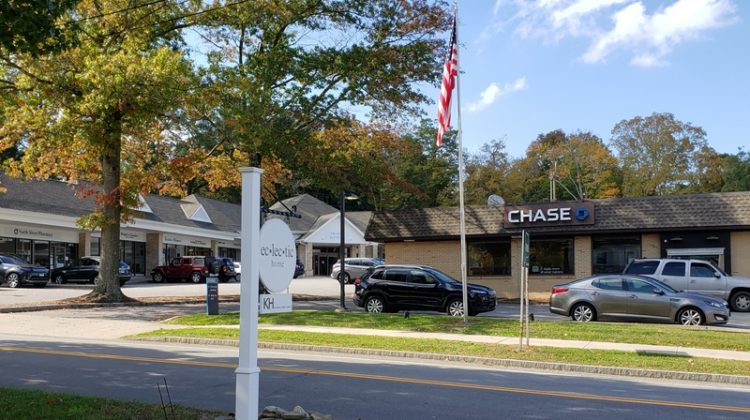 By: Anne W. Semmes
The community of Banksville located in Greenwich's most northeastern corner is about to lose its only bank, much to the dismay of its citizenry. The Chase Bank sits in the heart of Banksville's North Street Shopping Center, and on October 27 it is scheduled to move to Bedford, N. Y. But stop the clock, there's a growing groundswell of bank customers, store owners and residents perplexed with such a decision.
Making the case for the need of that bank in Banksville is Easy Kelsey of backcountry Kelsey horse farm fame. This reporter met up with Easy at that last jazz concert of the summer held on September 17 at the Banksville Shopping Center, as presented by popular caterers Happiness Is. Easy was radiating determination behind her face mask, having addressed the crowd of diners with the bad news of the Chase closing. She had urged them, "We can save the bank if you sign and share this petition, and call and email Jaime Dimon, CEO of JP Morgan Chase!"
Easy had already called the office of Jaime Dimon, learned for sure the sad news, then promptly sent a handwritten letter to Mr. Dimon ending with, "I truly hope you'll reconsider your plan to close Chase Banksville."
"There are 50-plus businesses in Banksville," argues Easy. "This bank is a vital piece of our local backcountry economy. It serves the community, bringing people together in Banksville and driving business to our local shops."
With help from Easy's daughter Kelsey Merrow, an online petition was created urging people to sign on to "Save Our Bank, Save Our Community" and to email or call Jamie Dimon, CEO of JP Morgan Chase. Posters saying the same were placed in store front windows.
Easy's phone call to Mr. Dimon was soon followed by a Chase representative knocking on some of those Banksville stores displaying those "Save Our Bank" posters, with inquiries of what were the stores' experiences at the Bank?
"I just gave her a synopsis of our feelings," says Sonali Costa, owner of the North Street Pharmacy. "We love that bank. We love everybody there. They've been such a pivotal part of our little society of Banksville and without them how could we be Banksville!"
"A lot of our customers use Chase," says Maria Ceci, manager of Troy's Nurseries. She adds, "And a lot of our employees use Chase as well. I know all of our employees right after work, they go straight there and they use it for their paychecks."
"They are trusted, they are our community and them leaving is another step in making Chase Bank another virtual platform instead of a welcoming place," is how Katie Goldberg, owner of The Study Fine Wine & Spirits sums up the Chase decision to depart. She adds, "There are few questions you can have answered in person, especially now," thus, "We love having Chase and its wonderful staff to help navigate the inevitable issues that arise with our personal and business banking."
For the last 22 years Christine Tegtmeier Salazar as co-owner of Happiness Is with her brother Tom, has presided over their catering business lately expanded into a café and "a very large-scale market." The intent was "to cover the people that didn't have butter and eggs and milk… so they didn't constantly have to go to downtown Greenwich or Armonk or Bedford to get what they needed." She says, "The shopping center has never been as strong as it is right now. We have backcountry people who are counting on us, that use us on a day in day out basis. We're giving them what they need…They don't want to have to deal with larger food markets and larger places. They want the small community of Banksville because they feel safer."
She concludes, "We've been on an uphill battle with this thing, like getting our landlord to get everything in place and we finally have this beautiful shopping center. And I'm proud of it. And I'm proud of all of us that we've worked so hard to build this community, and it's sad that at this point Chase is leaving."
Easy Kelsey gave a call to that North Street Shopping Center landlord Guy Sutton, to ask why Chase was pulling out. The answer, "Business trends are causing banks to be closed all over. People bank online and who goes in a bank to cash a check anymore?"
Not according to Maria Ceci. "We definitely do a lot of banking online but no we do have to go to the bank, I would say a few times a week as a business." Add Sonali Costa: "We have a relationship with the bankers there. For me, it's huge, to have them there. People always go in there and talk to the bankers and do their financials, whatever they're doing at the bank. For me personally it's a pivotal part of the business. It's just so helpful – without them there it would be very difficult."
Perhaps Happiness Is co-owner Christine Tegtmeier Salazar has the most pertinent and persuasive reasons for Jaime Dimon to reconsider moving off Chase Banksville. "Maybe the foot traffic is not as high of volume. But the level of customer importance is – they have very prominent customers that enjoy using that Bank, who are highly annoyed with the fact that it's going to close. They should look at the value of the customers that they have going to them, and not upset that applecart."
She adds, "And the other reason is they're going to lose a foothold in a very good community that is only getting better. Due to COVID, a lot of people are moving to backcountry Greenwich, and it's becoming a stronger environment. And the people want the resources in backcountry Greenwich because they live there."
Add one more caveat. Does Chase know the latest that Banksville's upscale La Cremailiere restaurant is being reopened with new Banksville owners? According to Easy, the restaurant's long-time manager, Robert Meysen attests that many of his customers bank at Chase. He cited the Bank as "a magnet for shoppers and for bringing people to North Greenwich – a veritable lifeblood of the (North Street) shopping center."
For those wanting to add their name to Easy Kelsey's petition, now grown to 131 signers at this writing, they can visit: https://www.change.org/SaveBanksvilleChase.