October 9, 2020
A new children's book with Greenwich connections packs a "soft" message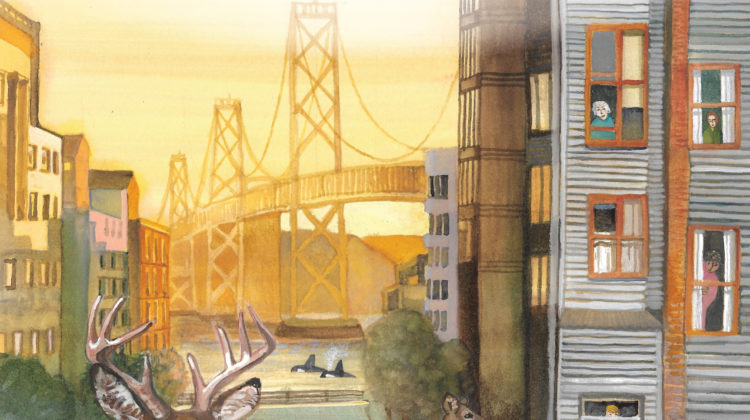 By: Anne Semmes
"When the World Went Quiet" is a children's book of charm for 4 to 10-year olds that speaks to our lockdown times, with a Greenwich Academy graduate as author, Martina Faulkner. But you'll find her pen name, Tia Martina, on the illustrated cover of a city scene where deer and a fox roam, and dolphins cavort in a nearby river. The book in lively rhyme takes the young reader around a world gone quiet where a dolphin leaps outside a Venetian window, where "Wild pumas roamed the streets in Chile,/ near homes with fun new smells," and wild boars caused havoc in European towns.
Martina is now based in Chicago where she oversees a women-owned and operated publishing and multimedia company, Inspirebytes Omni Media. She's best described as having "a focus on the role hope plays in our lives," with skills as a certified life coach, licensed therapist, and Reiki Master Teacher. Her idea for her new children's book might be traced to how her world went quiet.
"Every morning I would get up and there'd be no car noise there, no plane noise, and I could hear the birds again. It took me about a week after lockdown to hear all the birds were singing, and it was so lovely."
But the idea for this children's book came from conversing with her Canadian illustrator and "kindred spirit" Kelly Ulrich. "Kelly, we need to do something for the kids. This [pandemic] is scary." And there it was on Facebook, the stories of those dolphins in Venice's canals, "which turned out not to be true," notes Martina, "but it set the spark… for something fun and whimsical and hopeful and optimistic."
So, Martina went digging for those stories on the web of animals exploring human habitats. "I chose stories that circumnavigated the globe as much as possible. I picked the animals that I thought would be fun and whimsical and not scary." She cites the New Orleans rats that come out at night to "party" as the scariest ones, "which I don't think are scary," she notes, "because Kelly drew them so beautifully."
But what grew out of their animal stories was realizing their children's book had another dimension – conservation. "It's a book about balance," tells Martina. "When the humans went away nature rebalanced. A lot of people think we're at the top of the ecosystem. I believe we're at the bottom, because if we leave tomorrow nature will be fine. In fact, nature will thrive. We can't survive if nature's not here. And so, that puts us at the bottom. Now, interestingly, we've created a scenario where nature is dependent on us to protect them, so that we can survive."
The decision came from author and illustrator to donate ten percent of book sale profits "to conservation efforts." We want kids to know," says Martina, "that we need to raise [conservation] awareness in a very soft, gentle way."
Might there be a conservation expert in the Greenwich Academy alumnae base, Martina thought, who could address this conservation aspect of the book? The name came of alum Melissa Groo, the award-winning wildlife photographer, writer, and conservationist, who has added her endorsement on the book's back cover.
It was the reaction of a 10-year-old reader who would bring another dimension to the ending of "When the World Went Quiet." "Mommy," asked young Sawyer Bieler, "There's something at the end that's missing, because I don't know what to do next?" This young son of another Greenwich Academy alumae, Mira Bieler, surely a budding activist, brought the ending illustration of kids holding up a "Slow Down Wildlife Crossing" sign before a stream of wildlife, and a verse that reads, "So, wherever you are,/ and whatever you do,/ think of how you can make room/for the animals, too."
And that's not all that's grown out of "When the World Went Quiet." "So, we're developing a
four-week curriculum focusing on roughly first grade to fourth grade with the book as the starting point," says Martina, "to give it away to any school or organization that wants it.
"We're pulling the animals from the book for the basics of the curriculum. But then any organization can expand it to their local animals or their local wildlife. It's meant to normalize humans and wildlife as all part of the same ecosystem. So, instead of having the exercises be what does a lion eat, how does a bear sleep, we're saying how do you sleep and what do you eat. And is there an animal that you think would eat that too. So, its teaching herbivore, carnivore, omnivore, from the perspective of you are a mammal, just like a bear is a mammal. And you had salmon last night for dinner and guess what, a bear eats salmon."
Though said curriculum won't be available until next year, the Girl Scouts have already signed on says Martina. "They want to turn it into a badge." "So," she concludes, "This book has just taken on a life of its own. People get invested when they read it and they want to be part of this, and they're thinking, 'What can I do to help?'"
For more information visit https://www.amazon.com/When-World-Went-Quiet-Martina-ebook/dp/