October 9, 2020
Wesskum Wood Road Bridge Replacement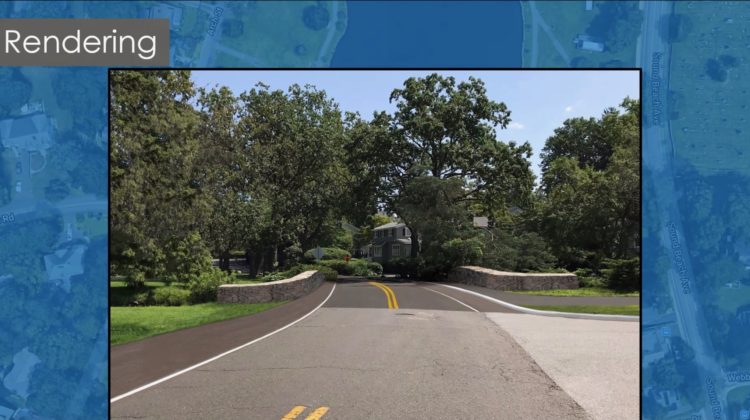 By: Richard Kaufman
Last week, the Greenwich Department of Public Works, along with Stantec Consulting Services, held a virtual public information meeting on the replacement of the Wesskum Wood Road bridge over Binney Park Brook in Old Greenwich.
The project is in the early design process, and the meeting served as a way to get feedback and input from the community.
The bridge, which was built in 1950, is a concrete structure with an aesthetically pleasing stone masonry arch fascia. The bridge serves three purposes – supporting traffic traveling on Wesskum Wood Road, allowing water to flow in Binney Pond Brook to the Long Island Sound and allowing users of Binney Park to access the entire site.
In the spring of 2017, an inspection found the bridge to be in poor condition — rated a four on a scale of zero to nine.
"That does not mean the structure is at any imminent risk of collapsing, it simply means that the bridge is deteriorated enough to a point where plans should be set in place to replace the structure, just so we can avoid having any future impacts to traffic," said Justin Abate, the project manager from Stantec, at the informational meeting.
The bridge is located in a newly designated scenic route — the Binney Park Scenic Loop. "So we'll be preserving as many features of the old bridge as we can without sacrificing safety. And that's really the key: doing what we can to maintain the 1950s historic appeal, while at the same time putting something new in there that at least meets modern day safety standards," Abate said.
Gabriella Circosta-Cohee, senior civil engineer for the Greenwich DPW, said there are several other project considerations that will be addressed throughout the design process, such as environmental permitting and town approvals; avoiding private property impacts; and construction approach/sequencing and traffic control.
The proposed structure will have a masonry fascia with an arch to match the existing look and to flow with the park setting. The intent is to reuse the existing stone as much as possible with any additional stone approved prior to setting. The elevation of the bridge will not change, but the bridge will get a little wider, with the pavement area expanding from a little over 20 feet to 26 feet. This would create space for cyclists to travel over the bridge.
Additionally, there will be an added sidewalk to continue with an existing sidewalk to the southeast.
"All of this would allow for some nice connectivity for pedestrians through the park. And it'll allow people to get through the park safely," Abate said.
The bridge will have taller parapets, and curved end walls to avoid snagging hazards for vehicles. As of 2017, Abate noted, the estimated daily traffic on the stretch of road the bridge is located on was about 1,040 vehicles per day. There will also be new plantings around the bridge.
The cost of the bridge was budgeted at $1.5 million. In 2018, the town received a commitment to fund through the State of Connecticut Local Bridge Program. The town would be reimbursed for 50% of the construction and inspection of the project.
Stantec is proposing a road closure with a detour that would last for about three months during construction. Traffic headed westbound on Wesskum Wood Road would have to be directed down Sound Beach Avenue and eventually up Drinkwater Place and over Owenoke Way back to Wesskum. Traffic heading eastbound on Wesskum would head up Arch Street and back down Sound Beach.
"A semi-final design would be completed by November 2020. We expect to submit permits by January 2021, and have a final design completed in April 2021. We'd advertise construction to bid in December 2021, start construction in March 2022, and we anticipate completing construction in December 2022," Abate said. "This is a rough schedule and some shifting could certainly happen."
The park will remain open to the public throughout construction, Abate said.
Several residents spoke after the presentation, and were pleased with the current state of the project.
Dick Fiss, who lives on nearby Pell Place, said he spoke to a Greenwich fire marshal who is concerned about fire response times to Arch Street and Pell Place from the Sound Beach Firehouse, because of the proposed detour. The fire marshal suggested a two-way, temporary passage on Arch Street to help solve the issue.
Jim Michel, Deputy Commissioner for the Department of Public Works, said there have been conversations with the fire department about coming up with solutions.
"Arch Street is a fairly narrow roadway, and if we were to make that two-directional for the duration of the construction and detour timeframe, we would have to deal with removing all the parking from that area, which may not be a very popular move," Michel said. "But it is something we are looking into, considering, and working with the fire department on."
Lois Berlin, who lives on Wesskum Wood Road, raised concern about there only being one storm drain between Binney Park Drive and Sound Beach, which often overflows.
Michel said drainage will be looked at as part of the project.
"We will take a look as part of this project at those drainage structures and see if there is the need for additional drainage structures to make sure that any everyday roadway flooding is not going to continue to be a concern," Michel said.
For more information on the project, how to submit feedback and view last week's informational meeting, go to greenwichct.gov/1607/Wesskum-Wood-Road-Bridge.