October 2, 2020
Updates from Greenwich Town Hall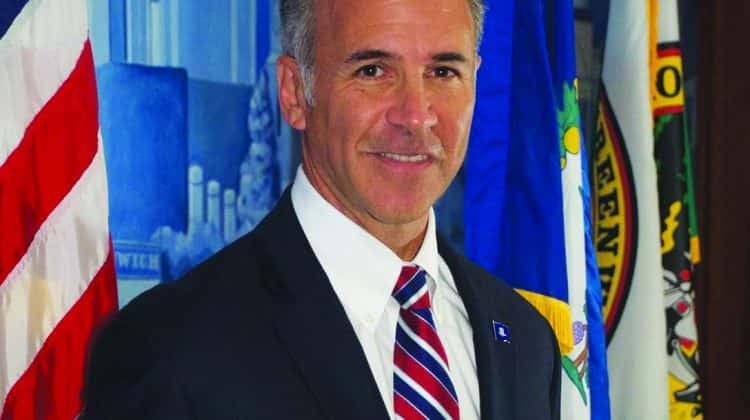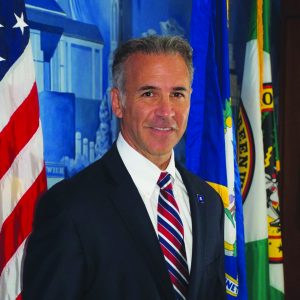 By: Richard Kaufman 
Every other week, the Greenwich Sentinel will bring you exclusive updates on happenings around Town Hall from First Selectman Fred Camillo.
Camillo Forms Task Force to Examine Storm Response
Following Tropical Storm Isaias, First Selectman Fred Camillo has organized a task force to look at how the town prepares and responds to weather events.
Isaias left downed trees and widespread power outages up and down the east coast, but Camillo said Greenwich was prepared. However, there's always room for improvement.
"Our town did really well responding to the weather event, but we noticed a couple things we could do separate from the utility companies," Camillo said. "Even if there's a total epic fail on the part of the utility, we think we can put some things in place that will mitigate that."
A nine person, two-week task force, led by Emergency Management Director, Dan Warzoha, and others who have experience on similar issues, will undertake several actionable items that can be implemented as hurricane season rolls on.
"I spoke to the Superintendent of Parks and Trees, and Tree Warden, Gregory Kramer, who agreed; we should be going around in the spring and inventorying every part of town that has trees that are near lines that need to be trimmed," Camillo said, mentioning perhaps that residents could call the town and let officials know where danger spots are.
"It's no good hearing about it after the fact when the damage is done. We think we can mitigate a lot of the outages by doing that. Everybody seems to be on board," Camillo said.
Camillo stressed that the town is "very much dedicated" to its beautiful landscape, and that the intention is to not take trees down completely.
"We're not looking to take trees down, we're looking to just do trimming and get them out of the way wherever they're within reach of a wire or pole. If they're dead, diseased or dying, then we have to address that," said Camillo, who has been in conversations with JoAnn Messina, Executive Director of the Greenwich Tree Conservancy. "I think having an inventory of where these tree limbs are will certainly go a long way towards mitigating future damage caused by the storms that are going to be coming our way."
Mill Pond Beautification
Camillo has long been a proponent of beautifying and enhancing the Town of Greenwich, and using public/private partnerships to get projects done. With Mill Pond in Cos Cob, both can be accomplished.
"When you go on the Post Road and you look over at Mill Pond, on the Post Road there's overgrowth there. We want to clear it out to give people a view of the pond again," Camillo said. "We may need to find out if we have to get an encroachment permit with the state. If that's the case, we will."
The Junior League of Greenwich would partner with the town to clear overgrowth and low hanging branches that have blocked out the view. Camillo said there would be some strategic plantings, and benches for people to sit and enjoy the view.
"The idea is to make a village green there — a really enhanced village green that would be a destination for people," he said.
Camillo has similar ideas for Glenville next to the fire house and civic center.
"There's a little village green there but it needs some help and attention," he noted.
Nothing has been finalized yet on the Mill Pond idea.
Selectmen Approve 15 Minute Parking Spots in Downtown
When the pedestrian mall was formed on Greenwich Avenue, the Board of Selectmen said they would be flexible and adapt to the needs of residents and business owners. After hearing from some merchants recently about their concerns over parking, the board approved 15 minute parking spots at the top of the Avenue and on Mason Street
"Some merchants were a little concerned about the loss of parking. This is something that helps them," Camillo said. "There are a lot of people who like to run in and out [of businesses] and are not there for the long term."
The pedestrian mall has been a big hit since it was implemented earlier this summer, according to Camillo.
"People are talking about it. I see people coming to Greenwich and looking around. I encountered a couple a few weeks ago from Rye Brook, N.Y. They were clearly interested in not only having dinner, but the town and finding out more about it," added Camillo. "Those are all positive signs that there's more life coming into our downtown area. We want to keep it that way. We'd love to make it permanent."
Camillo hopes to couple the new parking spots with a broader plan to expand parking to Town Hall, which would have a trolley service leaving for downtown every 30 minutes or so for people who don't want to walk.
A group which Camillo impaneled to look at ways on how to improve the downtown area is expected to reconvene next week to discuss ideas.
New Eastern Greenwich Civic Center MI Request Moved to Planning & Zoning
Plans for a new Eastern Greenwich Civic Center took the next step last week, as the Board of Selectmen unanimously voted to send the item to the Planning and Zoning Commission for Municipal Improvement approval.
The project would completely replace the current 31,765 square foot two-story structure at 90 Harding Rd., in Old Greenwich.
The new building, which would be one story and about 35,418 square feet, would be ADA compliant and energy efficient. It would feature a full-sized multi-use gymnasium with roll-out spectator seating; a 8,100 square foot multi-use event space; three 1,000 square foot activity rooms; and a storage room for gym and activity equipment.
There would also be an expanded vending area with a lounge; updated restrooms with separate family restrooms; exterior restrooms to support field activities; administrative office areas; interior waiting areas; and lease space for the Old Greenwich Riverside Community Center.
Work on the surrounding playing fields will not be included in the project, but playing fields would be usable during construction.
The existing building was built in 1950 as an employee recreation center for Electrolux. The town later acquired the building and the 13.22 acre site in 1966.
The town originally began to develop plans for a building rehabilitation in 2000, but in the years that followed, issues with the facility began to crop up which required immediate repairs.
After exploring existing conditions of the concrete structure, other problems were investigated such as space utilization, functionality and accessibility. The lack of thermal insulation and air conditioning throughout the building, as well as a deteriorating subterranean plumbing system, have been problems for years.
The town determined that a complete replacement made more sense.
"This is decades in the making. We've discussed this for a long time," said Camillo. "We've had this building since the late 60's. Within 25 years it became outdated, as a lot of things started to go wrong with the building. It becomes a case where you're pouring money into a facility you're never going to get back. This really is the prudent thing to do, not only for quality of life for our residents to enjoy a facility like that, but also financially. It doesn't make sense to keep plugging holes in a building that's only going to get worse."
Along with Planning & Zoning approval, the project will need to meet the regulations of the Inland Wetlands Watercourses Agency.
Board of Selectmen Approve Nuisance Ordinance
Last week, the Greenwich Board of Selectmen approved a nuisance ordinance which addresses blighted properties. It will now go to the Representative Town Meeting in September for final approval.
The previous ordinance was not followed closely, as most people usually just boarded up properties thinking that sufficed for securing a building. Blighted properties pose safety risks, and can not only negatively impact a neighborhood, but all residents in town, Camillo said.
"Some people were filing for tax abatements, claiming that their properties weren't worth as much because of the blighted property. In some cases when that was granted, there was a hit to the revenue coming in and then it starts to affect everyone in town, not just those in that neighborhood," Camillo added.
The idea to address the ordinance was sparked after a blighted property in Byram garnered attention last year.
Under the ordinance, a nuisance would exist where there are trees, shrubs, or vegetation "which are hazardous or injurious to the public health, safety and welfare; or would cause substantial depreciation in the value of real property in the neighborhood; or have been determined to be a nuisance pursuant to any other provision of this Municipal Code."
It also defines a nuisance as "building and construction materials, landscape and fill materials, demolition debris, motor vehicles and motor vehicle parts, fixed and rotary wing aircraft and parts, boats and boat parts, tires, appliances, furniture, metal, plastic, cardboard or glass containers, paper and rags which are: inoperable, abandoned, or discarded, and found in substantial quantities in or upon any premises, and visible from any third-party residential premises, or any public right of way or public park and hazardous or injurious to the public health, safety and welfare; or would cause substantial depreciation in the value of real property in the neighborhood."
Language was added to the ordinance to include any fully or partially vacant building, structure, or dwelling which would not qualify for a certificate of occupancy, and deemed unsafe or unfit for human habitation as defined in state code.
The full proposed ordinance can be found on the town website under the agenda for the Aug. 13 Board of Selectmen meeting.
With the proposed ordinance, the nuisance would have to exist for six months before the town can take action.
"We want to have something that is compassionate where it gives people a chance to fix [a blighted property], but not forever. We had some properties that were blighted for decades. That's not fair to anybody. This gives you a six month period to fix it," Camillo said.
The Representative Town Meeting will have a first reading of the proposed ordinance in September, when they can take a vote.
"We certainly would work with someone who's trying [to fix a property], we just don't want people to go on indefinitely like this because it holds people hostage," said Camillo.