October 2, 2020
On my watch – Rare bird spotting lesson 101 in identifying Great White Herons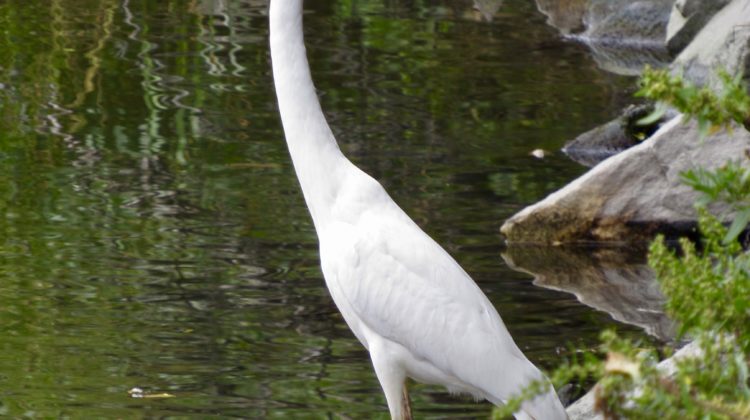 By: Anne W. Semmes 
On Sunday afternoon the rare bird alert came from Greenwich birder Jim Muchmore. In Cos Cob along the waterways beside the Mianus Bridge he spotted a Great White Heron with an odd blackness on its bill. Second one ever seen in the state, Jim tells.
This reporter jumps in the car and arrives to find out of towner Patrick Comins, executive director of Connecticut Audubon Society, clicking away with his camera, capturing what he's determined is a Great Blue Heron (Ardea Herodias), in its white phase, "seldom seen away from peninsular Florida."
So, I am confused. Jim Muchmore explains. "Think of it like grey and black squirrels. The herons used to be two species but they're now considered one species." Yes, there it is online: The Great White Heron used to be a separate species, but it got demoted in 1973 to a subspecies of the Great Blue Heron in 1973.
Surely if I had discovered it, I would have thought it a Great White Egret! But no, the Great White Egret is slightly smaller with a slimmer bill. And the Great White Heron or if you like, the Great Blue Heron, white phase, has that bit of blackness on its bill. And mind you the bill of the Great Blue has lots more black.
So, back to that rare bird alert. Patrick Comins shared the last one seen in Connecticut was in August of 2017 on private property in Weston. What Comins did not catch with his camera was a sudden altercation with a Great White Heron and a Great Blue Heron in the same waters. "Wish I had grabbed that," says Comins, driving off in his car.
From my eyes, seems like that Great White Heron was venting some of its subspecies frustration in this time of woke.