September 4, 2020
Forging Links to Break the Chains of COVID-19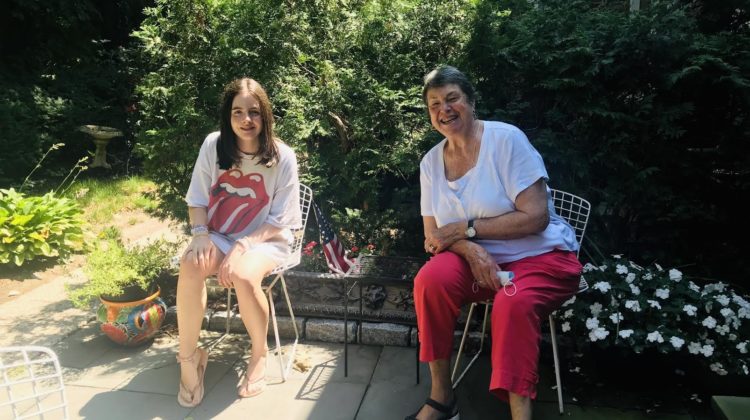 By: Lucy Rinaldi and Cheryl McFadden
Margaret Mead once said: "Connections between generations are essential for the mental health and stability of a nation." No truer words could be spoken amid a pandemic. COVID-19 has caused many, if not most, to feel isolated and alone, particularly the elderly. Children, too, are profoundly affected by the lack of interaction with their extended family, friends, and older adults.
Clergy at Christ Church Greenwich are acutely aware of the struggles of parishioners in this situation. Our pastoral care team offers support by calling, sending cards, and running errands for our seniors. While all these demonstrations of love have been valued and appreciated, we searched for a way to connect the children and the elderly. One tearful parent recently shared at a Zoom coffee hour that her young daughter missed seeing her grandparents at Easter and during the summer vacation.
Thanks to our parish engagement coordinator, Lucy Rinaldi, and her mother
"across the pond," Bobby, we learned about a project in the UK which is connecting young people and older adults. The program links elementary school children with retirees. The child calls the adult to read them a story, practicing their reading skills while the adult listens. Usually happening over a period of many weeks, the connection becomes a bond between the pair.
Learning about the project reminded Lucy that her niece Silvia and mother spent a week together about two years ago. Bobby told Lucy that she'd thought hard about how to get her granddaughter to open up to her. She'd come up with the idea of asking her to be a journalist for the week, interviewing Bobby about her life, attitudes, etc. At the same time, Bobby had questions for her in return. They had one readied for each other every day, and it proved a very enjoyable way of getting to know one another.
Silvia came up with some interesting questions for Bobby. She asked her what three traits she would specifically look for when having a friendship.
"I find that kind of stuff very interesting," Silvia comments, "I liked knowing that we had much more in common than I thought because of the age difference."
Some of the questions they asked were unexpected. Lucy's favorite was Silvia's question for Bobby as to what advice, could she go back, she would give to her fifteen-year-old self. Her answer? Don't wear high heels – the bunions later aren't worth it!
The result of all this was the creation of Silver Links (like the UK program, where children read stories to older parishioners) and the Bobby Project (where youth connect with older parishioners and both parties ask each other questions about their lives and beliefs).
So far, eight elders and eight children have been paired for Silver Links and the same for the Bobby Project. All found the experience enlightening. Corinne Broderick, age nine, who participated in Silver Links shared: "It was very fun for me and after I felt really proud of myself that I helped someone who might be bored at home all alone." Several of the elders who participated in Silver Links added that it was pure delight to listen to a young person read a story or a poem to them. They found the experience heart-warming.
The Bobby Project received similar reviews from both the elders and the children. Evelyn Fitts, age fifteen, shared that it was a pleasure to talk with Marth Eustis. She wrote: "We are similar because we both like being with people a lot." Elizabeth Fitts, Evelyn's mother wrote: "I am thankful that my daughter got to know Martha Eustis through the Bobby Project this summer. Not only does Evelyn have a new friend at church, she received much great advice and to think about what is meaningful in life during her phone calls."
Kendall Collier, age fifteen, was paired with Emily Ragsdale for the Bobby Project. Kendall discussed Emily's experience as the senior warden at Christ Church and how she valued the time spent with parishioners. Emily indicated that when people reached out to her, it was her job to help. Kendall wrote: "Her work encourages me to become more involved in my community and the church." Similarly, Emily wrote that Kendall "totally put me at ease with her interest and enthusiasm, so we had a fun conversation."
The goal of Silver Links and the Bobby Project was to develop relationships between children, youth, and the elderly and to lessen the effects of loneliness and isolation during the quarantine. What we realized during the process was that these relationships did indeed break the chains of COVID-19 and gave hope of new beginnings to all the participants.