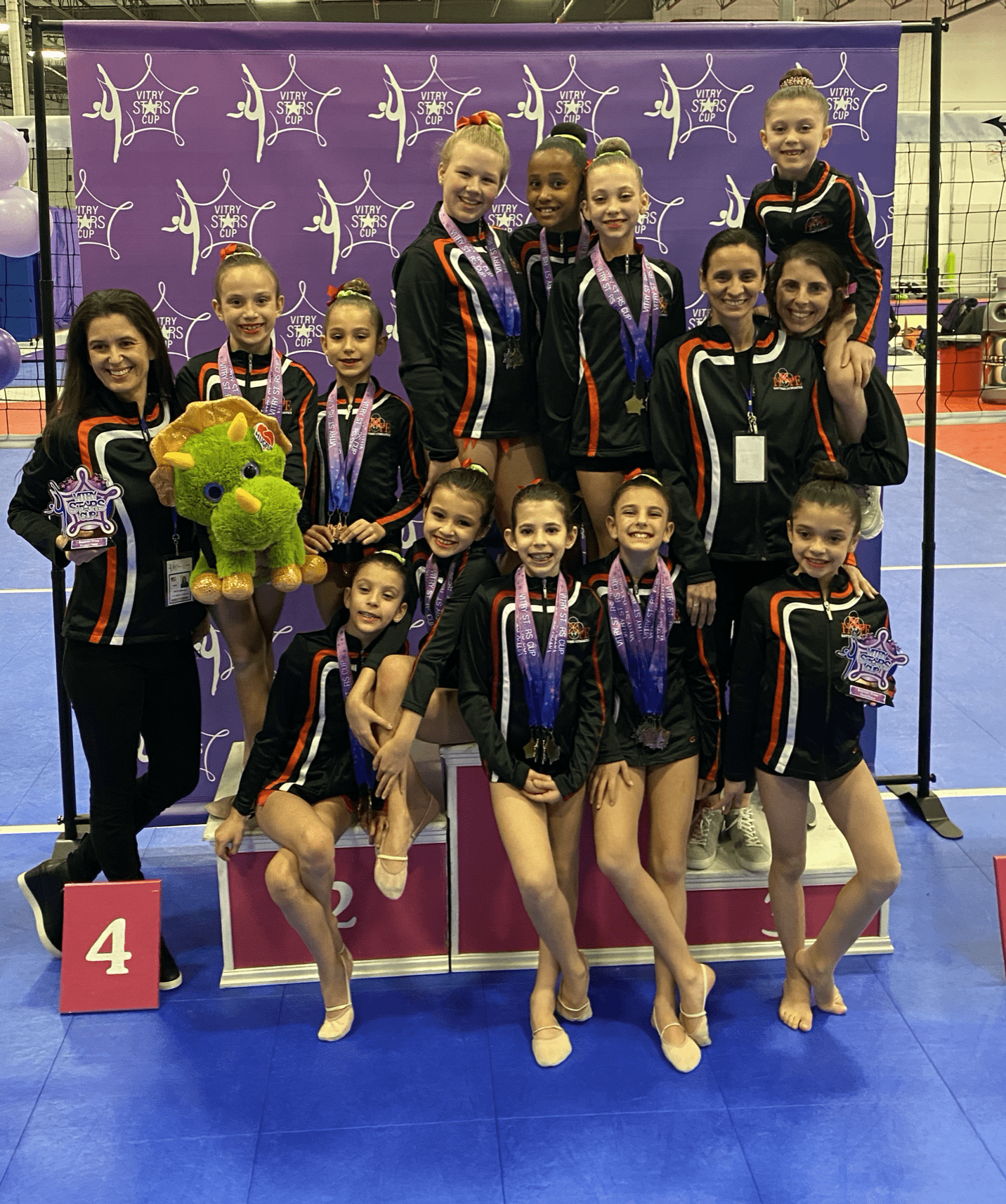 By Liz Leamy
It is a time for the books with so many people in the world, nation, and here in town, who are courageously soldiering their way through this cunning and frightening Covid-19 pandemic over the past number of months.
During this period, there have been numerous inspirational stories that have emerged, particularly the news that the H.O.P.E. Rhythmic Gymnastics School based at the Saint Catherine of Siena gym in Riverside, has had such a profound and powerful impact on so many young girls who live in and around Greenwich and the Fairfield and Westchester County areas since it was first started a few years ago.
A Dynamic Organization
H.O.P.E. (Humanitarian Organization for Physical Education) is a nonprofit organization whose primary mission is to nurture young females to develop into strong and graceful women through their learning and experience in Rhythmic Gymnastics. It is comprised of more than 70 gymnasts ranging from age four through 14, working at the beginner through advanced competitive levels.
This ever-growing and dynamic contingent has been training at the spacious Saint Catherine of Siena gym up until this past March (when public spaces were closed due to CDC guidelines enforced due to the pandemic) under the auspices of Bibiana Pinto. Pinto is H.O.P.E.'s vivacious and ever-focused founder and director who is a former Brazilian World Championship competitor and lives in Riverside with her husband, Augusto Pinto, and two children, Marcus, and daughter Amanda who is a competitive Rhythmic Gymnast.
Ever since Pinto founded H.O.P.E., she has proven to be quite a force in the community as well as throughout around the entire East Coast based on her work and results and development of her students. From the outset, Pinto's laser-focused approach with her school and students has brought an educational and training program of rhythmic gymnastics to scores of young girls here in town as well as to so many others based in and around the surrounding Westchester and Fairfield County areas. She has helped them develop their skills to the point of where they have been able to compete at invitational, state, regional, and national levels.
Since March, Pinto has been conducting classes via the Zoom internet platform to instruct and train her students. She has effectively managed to build a powerful and apt stable of rhythmic gymnasts who have been scoring top placements at competitions held throughout the New England and North Atlantic regions, as well as throughout the Midwest, including major cities such as Chicago.
During this time, H.O.P.E. has managed to build a reputation as a top-ranked rhythmic gymnastics training center in the area where young girls have the opportunity to excel and develop their skills in regard to this popular Olympic sport.
"The Greenwich community should be proud for being the home of such a great Rhythmic Gymnastics team," said Pinto. She noted that as of May 2017, the H.O.P.E. contingent had only a few students at the recreational level, while three years later, the school had many of its students standing on the podium as medal winners at major competitions. "Against all odds," she said, "with very limited budgets and very restricted training hours we have been able to build a strong competitive team at the lower levels of Rhythmic Gymnastics."
A School of Life Lessons
In addition to racking up some well-deserved hardware over the past few years, Pinto's students, most importantly, have been learning some vital life lessons, including the critical role of hard work, discipline, goal setting, and the idea of pushing oneself to continually strive for better in one's daily routine, among other things.
"Rhythmic Gymnastics is a women-only sport," said Pinto, "that helps girls develop team spirit and requires hard training and discipline that pays off by empowering girls to turn into strong women who are full of grace and personality with a positive self-image and attitude. The girls can develop skills and experiences that have a lifelong impact on their lives. Practicing Rhythmic Gymnastics at a competitive level, girls have all the benefits of a serious Olympic sport structure."
By all means, this is a paramount thing, especially considering this program is a way to help continue to build sports among the female sect here in town and the area.
"In Rhythmic Gymnastics," said Pinto, "girls can be girly with beautiful make up and Swarovski leotards and still be powerful and strong. Rhythmic gymnastics is a sport created and developed by women with girls' development in mind. There is no other sport that sends a stronger message of girl empowerment than Rhythmic Gymnastics."
A Structured Training Regimen
Pinto's approach seems to be most effective in regard to how she structures class scheduling, which revolves around a routine in which her students train three to four times a week, two to four hours in every class.
During these sessions, Pinto's gymnasts work at different things such as stretching, balance, and conditioning, in relation to the ribbon, rope, hoop, ball and clubs, and different types of apparatus used in this sport. (There is also the 'freehand' method, which means the gymnast does not use any kind of apparatus in their performance.)
Girls don't only perform individually, but also compete in groups of five gymnasts who work in complete synch with one another, performing with incredible collaboration and apparatus exchanges.
"Rhythmic Gymnastics is a sport that combines the elements of ballet, gymnastics, dance and apparatus manipulation," said Pinto. "It requires great focus, impressive eye-hand-foot coordination, jaw-dropping flexibility and a tremendous commitment."
According to Pinto, Rhythmic Gymnastics is a very complex and demanding sport that seeks perfection in every move. "This is something that can only be achieved by training countless hours at the gym and through strong will power," said Pinto.
Pinto, who offers a diverse variety of interesting and informative classes at her school, works with a staff of international volunteer coaches who round out the H.O.P.E. team in stalwart fashion. In addition, she offers scholarships to those families who have daughters interested in pursuing or learning Rhythmic Gymnastics at the school, who might be working with a stricter spending plan, making the school accessible to everyone regardless of any array of life challenges.
"H.O.P.E. was created to help underprivileged girls practice this beautiful Olympic sport through need-based scholarships and to help make Rhythmic Gymnastics a popular and affordable sport in the U.S."
Pinto said that Rhythmic Gymnastics is still largely an 'unknown' sport that is frequently mistaken for its long-distance cousin of Artistic Gymnastics (this sport is done by World and 2016 Olympic champion Simone Biles as an example.).
Always Building
Certainly, Pinto's success seems to be largely due to the fact that she always seems to be thinking about new ways to educate and grow the knowledge and experience of her students, colleagues and herself. Earlier this month, she conducted an international Rhythmic Gymnastics educational forum via the internet platform Zoom that involved top-ranked coaches and athletes from Brazil, Italy and the U.S.
This summit, attended by more than 80 individuals, was a hit in every sense of the word as each coach and gymnast who was present addressed different methods of training as well as skill and artistic execution to continue growing the sport at an optimal level.
"We partnered with the Italian Team Ginnastica Athena – their Italian national judge and Head Coach is Robert Borrone, the Brazilian Team Ritmo & Arte, and their judge and Head Coach, Cristiane Pinto and the U.S.A. in a joint effort to expose the girls to new techniques that come with different accents," Pinto shared. "This is really great for the girls. It's important information and exposure."
As Pinto continues to build her school, she is hoping to acquire sponsors in order to continue on this golden road and further build the sport of Rhythmic Gymnastics here in the area.
"H.O.P.E. still has a young team in development and we are only at the starting levels of the sport." she said. "In order to keep going to competitions and aiming to the top places at the podium, we need more space, training hours and staff. With our current non-profit structure and lack of availability of proper space here in town, H.O.P.E. gymnasts cannot compete successfully against other clubs that have state-of-the-art facilities with a highly paid full-time exclusive staff. The amazing and impressive results we have had so far are due, I believe, to the passion and commitment of our community work, but in a highly competitive sport, our passion won't take us very far without investments."
Last year, in May 2019, Pinto staged a memorable exhibition to help promote Rhythmic Gymnastics in Greenwich and the surrounding area at the Eastern Greenwich Civic Center that was a big hit on all counts. This exhibition drew a packed house of more than 200 people (including First Selectman Fred Camillo, who had stopped by), members of the H.O.P.E. school as well as several contenders who had visited from Boston and New Jersey performed solo and group numbers to help promote the sport.
At the end of the day, the biggest thing for Pinto and the H.O.P.E. organization, with its philosophy that anyone can accomplish anything once they set their mind to it, is the profound impact that it has on so many young girls.
"At H.O.P.E., we utilize Rhythmic Gymnastics as a tool to teach the girls powerful life lessons," said Pinto. "Rhythmic Gymnastics is a precious gem well hidden in the Eastern European communities and here in the U.S. I am sure as the Americans continue to discover the power and benefits of Rhythmic Gymnastics, and as it starts to become as popular as Artistic Gymnastics, we will be the next superpower of this amazing Olympic modality."
For more information, contact: Bibiana Pinto, info@hopegymnastics.org, www.hopegymnastics.org. (914)282-3134, and Instagram: @h.o.p.e.rhythmic.