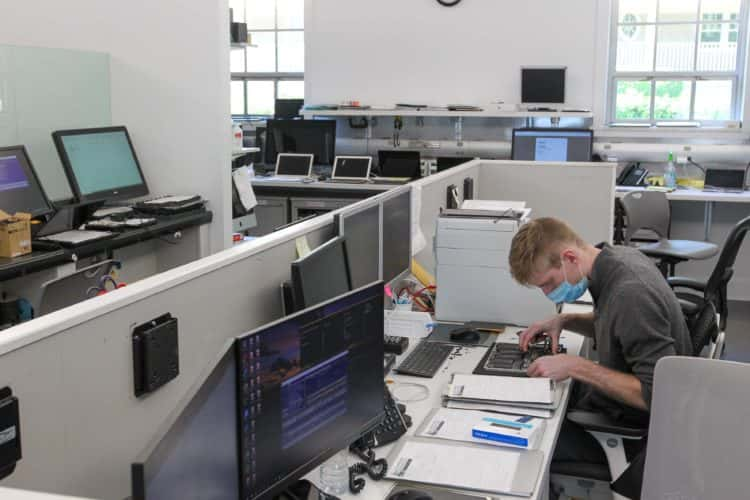 Supercenter's strong comeback from coronavirus pandemic after efforts to stay afloat.
By Foster Steinbeck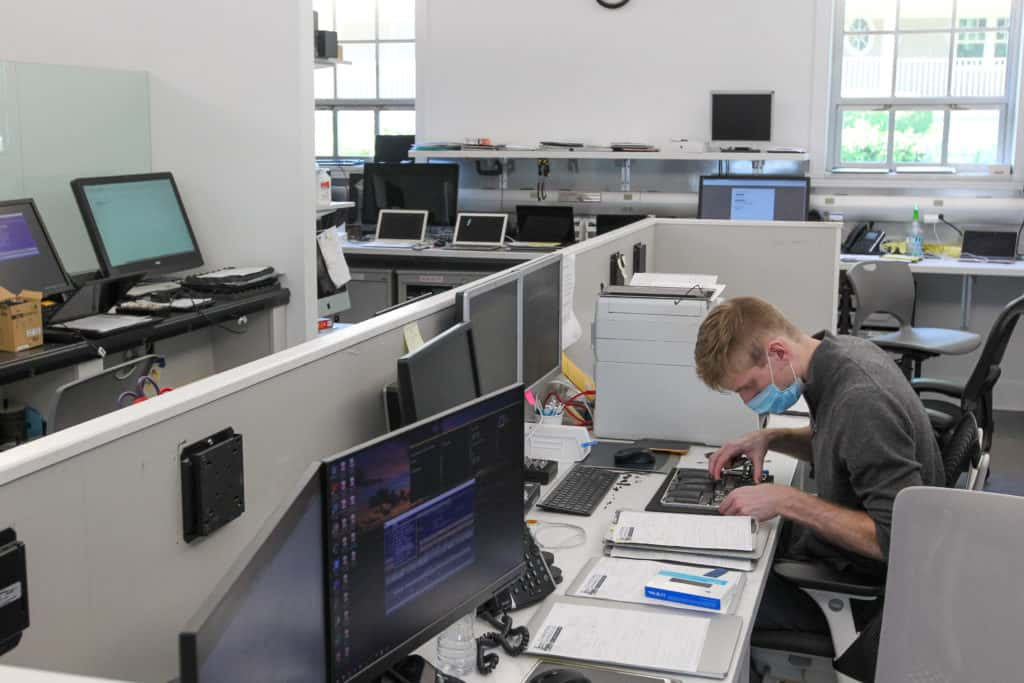 What started as a two-week vacation to California in early February turned into a four-month work frenzy for Computer Supercenter Owner Brian Desrosier, 63, as he battled to keep the company's doors open nearly 2,500 miles away, fearing to return home due to health concerns.
Although deemed an essential business under Gov. Ned Lamont's executive order, the Information Technology support and computer repair business, designed to conduct business on-site, was struggling to stay afloat as few customers were coming into the store. In response, Desrosier fought to keep the company operating while ensuring customer and staff safety.
He revamped the business's website to handle online bookings and redesigned the store's layout to ensure physical distancing. He also woke up every morning at 4:30 a.m. CST to analyze the previous day's customer data, and to handle the business's other backend responsibilities. Along with several other efforts, Desrosier said the four-month period was the hardest he has ever worked.
"I just decided we're not going to go down without swinging," Desrosier said.
Although the company seemed doomed in March, the "IT Department of Mainstreet" now handles three times the number of work orders, and its overall revenue has doubled compared to before the pandemic started, despite transitioning to appointment-only store visits.
Desrosier attributed the company's survival and subsequent upswing to its strict safety procedures, the transition to a remote workplace business model, and customers rediscovering the business's quality service
"We did more business [Monday] than we have any other day in the last week; you're dealing with change — perpetual, constant change," Desrosier said. "I want us to be successful. I want all the people that work for me to be able to advance their careers … I want them to go home, better off this year than they were last year."
Take it on the chin
Despite the financial strain, Desrosier said he gave employees who decided to leave due to their or their families' health one 
month's pay and, while not a charity, the company continues to do everything it can to help its employees.
"I have employees that can't afford to miss a paycheck, that have been working for me for 10, 15 years. You can't just go tell those people to pound sand," Desrosier said. "It's not their fault that there's a pandemic, and our company's been strong for 36 years. I can afford to take it on the chin if that's what we need to do to keep our team whole."
To reduce the density in the store, Desrosier and General Manager Jonathon Gould redesigned the store's layout. They instructed employees who could, to begin working from home, and then used their now-vacated spaces to spread out the remaining employee workstations across the building. Desrosier said about half of the employees work from home. They also designed a customer pathway through the store to ensure physical distancing.
The store also closed down the building's cafeteria and the employee lounge, required every employee to wear a mask, installed hanging Plexiglas at the cashier station, employed a daily cleaning crew and took employees' temperature before and after they came to work. Desrosier said all of these practices are still currently in place.
"We're not letting our guard down. All it takes is one guy to ruin that business, ruin it for everybody," Desrosier said.
Computer Supercenter provides IT support and computer repair services for businesses and individuals, primarily in Fairfield and Westchester county. The business's most common IT service requests are helping clients with networking issues, upgrading and transferring data to a new computer as well as onboarding company employees with its software and products.
Desrosier said the business employs career IT professionals who undergo additional company training when hired; utilizes its own computer diagnostic tools for work orders; peer reviews employees' work; and follow-ups with customers to ensure their problems are addressed.
"What makes us special is our multifaceted approach to different support needs of our customers," Gould said. "We're able to help our customers … with the high touch and high responsiveness that we're able to generate here with the type of culture, and with the type of crew, we have working here on the ground. I have not seen this replicated anywhere else."
Certified as an Apple Authorized Service Provider, Desrosier estimated that 75 percent of the company's work orders are for Apple Inc. products. The company is also a certified Microsoft Gold Partner for Windows devices and Office 365 products.
Although primarily a tech support business, the store has a device bar where customers can buy name-brand computers, speakers and other tech products at manufacture price while receiving accompanying tech support.
"That's one of the things I love about that tagline, 'The IT department for Mainstreet,' it means whatever anybody thinks it means," Desrosier said. "Everybody needs an IT department."
A learning experience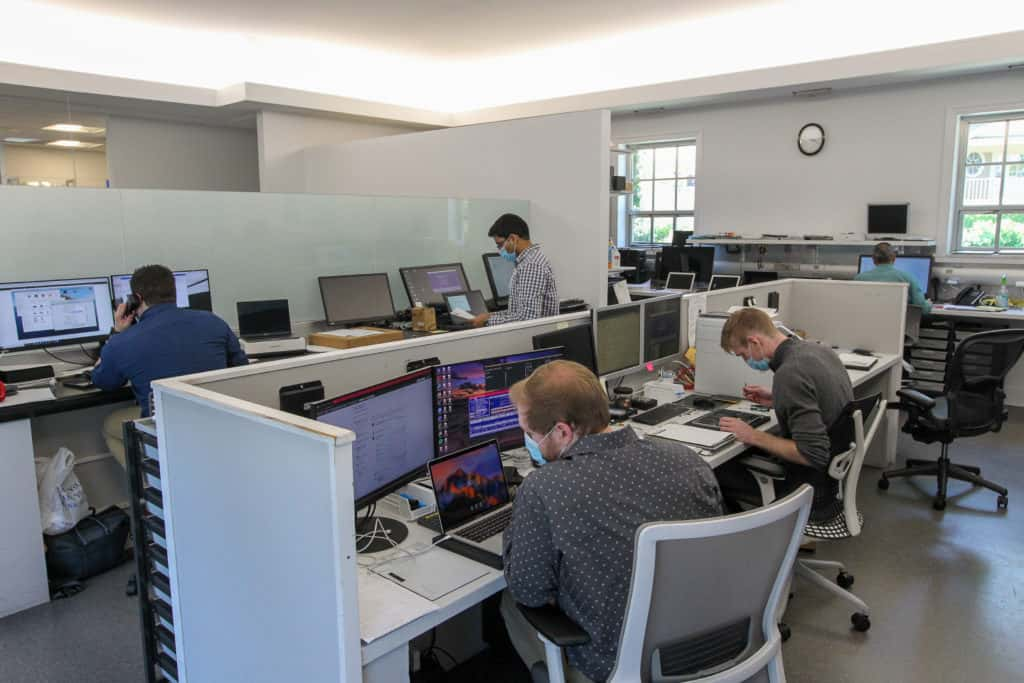 Desrosier started as a franchise owner of an Entre Computer Center store with his brother in 1984. He rebranded the store under its current moniker and moved it to its current location, just off Greenwich Avenue in 1993, after starting building renovations the year before.
Throughout the business's life, Desrosier said he has been motivated by the possibility of profit and, especially during the COVID-19 pandemic, by the fear of losing the business and having to let go of his employees.
"Even though I never worked harder in my life, how hard could it be in Newport Beach, California?" Desrosier said. "All these guys made it so that I could be out there safe. The way I look at it, I owe them."
Computer Supercenter Technology Advisor Ted Lionetti joined the company in January. He praised Gould's and Desrosier's responsiveness to employee's concerns and their efforts to keep employees safe.
Lionetti said the safety precautions feel normal, while the initial transition was tough but not a negative experience. He said the team members have grown close to each other as the influx of customers has required greater teamwork and communication.
"It's coming together really well – we're learning about a lot about ourselves as well as the business. It's just going to help us move forward. That's the biggest thing we're taking out of this," Lionetti said. "It's just a big learning experience for all of us, and we're glad that we were able to experience it together."