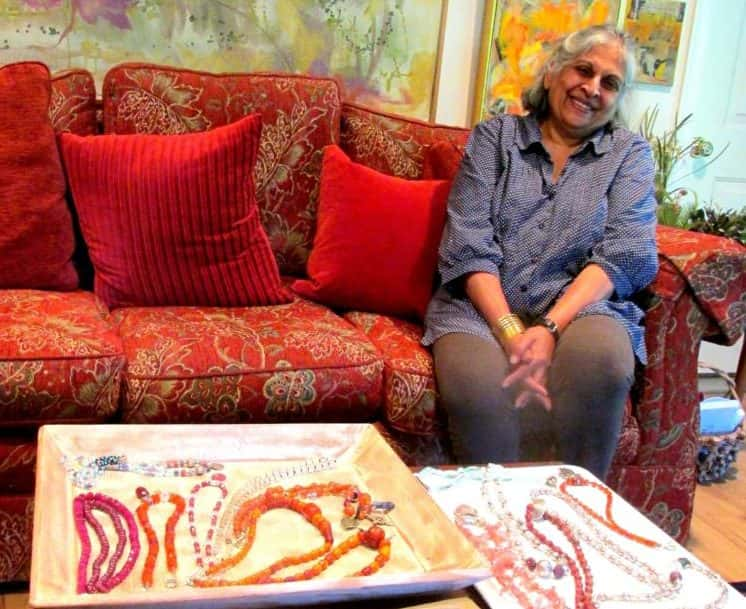 By Anne W. Semmes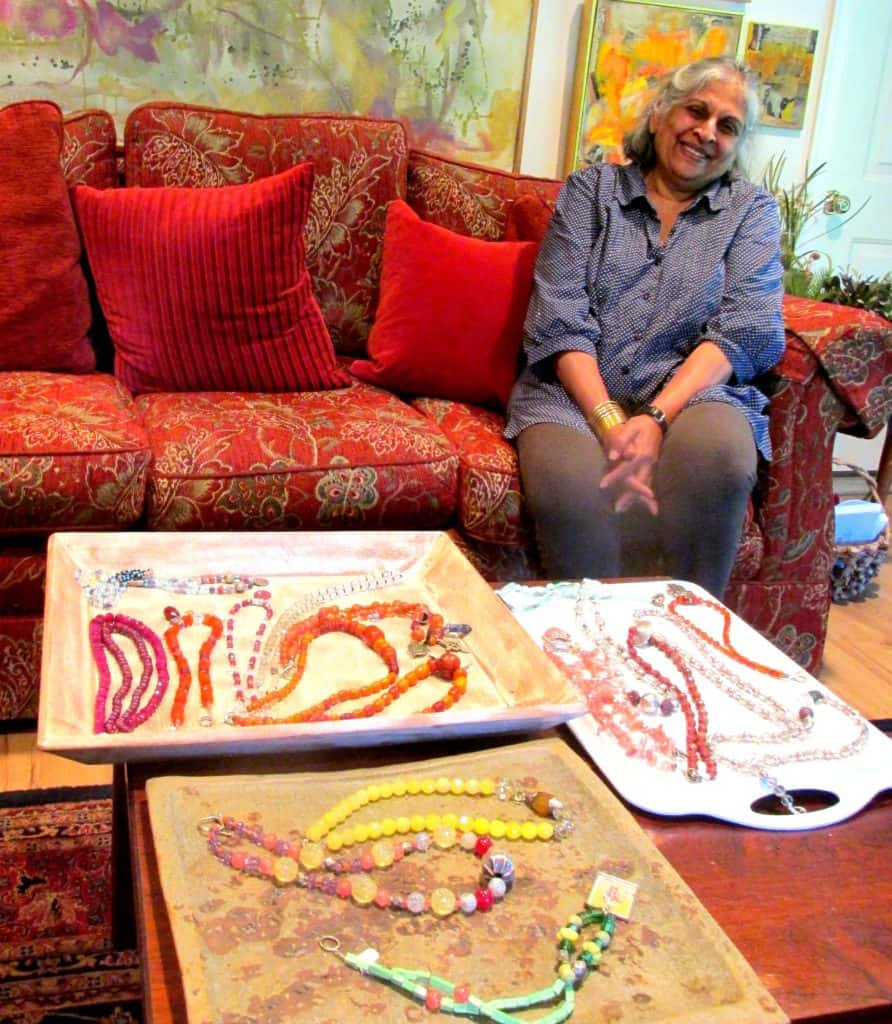 Greenwich's Chitra Ramcharandas has a distinctive way of creating jewelry and colorful paintings. So, when the pandemic arrived, she was in her element – inside. It was thus a treat to visit her to see what she had been creating. But one must first traverse her extraordinary garden of colorful flowers – a hint of what was to come in her work studio.
"I'm like a painter with a palette," she says with a warm smile, laying out a tray of her necklaces, colorful strings of rock crystal, rose quartz, amber, aquamarine, and topaz. Necklaces often with intriguing pendants. "They have a variety of talismans," she says pointing to one necklace full of pendants. Another has a single Tibetan agate pendant – and what's that old coin on the citrine bead necklace? "That's a Charminar coin," she says, depicting a landmark monument in her hometown of Hyderabad, India.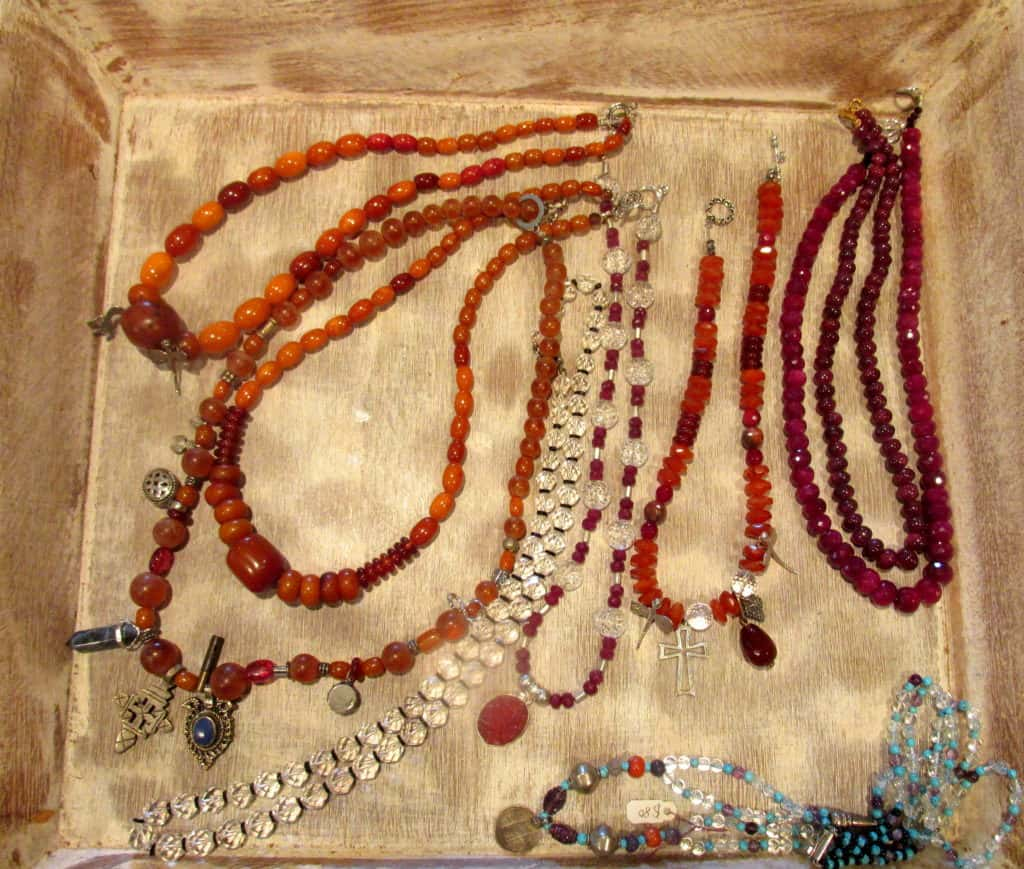 In Hyderabad, she told, families have their own goldsmiths they use for generations. "The family will make a design and give it to their goldsmith to make. They might provide a pendant they want gems to be added to." She tells of her late mother's often worn diamond earrings, the diamonds she asked her goldsmith to place in a pendant.
She tells of the bead stringers that sold beads in the Hyderabad markets – "They had big trays of pendants." In the 13 years Chitra has been making jewelry – she is a widow now with a son living in California, she shops for beads online at eBay, and goes to gemstone shows and antique shops. There are those visits home to Hyderabad, and in the past to a favorite shopping area on Portabello Road in London.She sells her necklaces from $80 to $200 but is not busily marketing them. "I do it for the sheer joy," she says. But she does have a booth in an antique center on Cape Cod where she and her sister have a timeshare.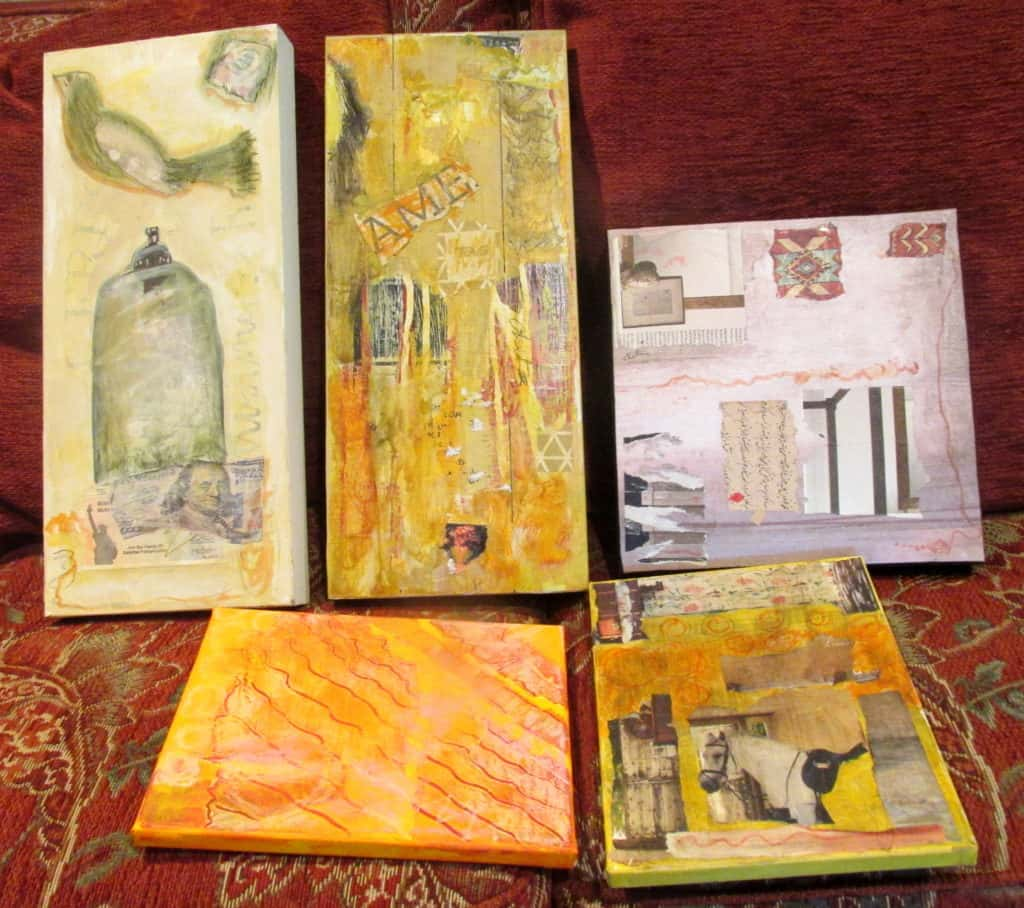 Her painting life started in elementary school. "I'm a colorist," she says, "and that translates to jewelry making." In this pandemic she gravitated more to painting, she says, producing a number of 8×10 mixed media collage paintings ($75 each), and a few large size paintings, to the extent she is running out of storage space. So, a fine idea came to her of Artful Giving, to sell her paintings with 90 percent of the proceeds to go to the buyer's favorite charity. "I'd like to incentivize people to give," she says.
She tells of having donated her paintings to nonprofits, including the Laurel House in Stamford. And it is there at Laurel House that Chitra donates her time as a volunteer, teaching art therapy to the mentally ill. Chitra herself is surely incentivized.