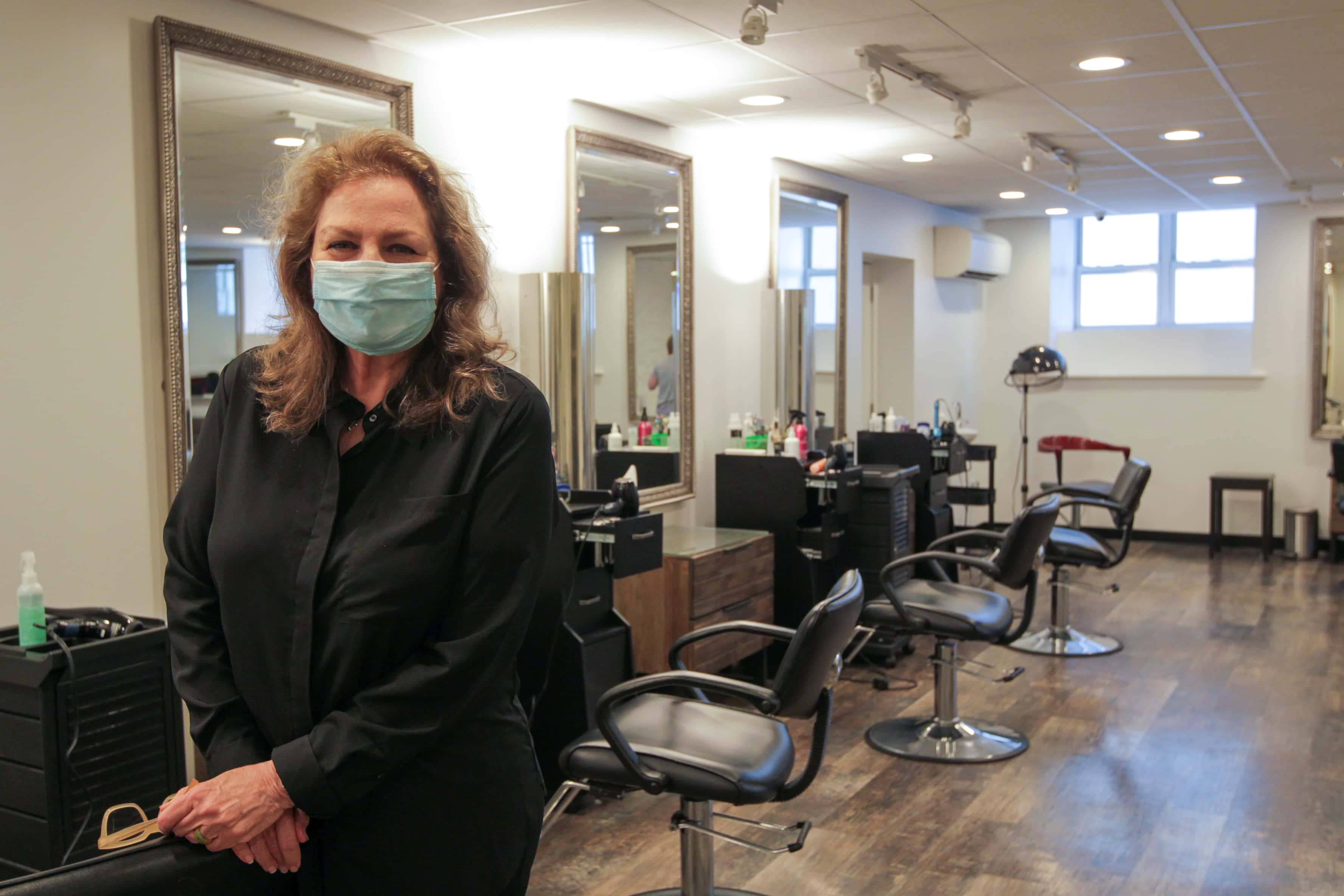 By Foster Steinbeck
Following Gov. Ned Lamont order to close non-essential businesses due to COVID-19 concerns on March 20, Smart Kids Toys owner Heather Rounds worked as the company's sole employee for two months — 14-hour shifts, seven days a week — taking care of the company's customer orders and other storefront needs as well her regular responsibilities.
Her only day off was Easter Sunday.
Fortunately, she later received funds from the U.S. Small Business Administration's Paycheck Protection Program, allowing her to employ two of her furloughed store managers again, five days before the state's phase one reopening date on May 20. Rounds said it's wonderful to hear children's voices again, saying there's been a steady flow of customers.
"It's huge to know you're making kids happy, and making their parents happy. That's what we're doing this for," Rounds said. "Last week, I was playing kickball with a toddler, and I hadn't done that in three months, and I was in heaven. Pure Joy."
Smart Kids Toys is one of several businesses in Greenwich that have been hurt by the COVID-19 pandemic, but are now looking to return to normalcy by trying new business approaches and tactics.
Rounds said the company was lucky to have a website that allows customers to place online orders. Now, she said she is aiming to increase email and social media marketing.
Alongside adhering to the state's reopening guidelines, Rounds is requesting patrons to not touch the store's toys and has shelved the store's play tables and doll displays.
Rounds said she can easily avoid ordering too many toys because of the store's independent nature, which avoids wasting money. Rounds said she was able to pull back on inventory orders in late February, as she saw "the writing on the wall."
Although Rounds said the store's suppliers struggled to fulfill shipping orders completely, she was able to find other suppliers to help get the toys the store needed during the shutdown.
"We can pull back when we need to … but then we can rush forward and order if we need to," Rounds said.
However, Fifi and Bella, a contemporary young women's clothing store on Greenwich Avenue didn't have the same flexibility with ordering its inventory, as the industry around the store "came to a screeching halt."
"I don't think people realize, it's more than the store being closed," Fifi and Bella owner Felicia Salazar said. "All the showrooms in Manhattan, all of the manufacturing facilities were completely shut down. We couldn't open the store. We couldn't really buy anything."
Salazar said the business couldn't place orders online when the closure first started. In response, she began marketing the store's clothes on Instagram, then delivering the orders herself to interested customers or utilizing curbside pickup.
Salazar is currently setting up the store's website to process sales with the help of a website designer, and has recently started receiving clothing from manufacturers again. She also said the company is starting to sell more accessories like candles and pillows, as well as start producing its own loungewear.
"If we've learned anything from this, we need to be online, because we could have been selling stuff online when we closed," Salazar said.
Despite the mounting bills and minimal income, Fifi and Bella didn't reopen on May 20. Wanting to ensure they were in complete compliance with state guidelines to protect customer safety, and to see how other businesses on the Avenue were faring, Salazar reopened the store Tuesday.
She said the store drew around 20 customers on its first day reopening, and was pleasantly surprised by their relaxed nature in the face of the pandemic.
"When I walked here [on the Avenue], May 20, before we opened, it was a ghost town. It was depressing. I think people are getting more comfortable coming out. People want to get it out," Salazar said.
Further down the Avenue, Angela Cosmai Salon owner Angela Cosmai said she has customers that come from New York City to her Greenwich location to get their hair done. New York City Salons are scheduled to reopen in phase II of the city's reopening plan, set to start in late June.
"[When] you're a hairdresser, you're not only doing someone's hair," Cosmai said. "You're their confidant, their friend, their therapist, as well as they are for you. You have this great relationship."
Cosmai said the closure hurt the business. With no income from client appointments, Cosmai said she dipped into her savings to keep the company afloat.
Cosmai is currently importing hair stylists from New York City. Cosmai said she aims to increase marketing efforts on social media and through emails to her clients. Cosmai said she is also spreading out client appointments, by expanding operating hours, to give them more space from other clients.
"I want to keep my business going. I love being on Greenwich Avenue, and I love my clients, and taking care of people and making them happy. And also I have to take care of my family, so I'm here," Cosmai said.
Rick Kral, Greenwich Water Club owner, also saw his company's sales revenue decrease drastically during the closure.
However, he ensured every employee got a paycheck during the closure by reducing expenses across the board, such as cutting back on food costs and not buying new equipment for the program classes.
Kral also lengthened the workweek to seven days and allowed employees to choose which days they worked, to help accommodate their childcare and health concerns. He also provided them with gloves, masks and disinfecting materials for their work stations.
Kral praised the employees and the club members who fund the business, calling it a "huge, cooperative effort" to ensure safety.
Kral said he is looking forward to June 17, the start of Connecticut's phase II reopening, when the business's gym, pool and indoor dining will be allowed to start up again under certain conditions.
"We're hopefully from there we can salvage July, August, a couple of good months, and everything will stay on track and will stay healthy. We'll try to get back to some sense of normalcy," Kral said.
Kral also introduced spinning, cross-training and other classes outdoors in the building's parking lot in mid-May, making sure to clean and disinfect the equipment.
"It's a lot of extra work, but the members really appreciate it," Kral said. "People came up to tell us it's not so much the physical training as much as the mental relief of coming out and seeing other people … and not seeing the same faces for two months. It's a great change."