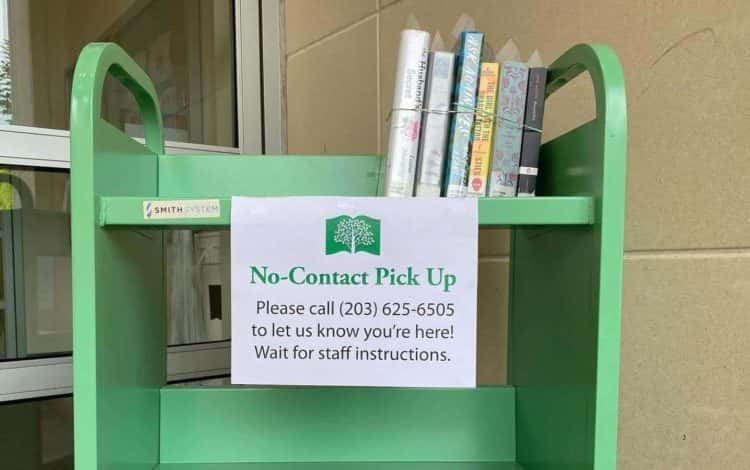 Greenwich Library will take the first step toward establishment of in-person services by launching No-Contact Pick Up of Library materials by appointment on June 15.
"The safety of our patrons and staff is our top priority, so we have planned the logistics of this service very carefully and deliberately in consultation with the Library Board of Trustees, Town officials, and other Fairfield County libraries," said Barbara Ormerod-Glynn, Greenwich Library Director. "We have missed seeing everyone at the Library over the last few months, and although the Library closed its doors in March, staff has continued to purchase new books. They are now focused on getting nearly 2,000 items ready for you to check out, starting on June 15."
Beginning on June 15, patrons will be able to place holds on books and materials in the Library catalog using the same process as in the past. Once holds are ready, an email notification will be sent to them with a link to a form to choose the date and time for pick up. When they arrive at the Library at their selected hour for pick up, patrons should stay in their car, call the appropriate location phone number, and wait for staff instructions. Staff will place items on a cart by the Library's front doors.
Main Library: 203-625-6505
Byram Shubert Library: 203-531-0426
Cos Cob Library: 203-622-6883
Pick up will be available at the Main Library Monday-Thursday, 10 a.m. – 7 p.m.; Friday and Saturday, 10 a.m. – 4 p.m. Pick up will be available at the Byram Shubert Library Monday-Wednesday, 10 a.m. – 4 p.m.; Thursday, 12 – 7 p.m.; Friday and Saturday, 10 a.m. – 4 p.m. Pick up will be available at the Cos Cob Library Monday 12 – 7 p.m.; Tuesday-Saturday, 10 a.m. – 4 p.m.
For your safety, please be sure to observe all social distancing rules during pick up. Staff will take extensive safety precautions when they locate and prepare items for pick up.
Library Book Drops at the Main Library, Byram Shubert, and Cos Cob will also open on June 15. Please do not rush to return Library materials. With over 32,000 items out in the community, it will take time for staff to safely collect, quarantine, and sort these items. All due dates are extended until July 1. All returned items will be held in quarantine for three days before being placed back on shelves. As a result, they will remain on your Library account until they are checked-in by staff on the fourth day. No fines will accrue during this time.
Greenwich Library has strict safety guidelines in place for staff working inside the Library, but our buildings remain closed to the public at this time. While they plan the next reopening phase of the buildings to the Greenwich community, they are continuing to offer assistance by phone and access to the Digital Library. Many virtual programs are planned for June, including 'A Night Out with Friends', a performing arts series sponsored by The Friends of the Greenwich Library. The Library will also kick-off its first-ever Adult Summer Reading Program and ever-popular Summer Reading programs for children and teens. For more information or to register, visit greenwichlibrary.org