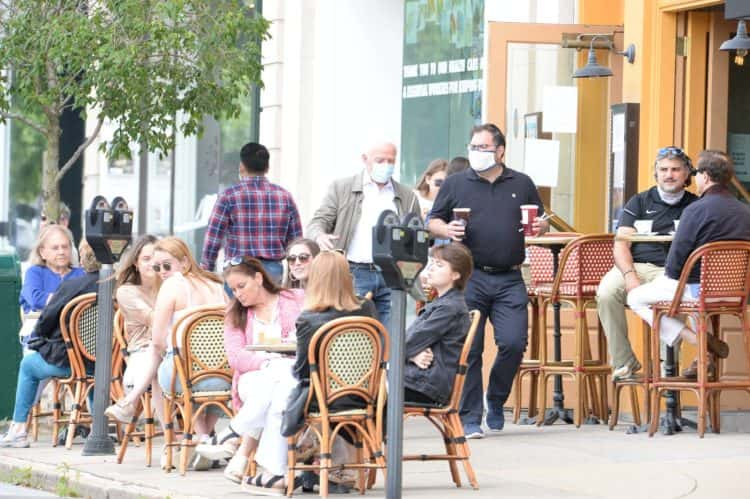 By Richard Kaufman
Sentinel Reporter
On Thursday morning, the Board of Selectmen unanimously voted to make several modifications to the temporary closure at the bottom portion of Greenwich Avenue to address concerns from a few merchants about parking and customer access. 
"When we did these temporary policies with a look to more permanent ones, we knew we were going to have to do some amendments and adjustments. We asked for some feedback, and it's been overwhelmingly positive, but the only concerns we've had were coming from a few merchants," said First Selectman Fred Camillo. "Even if 75 percent [of businesses] are doing really well there, we really have to address the 25 percent that aren't. We don't want to hurt anybody."
The physical barriers that were placed at the intersection of Havemeyer Place, Arch Street and Greenwich Avenue will be removed, and traffic will be allowed to flow unrestricted.
The barriers, along with the controlled access for emergency vehicles and deliveries, will be moved just south of the intersection of Greenwich Avenue and Grigg Street. Nodes, which are enclosures that will allow businesses to take advantage of outdoor use, will be installed in the newly opened section for restaurants that have filed for applications for outdoor dining. 
Additionally, traffic will be able to exit the Avenue onto Fawcet Place. Grigg Street will be restored to its prior one way status, providing vehicles another exit.
All of the modifications should be implemented by the Department of Public Works by Friday, June 12.
"We believe that these modifications will address the concerns we received from businesses regarding parking, customer access and delivery issues," said Town Administrator, Ben Branyan. 
Branyan added that the nodes approved for the upper section of Greenwich Avenue two weeks ago are "meeting the needs of businesses." Therefore, no additional changes are anticipated for the balance of Greenwich Avenue. The town will continue to listen to feedback and monitor traffic and pedestrian flow. 
Scott Mitchell, owner of Richards, spoke at Thursday's meeting and told the Board of Selectmen he was concerned about traffic problems.
"The traffic north of Starbucks on Greenwich Avenue is atrocious. I worry that you're just taking that challenge of traffic backup and just pushing it down another block… I worry that you're going to have a continued backup," he said.
Margo O'Brien, the daughter of Diane Garrett of Diane's Books on Grigg Street, raised concerns about the lack of parking and the impact it will have on business. She said that parking has long been a problem on the Avenue, as customers would give up in finding a space and end up ordering their books on Amazon.
O'Brien noted that businesses were hit with a "triple whammy of negative things" beyond their control that began with increased rent, the beginning of the coronavirus pandemic, and now the temporary closure.
"The only way small businesses can survive is with parking, period. If our customers can't get to us, we will close down," O'Brien said. "We were mandated to close down for two months, and that was extremely financially difficult for us. Now with reduced parking, any pedestrian closure of the Avenue takes away parking. Any parking that is reduced means that the viability of our business is jeopardized. It's that stark."
Because of a lack of commuters at the moment, Selectperson Lauren Rabin suggested that perhaps the Grigg Street lot can be utilized during the temporary Avenue shutdown to alleviate parking concerns.
Camillo said he will take a look at the lot this week to see what can be done. He stressed the importance of looking at longterm solutions.
"I think all three of us [on the Board of Selectmen] have been on board since day one that we not only put in place temporary measures to help these businesses, but also how we can help make our town much more of a destination and much more attractive than it already is," Camillo added. He said that perhaps the Board of Selectman can go to Old Greenwich and Glenville next week to see what can be done in those areas of town.
Selectperson Jill Oberlander added that right now, it's critically important to support businesses. She said a more holistic approach to parking, access and transportation is needed.
"Looking at a temporary measure is one thing, but parking has been an issue for years in this town," Oberlander said. "Maybe now is the time when we have fewer commuters and our Parking Services Department could take a look at what are some of the opportunities that would make access more reasonable."
Camillo mentioned an idea of implementing a trolley service which could leave from Town Hall every 30 minutes, which would help alleviate traffic. With more people working remotely, spaces could open up at Town Hall for parking, too, he said.
O'Brien remarked that the Board had great ideas, but the situation right now is grim
"I would like Greenwich to maybe tackle this issue when the retailers are strong. We are not strong," O'Brien continued. "We love Greenwich, and I think our business is one of the reasons people do come to the Avenue, and we are just reaching out because we'd like the town to support us and help us survive and continue serving people that come to Greenwich and the residents of Greenwich."
Camillo said he appreciates Diane's Books and what they provide to the community.
"We are going to address parking, which is not an easy thing. We've only been in office a few months, and we're committed to taking on all of these issues and addressing them," he said.