November 19, 2019
Greenwich Swim/Dive Finishes Second at CIAC Class LL Finals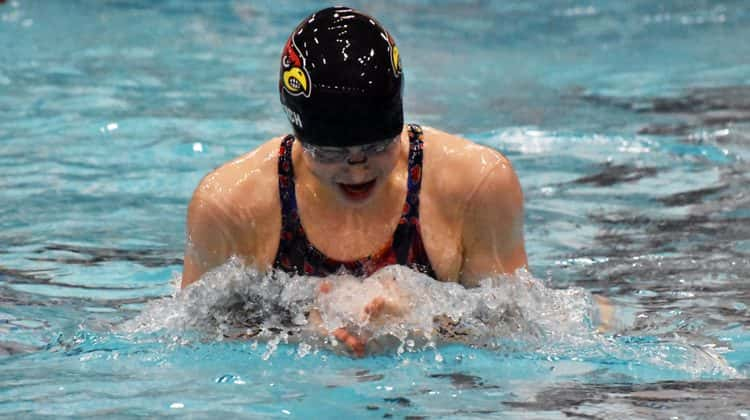 By Paul Silverfarb
All good things must come to an end. Despite countless top times and outstanding swims up and down the roster, the Greenwich High School girls' swimming and diving team's streak of taking home Connecticut Interscholastic Athletic Conference class LL championships came to an end.
Cheshire High School took home the gold during Tuesday's finals, posting a score of 655. The Lady Cardinals ended the night a close second place, posting a score of 586.
"It was a great meet," said Greenwich High head coach Lorrie Hokayem. "A lot of kids had some best times today and I am really proud of their performances. They swam with a lot of pride and with a lot of heart. We swam like a team and it was a good day for us overall. Hats off to Cheshire. They are a phenomenal team and are very deep. They will do really well at Opens."
Staples High School grabbed the bronze with a score of 475, while Glastonbury took home fourth overall with 469. Rounding out the top five was Hall High School, as they scored 362 points.
"We are upset that we didn't win, but I think everybody swam great," said junior Meghan Lynch. "Everyone should be really happy with that. I am hoping that people can go even faster at Opens."
Despite second place team score at the CIAC class LL finals, saying that it has been a decade of dominance for Big Red would be an understatement. Back in 2009, Cheshire took home the CIAC class LL championship but since then it has been all Greenwich, winning in 2010 and every year until this season.
During Tuesday night's class LL finals, held at the Wesleyan University pool, a plethora of GHS athletes stepped up their performances in a big way.
It was junior Meghan Lynch that stole the show early. Competing in the 200-yard individual medley, Lynch batted once again against Trumbull's Lauren Walsh. Walsh was the same swimmer that edged out Lynch at the FCIAC finals for the top swim. However this time around it was Lynch that dominated. Her time of 1:59.13 not only beat Walsh (2:01.82), but it was a class LL record and the fastest Connecticut swim ever in that event.
"I was really happy with my race in the 200," Lynch said. I knew that I was going to have some good competition with Lauren. She beat me in FCIACs and it was really fun competing against her again. It's nice having a little rivalry. It gets your adrenaline going and helps you swim faster. It's fun."
Lynch also took to the pool in the 100-yard breaststroke. This time it was Walsh that exacted revenge from earlier in the meet, as the Trumbull swimmer barely edged out Lynch and posted a top time of 1:02.40. Lynch touched the wall second with a time of 1:02.57.
"Meghan had two great swims and I think she should be really happy with both of them," said Hokayem. "It was her best time in the 200-IM and right on her best time in the 100-breast. She's such a tough competitor and I am excited to see what she can do at Opens. It was a great meet for her."
Another class LL champion for Greenwich High was senior Saylor Kirsch. Competing a few days prior at the CIAC class LL diving finals at East Hartford High School, it was Kirsch that stood out above the rest. Her score of 443.75 placed her tops in LL. The next closest was a familiar face, as fellow GHS senior Regina Frias grabbed the silver with a score of 436.15.
Not to be outdone was GHS senior diver Casey Kirsch, as she was the third top five finisher for the Cards, placing fourth overall with a score of 382.55. Rounding out the divers for Big Red was Javiera Garcia, as the freshman finished 11th overall with a score of 350.95.
"Our divers are having quite the season," Hokayem said. "We are so fortunate to have great divers. We have three seniors and they really shined this week. I know they are really looking forward to Opens. They have done such a great job setting an example for the younger core of divers that we have. They were really sharp at the end of the season, just like we expected."
Having herself quite the meet during the CIAC class LL finals was junior Samantha Ennis. She competed in the 100-yard backstroke and nearly was golden. Ennis touched the wall second overall, posting a time of 56.26 seconds. Staples High's Esme Hunter was just faster by mere inches, as her gold medal time was 56.23. Ennis also competed in the 200-yard individual medley and her time of 2:10.14 edged out Cheshire's Julianna Tyler for fourth overall.
Sophomore Caterina Li had a memorable performance in the 100-yard breaststroke, as she touched the wall with a time of 1:07.13 that was good enough for the bronze. Earlier in the meet, the sophomore was top 10 in the 200-yard individual medley, posting a time of 2:09.72 that gave her ninth overall.
Although she was competing in her first CIAC class LL championship meet, freshman Victoria Liu didn't show any nerves. Battling in the longest event of the night, the 500-yard freestyle, the GHS freshman took home seventh overall with a time of 5:14.65, nearly three seconds faster than the eighth-place competitor and was less than one-half a second away from sixth.
Liu also took part in the 200-yard freestyle and was just as strong. Her time of 1:56.98 was good enough for eighth overall.
"The team did great today and a lot of people got some best times, so I am really proud of how the team did today," Liu said. "I did the best that I could today and I am still very happy with my times."
Competing in her final class LL meet was Jenna Handali. She battled in the quickest event of the night, the 50-yard freestyle and finished 13th overall with a time of 25.25. Handali fared better in her later event, the 100-yard freestyle as she netted a time of 54.40 that was good enough for the silver in the B final and 10th overall.
Joining Handali in the 100-yard freestyle was Lilly Bjerke, as the GHS junior ended the night seventh in the B final with a time of 55.23.
Battling in two events was Big Red's Julia Lucey. In the 500-yard freestyle event, Lucey touched the wall 12th overall and grabbed a time of 5:20.71. In the 200-yard individual medley, Lucey was top 15 overall, posting a time of 2:14.95 that placed her 14th overall.
Another solid individual showing came from sophomore Isabella Malchow. Her time of 1:00.48 was good enough for 13th on the night. But she was a fingernail distance away from 12th, as Ridgefield's Riley Riebling finished with a time of 1:00.45.
"Our younger swimmers really stepped up for us," said Hokayem. "They have been stepping up the whole season. We have a pretty young core of a team and I thought they performed really well today."
Big Red's relays also stepped up their games in a big way
The 200-yard medley relay team of Ennis, Lynch, Li and Handali got the meet started in grand fashion, as the foursome combined for a top score of 1:46.20 and was nearly a second quicker than Cheshire. Heading into the meet, GHS was seeded third overall and nearly took off two seconds from trials.
"That was a great swim," Hokayem said. "Everybody had a best split and it was a great way to start the meet. I think it got everybody fired up and moving in the right direction. It was a nice swim and I am hoping we can be a little faster at Opens.
Another solid performance was with the 400-yard freestyle relay, as the team of Lynch, Handali, Liu and Li finished the last event of the evening with the silver overall and grabbed a time of 3:33.35.
In the 200-yard freestyle relay, the GHS team of Ennis, Bjerke, Liu and sophomore Emma Robinson finished sixth overall and took home a time of 1:40.74 and just missed beating Amity (1:40.38).
Tags:
CIAC
,
ctdive
,
ctswim
,
FCIAC
,
GHS Diving
,
GHS Swimming
,
greenwich
,
Greenwich High School
,
Lorrie Hokayem