November 12, 2019
USWNT Star Rapinoe Dazzles at Sacred Heart Greenwich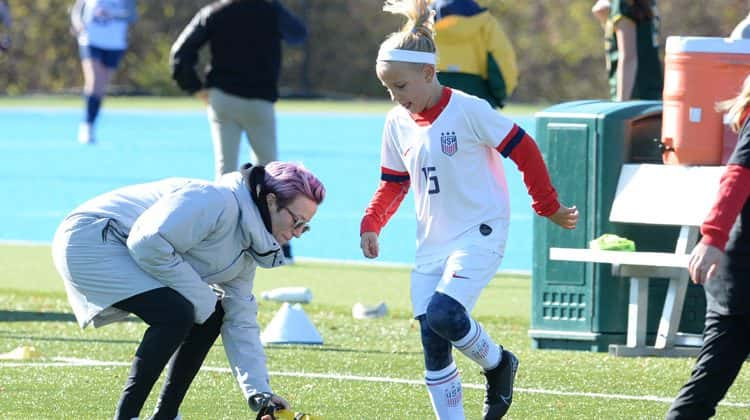 By Paul Silverfarb
For the nearly 500 girls in the Greenwich area who are passionate about soccer, Saturday was a very special day.
United States Women's National Team standout Megan Rapinoe, who took home the gold during this past summer's FIFA World Cup tournament, took her clinic to the turf at Sacred Heart Greenwich, inspiring young athletes and teaching them about soccer, determination and life.
"It's an incredible honor to have such an amazing athlete and role model visit our school," said Taylor O'Meara, one of the two captains of the Sacred Heart Greenwich soccer team. "Amelia [Sheehan] and I have both been fans of the USWNT and of Megan Rapinoe for as long as we can remember, so when our coach told us she would be on Sacred Heart's campus, we found it really hard to believe him until I got to see Megan with my own eyes."
"We were just so incredibly excited for her to come," added O'Meara. "I think that the Rapinoe Soccer Clinic was really well done; Amelia and I got to help out the staff and watch all the young players really enjoy themselves while developing their skills."
And Rapinoe was all in for the clinic, as she was highly involved in teaching several aspects of the sport. In addition, she took questions from young athletes and was very relatable to all in attendance.
"The kids had some great questions for her," said Sacred Heart Greenwich varsity soccer coach Stuart Smith. "They learned as much just from speaking to her as she they did watch her perform skills. One of the girls asked if she felt pressure when she went and took penalty kicks and it was interesting to hear her say no. She said that stepping into the game is far more pressure for her. Megan said that she sees a penalty kick as an opportunity to win a game for her team and that it's less pressure because it's an unopposed kick.
"Kids see that moment as a nerve-racking experience, where she views it the other way," Smith added. "It was great for the kids to ask her questions like that or other ones that they always wanted to. She also spoke about growing up and that she wasn't always the strongest person on the team."
Sacred Heart Greenwich athletic director Elizabeth Dennison said that it's always great when people get the chance to meet elite athletes in person because it becomes obvious that they are just another person, just like everybody else.
"The kids that see these types of athletes see all the time, energy, and effort that they work on their craft and work on their skills that has gotten them to where they are today," Dennison said. "I think her being there and them seeing that she's just another person that started off like many of them did, not knowing how to play and then playing for their school and club teams, was great. To hear that and then to see how it's paid off is a special thing for the students to realize. Whatever their goals and pursuits are, if they work hard and continue to put in the time and energy required to do well, they can achieve anything."
Smith said that it was hard for the members of the Sacred Heart Greenwich soccer team not to have smiles on their faces throughout the clinic.
"It's a lot of fun and it's great for our kids and younger kids to interact with her," Smith said. "It's great to see how the varsity players are all inspired by her. I have had players that have been on the team for four years and they have been following her ever since they were a freshman, and it's great to see that they are still just as inspired now as they were when they were younger. She inspires them on the field by the way she plays the game and inspires them by all her achievements on and off the field."
And, it's hard for Smith to not be excited to have Rapinoe chat with his varsity soccer team. Afterall, Rapinoe picked up a World Cup gold medal this past summer, as well as the Golden Boot Award, given by FIFA to the World Cup's top scorer, and the Golden Ball Award, given by FIFA to the World Cup's best performer. She was also named the FIFA World Player of the Year
"She's achieved everything that she possibly could have as a player on the field," Smith said. "It's an inspiration to our players and to our soccer program. Seeing a female athlete that can have so much influence off the field as well is inspiring."
The soccer team at Sacred Heart is having quite the season. The team became the Fairchester Athletic Association's regular season champions and is competing in the FAA postseason as of press time.
"It's exciting to see someone like Megan in person and our varsity soccer team was certainly excited," Dennison said. "It's been a long season, so to have that little bit of boost, excitement, energy and momentum heading into the postseason will be helpful for them. To know that there are people out there that believe in them is a big deal."
For Dennison, one of the perks with Sacred Heart Greenwich is its top-level athletic facilities that can attract people to utilize it as a part of their clinic. That was the case with Rapinoe.
"It's great that this school can host these really great clinics and athletes who are excelling in their sport that want to come to Sacred Heart to run their clinics and be a part of our community," said Dennison. "We had people from all over the area come to this clinic. Having Megan be here and having our students and other students from around the area work with her and practice their skills is amazing."
Tags:
ctsoc
,
ctsoccer
,
girls soccer
,
greenwich
,
Megan Rapinoe
,
Sacred Heart Greenwich
,
USWNT