November 22, 2019
Sacred Heart Greenwich Grabs First NEPSAC Field Hockey Gold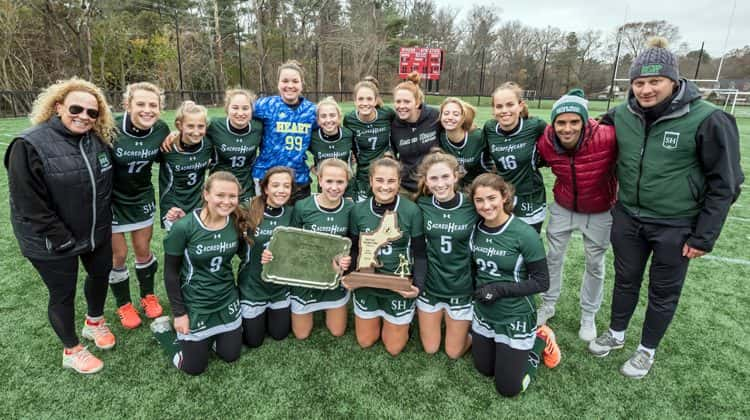 By Paul Silverfarb
The Sacred Heart Greenwich field hockey team capped off its memorable season in historic fashion Sunday afternoon.
The Tigers, competing in the highly talented New England Prep School Athletic Conference tournament as the top seed in Class A, beat third-seeded Tabor Academy 2-1 in the championship game to bring home the school's first ever New England title.
"Once it was official that we won the game, I felt an incredible amount of pride in our team," said senior co-captain Sydney Gallop. "All season, we hoped to win the NESPAC league and we knew in our hearts that we could do it. Especially with such a small team, we had so much faith in ourselves and each other that it was euphoric finally being able to reach our dreams."
For Sacred Heart Greenwich head coach Alexandru Gheorghe, the moment the clock ran out and celebration began was something he won't ever forget.
"It was incredible," he said. "It was always our main goal and finally we were able to achieve that goal. We were very excited and happy. Everybody was jumping in the air and running to each other to celebrate. It was shocking and really hard to express what that moment was like. Everything just happened and it was a very emotional moment."
Although Sacred Heart ended the game golden, the start was far from desirable. Tabor Academy found the back of the net with six minutes to play in the first half and held a 1-0 lead midway through the second.
With 12:51 to play in the game, it was the Tiger's Caroline Nemec that knotted the contest. She took the corner opportunity pass from Beth Yaeger and fired the shot at point blank range to open the scoring for SHG.
And it was Yaeger that closed out the contest in dramatic fashion. Sacred Heart finished the game with 20 corner opportunities, but it was the one with 1:21 to play in the game that struck gold. Nemec gained possession of the ball in the middle of the crease and passed to Yaeger to the right of the Tabor goalie. Yaeger then blasted a shot that gave the Tigers a 2-1 lead.
"Being a NEPSAC Class A champion feels so rewarding," senior co-captain Morgan Smith. "Our team worked so hard to claim this title and I am so proud of everything we have accomplished this season. Even though half of our team is new, either freshmen or transfers, we really became a cohesive unit as the season progressed. Being able to call ourselves NEPSAC champions is something that we take great pride in and we hope to be holding onto the brown for many years to come."
And with the victory, the Tigers finished its season with a 19-1 overall record and an impressive championship trophy that athletic director Liz Dennison, along with the field hockey team, will be proudly displaying.
"For me to watch the student-athletes and coaches work hard every day, really come together as a team to support each other and push each other to be better, and then achieve the goals they set out to work towards at the beginning of the season was really fun to be a part of," Dennison said. "They absolutely did the work that it took to get there. To see them achieve their goal and this accomplishment that Sacred Heart has never done before in field hockey was a real special moment, both for them and the whole school."
"It was a great season," Gheorghe said. "We scored over 100 goals and outscored our opponents by close to 45 goals. It was a great season and I am so proud of this team."
And helping the team get to where they finished were its two captains, Smith and Gallop.
"They were great captains," Gheorghe said. "They have different personalities and work together really well. They kept the team together and kept the dynamic together. They managed everything both on and off the field and kept on pushing the team hard."
Gallop said that since she started on the team her freshman year with Smith, the two captains have been working hard towards achieving the goal of one day hoisting the NEPSAC championship trophy over their heads.
"I think our biggest advantage this year was the mentality with which we addressed every game," Gallop said. "Because Morgan and I were on a team that did not even qualify for the NEPSAC tournament during our freshman year, we really wanted to make sure that every player on our team knew how much it would take mentally to achieve this goal. Throughout the game, Morgan and I continued to remind the team that we were playing for our school's history and it really motivated us knowing that this win would secure our timeless legacy at Sacred Heart."
Smith said that with a small roster and a lot of new girls to the team, she wasn't sure how the season would shake out. She was hoping that her senior year wouldn't be a rebuilding year. But it was after the team's opening game of the season, a 7-0 contest against School of the Holy Child, that started to change her mind.
"From scorching hot temperatures in late August all the way until the beginning of November, we worked hard every day on becoming one unit and working together as a team," Smith said. "We made sure that passing was emphasized throughout the season and the idea that assists were more important than goals themselves. I really believe that our team bond and extraordinary skills pushed us to win the NEPSAC for the first time in our school's history."
The way the Tigers were able to rebound was something that made the season even more special. Sacred Heart ran the table during the regular season and cruised through the Fairchester Athletic Association tournament. However in the championship game against crosstown rival Greenwich Academy, it was the Gators that picked up the road victory and conference championship. Despite a plethora of chances down the stretch via corner opportunities, the Tigers were able to push the ball between the pipes and were handed a tough defeat.
Instead of crushing their season and letting the disappointing loss to GA ruin their season, Sacred Heart regrouped and came up huge in the NEPSAC tournament. Against Taft in the quarterfinals, the Tigers dominating by cruising to a 7-0 victory. That set up a contest against Westminster in the semifinals and SHG came up huge by winning 3-1.
"The consistency in which this team performed was definitely impressive," Dennison said. "It's really hard to do that every day with everything you're managing as a student-athlete. So I was certainly impressed with that and with their composure when they played in tough games. They really earned those victories."
The victory against Westminster set up their contest against Tabor in the championship game.
"That loss against Greenwich Academy was a turning point to our season," Gheorghe said. "We realized that we were not perfect and that we have things to improve on. We were able to fight for it. We realized that the only chance we had winning a championship was to win the New Englands and we all our energy into winning that."
The victory against Tabor to claim the New England championship proves that the process at Sacred Heart Greenwich has been paying off. In addition to having a top-level varsity team that plays some of the top teams in the country, and strong varsity B team, the program has also benefitted from expanding to the lower school and the ability to play on a beautiful field hockey turf field that was built a few years ago.
"My goal as athletic director is to really have a view of our program, from fifth grade through varsity," Dennison said. "That focus on development, encouraging students to move through the program, learn the sport and its fundamentals, and continue to rise to the challenge that we present to them is huge. This championship was a great example of that. Our coaches in the field hockey program do a great job of working together across all the teams to develop our students and talent.
"It's a progression to get where we are right now," Dennison added. "It doesn't take one season and it doesn't happen overnight. I think the hard work of our coaches and our students, both who have graduated and who are coming up through the ranks, was great. Everybody had a contribution to that win on Sunday."
Gheorghe said that all that will help Sacred Heart Greenwich be successful for a long time to come.
"We are just hoping we generate many talent from other schools that want to play field hockey at the highest level," the head coach said. "We also have a lot of talent in our younger programs and that is great to see. Seeing that we won New Englands is huge is for our program. It's going to establish a great tradition for the program and set some high standards."
Tags:
ctfh
,
FAA
,
field hockey
,
greenwich
,
NEPSAC
,
Sacred Heart Greenwich
,
Sacred Heart Greenwich field hockey
,
SHG
,
Tigers